Why Braxton Miller Will Lead Ohio State to a National Championship
May 23, 2012

Scott Halleran/Getty Images
Braxton Miller is vital to Ohio State winning a national championship in the nearby future. The national championship hopes for Ohio State will be delayed in 2012 as the Buckeyes are ineligible for postseason play. However, Ohio State has right the coaching staff with Urban Meyer and the right player with Braxton Miller to lead this team from a mediocre 6-7 2011 team to a national championship in the near future.
It is truly amazing what Braxton was able to do for Ohio State in 2011 based on talent alone putting up solid numbers for a freshman in an ultra-conservative offense: 1,159 yards passing with 13 touchdowns and 715 yards rushing with seven touchdowns. Now, plug coach Urban Meyer into the equation and Braxton will double those numbers in 2012.
Urban Meyer brings his no-huddle, spread offense, signaling calls from the sideline play-calling into the picture. According to Mark Schlabach at ESPN.com, Meyer is on-record saying Ohio State will look to run 80-85 snaps a game and run an offense similar to Oregon that is fast and will also feature Braxton running the triple-option and throwing out of the option. "All you've got to do is look at Oregon," Meyer said. "We're committed to it. We're still going to pop a huddle once in a while, but we're committed to it."  
Additionally, Meyer's pedigree also includes two National Championships with the Florida Gators and coaching one of the greatest college quarterback's in NCAA history in Tim Tebow. Tim Tebow was the ultimate competitor and with the tutelage of Urban Meyer, Tebow went from backup to great to extraordinary within a short period of time. Urban Meyer will do the same thing for Braxton at Ohio State in 2012 and beyond. The good news for Ohio State fans is Braxton actually ran the spread offense in high school in his home state of Ohio.
Big Ten ESPN Blogger Adam Rittenberg followed up with Braxton Miller about coach Urban Meyer's spread offense, "I was pretty familiar with the system he ran, so I was real excited about it," Miller said. "He's got a lot of knowledge. I'm learning from him every day."  "I can't get bundled up and so rattled up when somebody is rushing," he said. "I have to stand in the pocket and deliver the ball."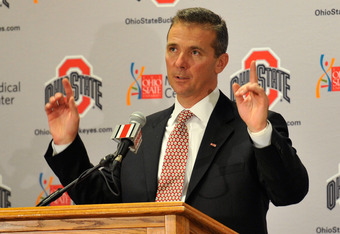 Jamie Sabau/Getty Images
Moreover, Braxton knows the system and has the talent to get it done for Ohio State to become a National Champion. The next transition for Braxton is to become a vocal leader on and off the field for Ohio State. Urban Meyer has been on record saying that Braxton needs to turn the light switch on all the time instead of just on the field to take this team to National Championship status.
Rittenberg followed up with Urban Meyer about where Braxton Miller is right now as a leader and what he has to do to become a great leader. 
"He's an average leader right now. We need to make him a great leader. You have to raise the level of play of those around you. This summer, he has to do it. He hasn't done it to this point. He's been at Ohio State for a little over a year, and his leadership qualities are not where they need to be. I think he will get there, because he's sharp, he's smart and he's a competitor."  
Furthermore, Braxton Miller will definitely elevate the play around him and there are players on the current Ohio State roster that will play the role of past Urban Meyer coached players during the Florida Gators' national championship runs.
The Percy Harvin role who was one of the most lethal combinations of running, receiving and returning for the Florida Gators in their national championship. For Ohio State in 2012, the Percy Harvin role belongs to senior Jordan Hall. According to Rittenberg, Jordan Hall fits the Percy Harvin role as he is the most dynamic in terms of returning Buckeyes.
In 2011, Hall had 400 yards rushing with two touchdowns, 114 yards receiving with three touchdowns and 700 yards on returns. Other Ohio State receivers that Rittenberg mentioned that could be in the running for the Percy Harvin role were junior Corey Brown, sophomore Devin Smith and freshman Michael Thomas who established good rapport with Braxton in the spring game.
Now that the Percy Harvin roll is established for Ohio State to win the national championship behind Braxton Miller, who will be the next Aaron Hernandez?
The next Aaron Hernandez for this Ohio State team in 2012 will be tight end Jake Stoneburner. In 2011 Stoneburner had 14 receptions for 193 yards and seven touchdowns. I repeat, "seven touchdowns." Stoneburner will get much more opportunities for receptions under Urban Meyer's spread offense. Stoneburner needs to get conditioned to stay on the field longer and you can bet Stoneburner has watched just how effective Aaron Hernandez thrived when on the field during the national championship run for Florida.
Rittenberg reported Stoneburner spent much of the spring watching Aaron Hernandez, who starred at tight end for Meyer at Florida, recording 68 catches for 850 yards as a senior before becoming a fourth-round draft pick of the New England Patriots. "Seeing Hernandez make all those plays makes someone like me pretty happy," Stoneburner said. "It's something I've been waiting for since I graduated high school, being able to go out there knowing you're going to get the opportunity to get the ball more than once or twice a game.
Moreover, with an offensive genius in Urban Meyer, the Percy Harvin and Aaron Hernandez are developing fast for Ohio State for the 2012 season. As a result, Braxton Miller  has all the pieces in place to succeed at a high level and will lead Ohio State to a national championship in the near future.