Ben Roethlisberger Makes Pittsburgh Steelers' Offseason a Three-Ring Circus
May 21, 2012

Jeff Gross/Getty Images
So when did P.T. Barnum set up shop on the South Side of Pittsburgh at Steelers headquarters?
It must have been during that mild winter we had.  With all the drama and intrigue that has gone on, you could almost swear the circus has been in town.
You could say the offseason has been very un-Steelers like with all the turnover and belly aching that's taken place.  This is what happens in Oakland, Dallas or Cincinnati.  This doesn't happen in Steeltown, where the Rooney family operates one of the last mom & pop pro sports franchises around.
The times, they are a changing.
Let's go back to late January after the disappointing playoff loss to Denver.  Shortly after the season ended, the rumor mill began to churn on OC Bruce Arians.  As disappointing as the offense was at times in 2011, Arians had led the Steelers to a pair of Super Bowls as offensive coordinator.  He also had Steelers QB Ben Roethlisberger in his corner as an ardent supporter.
So what do the Steelers do?  They announce Arians' retirement on January 20th in a press release where Steelers coach Mike Tomlin said Arians made the decision himself to retire.
Four days later, Arians sang a different tune to a newspaper, claiming the Steelers gave him no reason for renewing his contract (h/t CBS Local). Within a week, Arians had signed on to the same job for the Indianapolis Colts.  The Steelers went outside the organization and hired Todd Haley to replace him.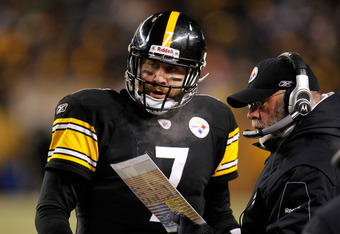 Gregory Shamus/Getty Images
But it gets better.
Once Haley was hired, it didn't take long for Big Ben to throw his two cents into the fray.  Ben was very open about his dissatisfaction regarding the departure of Arians, telling everyone and anyone who had a pen, mic or camera. 
Roethlisberger was a guest on NFL Network's Rich Eisen Podcast just over a week ago and called Haley's playbook a "Rosetta Stone." 
Susan Lucci was never this dramatic.
Keep in mind, after Haley was hired, Ben took his good-old-time to meet his new OC.  When Haley first arrived to Steelers headquarters, both were reportedly in the building at the same time, but no meeting took place.  Not even a handshake or hello.
The problem with Ben's criticism is that it's gone on for four months now.  We get it, Ben, Arians was your boy.  But it's time to let it go and embrace what's new.  The attitude towards what has happened isn't helping to build chemistry with the guy in charge of your livelihood.
Somewhere in some halfway house, Ryan Leaf is laughing.
But I guess it comes with the territory.  Quarterbacks tend to bring out this type of behavior.  They can be very diva-like.  But Roethlisberger knows that, if he wants to get back to a Super Bowl and solidify his rightful place among the great NFL QB's of this or any era, he needs to get on the same page with Haley.
Without those two in sync, the Steelers will be nothing more than a side-show act come 2012.
John Phillips is the author of this article and a secret member of the Galactic Empire.  When he's not chasing down Jedi across America, he's been known for covering sports in Pittsburgh since 1992.  Follow JP on Twitter at www.twitter.com/PGHJohnPhillips