WWE No Way Out: Is Daniel Bryan Ready for a WWE Title Run?
May 21, 2012

After working an outstanding match at WWE's Over the Limit on Sunday night, we learned that Daniel Bryan can indeed hang with WWE Champion CM Punk. (As if there was any doubt.)
The real mystery, however, does not rest in Bryan's ability to put on a main event-caliber show.
As we move into the summer stretch, there is a more intriguing question going forward—is Daniel Bryan ready for a WWE Championship run? And if so, will that reign start at the company's next pay-per-view event, No Way Out?
Well, I would like to answer the first question with an affirmative "YES!" and here's why:
For one, I do believe Bryan can now be considered a viable force. Based off of his recent line of work, Bryan's in-ring credibility is just about there.
He nearly defeated the WWE Champion in CM Punk on Sunday night, he took World Heavyweight Champion Sheamus to the limit at Extreme Rules and he escaped the likes of Mark Henry and Big Show at Royal Rumble. Bryan also won the heavyweight championship match Elimination Chamber, trumping five other SmackDown brand superstars en route to retaining his title.
Bryan is a believable finisher, has a wide arsenal of moves, and he has faced some of the top talent this company has to offer. 
Secondly, Bryan has already put forth a considerably successful major title run.
Far be it from me to criticize his recent World Heavyweight Championship reign. After cashing his Money in the Bank briefcase on a vulnerable Big Show and capturing the strap at TLC, I was one of the first to wish the belt right off of him.I didn't believe his build was solid enough to maintain a legitimate title run with the company's second largest prize.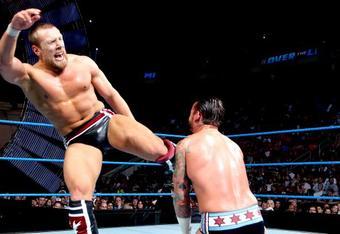 The angle of Bryan's character, however, really began to change my mind. After successfully retaining his title at a number of the previously mentioned pay-per-views, I did buy into the craftiness of his character. The in-ring ability was so solid that I believed the "skin of his teeth" victories he often portrayed.
Although Bryan isn't the most physically intimidating, his wit and skill have turned him into a top contender.
And most importantly, Bryan consistently draws exceptional reactions from the crowd. Whether they are engaging in the "YES!" or "NO!" chants, WWE fans are always buzzing over Bryan's appearances. 
The true test in seeing if Bryan can keep the fanbase going is to strap the company's crown jewel around his waist. If he can draw major heat or extract some nice pop as the champ, WWE execs will know they have a main event superstar in Bryan.
And as for the second question, that also deserves a resounding "YES!"
As we have learned over the years, eras are often defined by names and rivalries. We had Hogan-Piper in the Golden Era, Michaels-Hart in the New Generation Era and Rock-Austin in the Attitude Era. Now, we can possibly be looking at this generation's version in Bryan-Punk.
By evidence of their recent actions, it seems as if the WWE is lightening its stance on limiting major titles to muscle-bound gorillas. So who better to represent this revolution than CM Punk and Daniel Bryan?
Both possess incredible in-ring ability and entertaining mic skills and share a dynamic chemistry inside the squared circle.
If the company wants to develop this into another rivalry for the ages, the current feud has to go on. That could mean Bryan capturing the WWE Championship at No Way Out and facing off against Punk in their third and tie-breaking pay-per-view match at Money in the Bank.
Either way, Bryan will certainly figure into the company's future plans as a major player. But will Bryan's ultimate push come sooner than later?