Rafael Nadal: Novak Djokovic Will Douse Rafa's Attempt at Revenge
May 21, 2012

Clive Brunskill/Getty Images
Novak Djokovic owns Rafael Nadal.
Before the 2011 season, all the talk centered on Rafa and if he'd break Roger Federer's Grand Slam record. If you're still discussing that topic now, you've got to be Djoking. Djokovic has taken the tennis world by storm, and he'll continue to rain down on Nadal.
In April, Nadal ended a seven-game losing streak to Djokovic at the Monte Carlo Masters—a tournament that the Spaniard now has won eight straight times. Monte Carlo features clay courts and so does the Italian Open which the two competitors are set to face off in on Monday. But Rafa doesn't have momentum on his side this time around—Djokovic beat him in the tournament's final last year.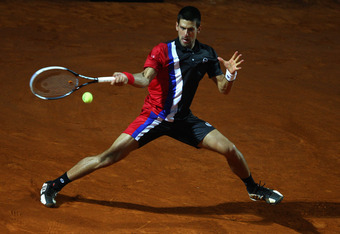 Julian Finney/Getty Images
According to Kuala Lumpur of the New Straits Times, Djoker will relish another opportunity to take on Nadal. He said after knocking out Roger Federer: "I've raised the level of our rivalry. Playing Rafa in the finals again is very encouraging. It is what I want before Roland Garros."
While Djokovic embraces his opponent, Nadal would rather just focus on the tournament. I mean, I can't blame him after how many times he's lost to Djokovic in the past year.
Simon Cambers of The Guardian reported that Nadal said after the matchup was set in stone:
For me, it's much more important to win Rome than to win against Djokovic. I won against him in Monte Carlo this year so I broke that bad record of 7-0 and if I lose here it's going to be 1-0, not eight. The important thing is I win the tournament and I say that from my heart.
Hellooo, they're bitter rivals, and he thinks its must more important to win in Rome?
Nadal is capable of upsetting Djokovic on his courts in Monte Carlo, and potentially, the French Open, but he isn't focusing on Djokovic for a reason—he's horrified of him.
David Daniels is a featured columnist at Bleacher Report and a syndicated writer.