Preakness 2012 Contenders: Handicapping the Entire Field
May 18, 2012

Elsa/Getty Images
The 137th running of the Preakness Stakes at Pimlico Race Course features a duel between Kentucky Derby winner I'll Have Another and Derby runner-up Bodemeister.
The two horses are the overwhelming favorites in the field and only two other horses, according to Sportsbook.com, have been single-digit odds to win—Derby holdovers Went the Day Well and Creative Cause.
All in all, there will be 11 horses in the field, barring a late scratch, and as with any Triple Crown race, there is no telling what could happen.
The Preakness plays a bit heavier towards the favorites, though. Unlike the free-for-all at Churchill Downs, this race is 1/16th-of-a-mile shorter and offers a much smaller field—nearly 50 percent smaller in this case.
Here's a look at how the entire race could play out and what it means for those you made a play on.
(Finish, Horse, Number/Post)
1. Bodemeister (7)
The pace set by this three-year-old colt at the Derby was utterly astonishing, and the fact that he nearly held on for the win was incredible.
Now he comes to Pimlico where the Preakness is shorter in distance with no other speedsters like Trinniberg nipping at his heels.
Jockey Mike Smith will have a great chance to jump out early, establish the pace he wants and should be able to save enough not to get caught from behind by a closer.
This is Bodemeister's race to lose, and he shouldn't lose.
2. I'll Have Another (9)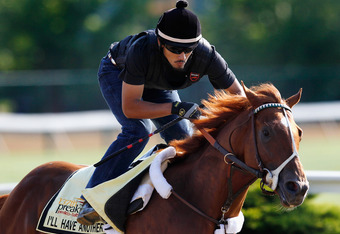 Rob Carr/Getty Images
The Derby had just enough track to chase Bodemeister and Churchill Downs, but he won't be that fortunate at Pimlico. The Preakness' slightly shorter distance is all Bodemeister will need to stay ahead of the Triple Crown hopeful.
I'll Have Another will make a run for it, though, and if Bodemeister cannot be reined in by his jockey, then Mario Gutierrez will take advantage.
A one-two finish with these horses will pay next to nothing.
3. Teeth of the Dog (2)
And that is where Teeth of the Dog comes in. With Joe Bravo in the saddle, this three-year-old son of Bluegrass Cat will work from the inside, surrounded by the lesser horses in the field.
He's well short of Bodemeister's speed, and Bravo should be able to maneuver this race the way he wants.
Teeth of the Dog only has one G1 race under his belt, but he finished third in it.
Any chance at making money in this race comes with the third horse in.
4. Creative Cause (6)
A Derby holdover, Creative Cause is a good horse that just won't have enough to keep up with the leaders in this race.
Breaking from the inside of Bodemeister won't help his cause (no pun intended) much at all and unless he runs a perfect race, he'll do no better than third.
5. Went the Day Well (5)
Completing the flip-flop with Creative Cause is fourth-place Derby finisher Went the Day Well. This son of Proud Citizen will trade finishing spots with Creative Cause and also fall just short of finishing with the leaders.
He'll sit back off the pace a bit and make his run late, but Bodemeister will be too far out in front.
6. Pretension (3) 
Another son of Bluegrass Cat, Pretension is coming off a win here at Pimlico, and his recent experience and success on the track will help him on race day.
Jockey Javier Santiago will have to follow Bravo on the No. 2 horse to get it done, though.
7. Tiger Walk (1)
The rail-sitter has his work cut out for him, but the talented Son of Tale of the Cat has a lot of promise. Unfortunately, he's not lived up to that promise so far and will fall short again on race day, being forced to move too much for a run.
8. Daddy Nose Best (8)
Another disappointing finish is in store for the Steven Asmussen-trained horse. Daddy will have to decide whether to follow Bodemeister out of the gate or sit back with I'll Have Another. Any indecision will cost him this race, and that is the likeliest of scenarios.
9. Cozzetti (11)
Breaking from the far outside post, Cozzetti hasn't fared well this year, finishing no better than third in three races. A race like the Preakness won't be his time to shine.
10. Optimizer (10)
The last of the Derby holdovers, Optimizer has finished in the money only once in his last four races.
Like Cozzetti, the Preakness is a tough place to start.
11. Zetterholm (4)
Zetterholm has won his last three races, but we saw a similar hot streak with Gemologist come crashing to a halt at the Derby. This group of horses is too much for him to overcome.