Way-Too-Early Award Predictions for the Atlanta Falcons
May 17, 2012

Wesley Hitt/Getty Images
We're still a little under four months from NFL teams taking the field in a game that actually counts in the NFL standings. Between now and Sept. 9, the Atlanta Falcons still have to complete OTA's, minicamp and training camp, not to mention four preseason games. All this in an effort to whittle down a roster from 90 players to 53.
While the Falcons work towards finding the right 53 players, I'm going to prove that I have all the answers already. I'll prove it in our first edition of the "Way Too Early Awards" for the 2012 season.
Most Valuable Player – QB Matt Ryan
In each of Matt Ryan's four seasons in the NFL, he's gotten better in some aspect of his game. His quarterback rating, once in the 80s, is now above 90. He's increased his total touchdown passes each season from 16 in 2008 to 29 last year. Ryan also threw for a career-high 4,177 yards in 2011, setting a franchise mark along the way.
In 2012, Ryan could be even better, and three reasons lead me to this presumption.
Ryan is a super-intelligent quarterback who studies the game a lot. His natural progression from year to year will drive his numbers up. With another year under his belt, Ryan will improve.
The Falcons also have a new offensive coordinator coming to town in Dirk Koetter, who promises to add a screen pass to Ryan's arsenal and to take this offense more vertical. These are both aspects of Ryan's game that have been missing in the past, and both will greatly help.
Arm strength has always been an issue with Ryan, as has downfield accuracy. Ryan's spent the offseason getting stronger, both his arm and his body. He'll also have the benefit of working during the offseason instead of being locked out.
Ryan is ready to step his game up in 2012.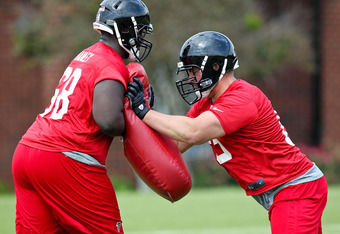 Daniel Shirey/Getty Images
Offensive Rookie of the Year – OG Peter Konz
The Falcons have a wide-open position battle for the right guard spot and Peter Konz will be right in the middle of the action.
Konz is a member of a very non-sexy offensive draft class that included two offensive linemen and a fullback. But he will add value to the offensive line from Day 1 as an intelligent lineman who works hard and makes the offense better.
If Konz stays healthy all year—an issue at Wisconsin—he'll have a bigger impact on the offense than any other rookie.
Defensive Rookie of the Year – Jonathan Massaquoi
The Falcons didn't take a defensive player in the draft until the fifth round, so picking a rookie of the year candidate is tough.
Massaquoi has done everything right since being drafted. The team asked him to drop weight so he could return to top pass-rush form of 2010 where he finished third in FBS with 13.5 sacks. Massaquoi complied and dropped 15 pounds.
Massaquoi is the type of guy that can get to a quarterback, and he's shown thus far, that he's pretty smart. If he picks up the defensive scheme he could find himself in the defensive line rotation early on and benefit from the large number of passing downs the Falcons will face this year.
Atlanta also added corner Asante Samuel in the offseason, beefing up its secondary. This could give the pass rush a few split seconds of extra time to get to opposing quarterbacks.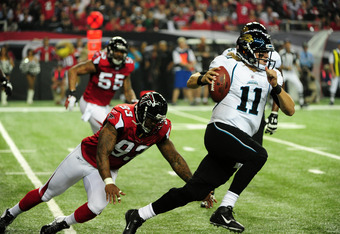 Scott Cunningham/Getty Images
Comeback Player of the Year – DE Ray Edwards
Ray Edwards was hampered by injuries for the better part of 2011 and admitted to not being completely up to speed with the defensive scheme. He was still great against the run, and eventually figured out the defense.
Heading into 2012, Edwards is healthy and has Falcons experience under his belt. He also, just like Massaquoi, will benefit from the little bit of extra time quarterbacks will have to hold the ball looking for an open receiver.
Adding corner Asante Samuel not only made Atlanta's secondary better, it's made the entire defense better.