2012-2013 Season Will Reveal Tom Thibodeau's True Value
May 17, 2012

Jonathan Daniel/Getty Images
You have to admit, Tom Thibodeau landing his first head coaching gig with the Chicago Bulls was a pretty sweet deal for him.
Chicago had a bona fide stud with Derrick Rose, two All-Stars in the making with Joakim Noah and Luol Deng and very deep pockets for the 2010 free-agent season.
Bulls management missed out on the big free-agent prizes that year but still managed to put together a deep, well-rounded team poised to make a little noise in the Eastern Conference.
Despite the optimistic outlook, no one expected the Bulls to vault straight to the top of the conference with back-to-back league best records, but that's exactly what they did, giving Thibodeau a great start as an NBA coach.
Thibs' playoff record isn't as spectacular as his regular season achievements, but each of the past two postseasons have credible arguments for why the team didn't accomplish more.
In the 2010-2011 campaign, the Bulls' lack of experience going deep into the playoffs was a big contributor to them coming up short in the Eastern Conference Finals, and this past playoff appearance was mostly played without two vital players, Rose and Noah.
All things considered, Thibodeau has done a good job for the Chicago Bulls in his first two seasons.
As Chicago regroups from its disappointing playoff run, Thibodeau now faces his third head coaching season without the luxuries that were afforded to him in his first two years.
According to K.C. Johnson of the Chicago Tribune, Bulls team physician Dr. Brian Cole has given Rose an eight-to-12-month window for recovering from his ACL surgery.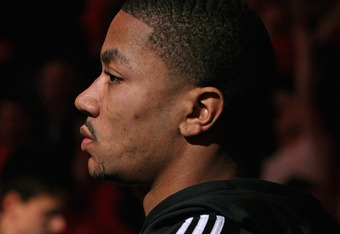 Jonathan Daniel/Getty Images
Nick Friedell over at ESPNChicago.com reports that if Bulls forward Luol Deng opts to play in the 2012 Summer Olympics then get surgery after the games are over, he could miss up to two months of next season as well.
So, with all of these factors in place, what can really be expected of Thibodeau and the Chicago Bulls in 2013?
With the third-year option of his contract being picked up, an extension for Thibodeau may rely, in part, on what he is able to accomplish over the course of next season.
Even if the roster remains the same outside of Rose, the Bulls definitely fall out of consideration as being a top team the Eastern Conference.
With the emergence of teams like the Philadelphia 76ers and New York Knicks coupled with a regular 82-game schedule without the equalizing chaos that was the lockout grind of 2011-2012, Chicago may very well find itself struggling for playoff contention.
It goes without saying that the Bulls' offense will suffer the most without Rose on the court; even with his dynamic skill set, the team's scoring average hovered in the mid-90s range.
If Chicago's offense doesn't produce as many points, there will be very little backlash from it.
Chicago will struggle to score and struggle often, but the good news is that the Bulls don't win games on the offensive end.
Chicago was the best in points allowed, and maintaining its defensive standing is going to be crucial to having any kind of success. And since defending is Thibodeau's forte, it's that area where he has the least amount of wiggle room.
With the entire front-line force Chicago has returning, it should still be able to be near the top in rebounding and have enough presence to stop a lot of easy points.
Some exceptions will be made for Thibodeau and some expectations will remain in place; the real measuring stick for next season will be how well he adjusts his approach to the game.
Will Thibodeau make any significant changes to his scheme knowing that he will be shorthanded on top-tier talent, or will he try to fit the players into his scheme and push on with his usual plan?
Will he be more flexible with his rotation when he needs to get something going for a stagnant team?
How will he get his team to respond when it starts slumping?
The Rose safety net is gone, and with it goes the chance of avoiding losing back-to-back games or even the absence of losing streaks.
Gone is the assurance that, when all else fails, you can simply put the ball in the MVP's hands and clear everyone out.
Gone is the automatic option for who to go to for a shot with the game on line.
The Rose-less dynamic makes for an entirely different team with an entirely different set of expectations.
If Thibodeau can keep this team at or above .500 basketball next season, he will really prove his value to the team and be rewarded well for it, assuming he hasn't been extended before then.
Great people rise to the occasion in the face of adversity, and things can't get any tougher for Thibodeau next year.
Will the disciplined sage rise to the challenge and excel, or will the obstacles be too high for him to overcome?