Lakers vs. Thunder: Game 2 Highlights, Twitter Reaction and Analysis
May 17, 2012
Brett Deering/Getty Images
What's worse—getting blown out by 29 or choking away a fourth-quarter lead to lose in crunch time?
Ask the Los Angeles Lakers, who suffered those fates in back-to-back games, including a 77-75 loss to the Oklahoma City Thunder at Chesapeake Energy Arena in Game 2 of the Western Conference semifinals on Wednesday night.
The Thunder parlayed turnovers and bad shots by the Lakers into a 9-0 run over the final 2:08 to erase a seven-point deficit. Steve Blake had a wide-open shot from the corner to win the game but clanked it off the back of the rim. The miss brought to mind the ghost of Derek Fisher, who'd hit many shots of that sort for the Lakers in the past but now plays for OKC after being traded away during the season.
The Thunder survived a sloppier effort on their part—and a much stouter defensive showing from the Lakers—to take a commanding 2-0 series lead on LA. OKC's Big Three of Kevin Durant, Russell Westbrook and James Harden combined to shoot just 17-of-40 from the field, though they managed to put the ball in the basket when it counted most.
LA did a solid job of controlling the tempo for most of the game, albeit with plenty of help from the referees. The two teams combined for 39 fouls, many of which appeared to come amidst minimal contact. 
Harden snuck in a smidgen of revenge for Metta World Peace's concussing elbow to the head by slyly dishing out one of his own to the Lakers' mercurial wingman in the first half.
Tweets of the Night
Something tells me that ESPN college basketball recruiting guru Dave Telep and NBA sharpshooter-turned-analyst Steve Kerr would get along juuuust fine:
Six members of the OKC Thunder played in Final Fours. Only two Lakers (Blake/Ebanks) made Final Four teams

— Dave Telep (@DaveTelep) May 17, 2012
Leave it to "Bill Walton" to say what everyone is thinking:
Thunder/Lakers has slowed down to a snail's pace with excessive foul calls. These refs need to swallow their whistles unless they see blood!

— Not Bill Walton (@NotBillWalton) May 17, 2012
So, was Golden State Warriors guard Stephen Curry in OKC for the game, or is he just another witty Twitter observer? 
That awkward moment when u walk back to the wrong seat at the OKC game and realize ur a white shirt in a sea of blue

— Stephen Curry (@StephenCurry30) May 17, 2012
Must-See Highlight
Harden's elbow to World Peace's head wasn't an exciting play, though it's certainly worth watching.
If only to play directly into the strange obsession with their rivalry.
Grades for Key Lakers Players
Kobe Bryant: B-
Kobe clearly labored through much of the game on tired legs, with several shots clanging off the front of the rim.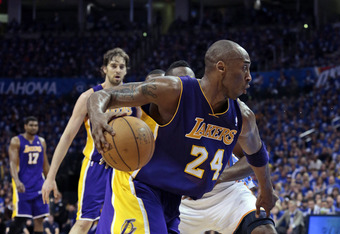 Brett Deering/Getty Images
He managed to hit some big shots on the way to a 20-point night, but still shot poorly from the field (9-of-25) and made some crucial mistakes down the stretch to snatch defeat from the jaws of victory.    
Andrew Bynum: B
Andrew Bynum didn't exactly shine this Game 2, per se, though he was effective nonetheless. The Lakers' All-Star center finished with 20 points, nine rebounds and two blocks, though his 8-of-19 shooting left much to be desired.   
Pau Gasol: C
You can say this much about Pau Gasol on Wednesday night: He wasn't nearly as listless on the court as he had been on Monday. The big Spaniard registered 14 points, 11 rebounds and three assists, though he was dominated defensively by Serge Ibaka on more than one occasion.
Grades for Key Thunder Players
Kevin Durant: B+
Kevin Durant was surprisingly quiet for most of the game but came through when it counted most. Part of that can be attributed to the defense of Metta World Peace, though the Durantula played passively on many occasions anyway.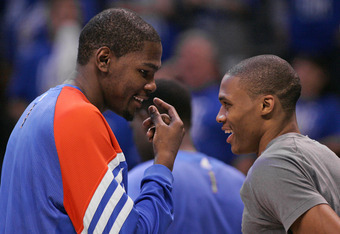 Brett Deering/Getty Images
The Thunder won't win many games with their best player taking only 15 shots. Then again, it's tough to argue with 22 points, seven rebounds, five assists and two steals. 
Russell Westbrook: B-
Of course, Durant wasn't the only OKC player who tailed off considerably after Game 1. Russell Westbrook contributed a solid-but-hardly-spectacular 15 points (on 5-of-17 shooting), six rebounds and four assists.
Which would normally be fine, except he racked up a line of 27-7-9 two nights ago. He fell asleep on the Lakers' final possession but dodged a bullet when Blake's shot missed long.
James Harden: B
James Harden laid low for most of the game before scoring two huge buckets to fuel OKC's late rally. He finished with 13 points on eight shots but contributed five turnovers to the Thunder's tally.
Which is more than they had as a team in Game 1.
Deciding Factor: Composure
In the closing minutes of the fourth quarter, one team played like a pack of veterans who'd been there before, and the other made youthful mistakes and nearly panicked.
Interestingly enough, it was the Thunder in the former category and the Lakers in the latter. OKC played poorly for most of the game but kept its collective composure over the final two minutes to hold LA scoreless and make its seven-point deficit a thing of the past. 
Game MVP: Durant
His balanced stat line aside, Durant contributed five points to OKC's game-ending run and did a marvelous job of guarding Kobe with the outcome hanging in the balance.
What's Next?
The series shifts to LA, where the Lakers and the Thunder will play Games 3 and 4 on back-to-back days (Friday and Saturday) at the Staples Center, starting at 10:30 p.m. EDT both nights.