Why LeBron James Is the Unluckiest Player in NBA History
May 16, 2012

Marc Serota/Getty Images
If you were like me last night and watching the Miami Heat lose Game 2 of the Eastern Conference semifinals to the Indiana Pacers, you knew that if LeBron James missed either one of those two free throws, it was going to be his fault. With Miami down one point and fifty four seconds remaining in the game, James ended up clanking both free throws and Indiana grabbed the rebound, as well as the win.
The series was now tied 1-1 and according to almost every analyst and fan in the world, it was LeBron James fault. However, as I watched the highlights after the game and started really thinking about it, I couldn't feel worse for him. For the first time in my life, I felt bad for LeBron James. The guy can't catch a break.
LeBron James finished last night with 28 points, nine rebounds, five assists and six steals and added some fantastic defense shutting down Danny Granger. Take James out of this game and it would be a blowout, Indiana style.
Besides James and Dwayne Wade, nobody scored more than five points for the Heat. LeBron James shot 45 percent from the field last night; the Heat as a team shot 34 percent. The numbers don't lie. Without James the Heat wouldn't have ever been in the game last night, but he missed those two free throws and all the sudden it's his fault.
Did nobody notice that James didn't come off the court during the fourth quarter? Does anyone think that maybe there is a chance maybe the guy was a little bit tired after playing 43 minutes of intense playoff basketball? The guy carried the Heat in the first and second game of this series. If the Heat lose this series though, I'll give you three guesses on who will get blamed the most.
I don't think it is out of the question to think that the Heat could lose this series, now that it doesn't seem like they will have All-Star forward Chris Bosh for the rest of it. The Pacers may be overall just a better team than Miami, more complete with a better starting lineup, frontcourt and bench. The only reason the Heat are favored is because they have two of the best players in the world.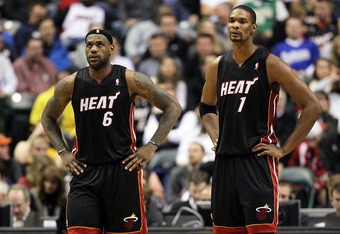 Andy Lyons/Getty Images
I still believe that the Heat will win this series because LeBron James will find a way, just the way he has done his whole career. Watching the Heat play the way they did last night reminded me of his days as a Cleveland Cavalier. It seems to me like LeBron is still playing with the same team he did in Cleveland, just with better weather.
James's luck had run out in Cleveland. After the 2009/2010 season he became a free agent and signed with the Miami Heat along with Chris Bosh in one of the biggest free agent moves in the history of basketball.
It wasn't so much that he left, but more how he left that irked people.
He did it in front of the whole country without really telling anyone in the Cavalier organization he was leaving. I don't see why he wouldn't leave. He could either go back to Cleveland and beg Amar'e Stoudemire to come play with him, or he could go to Miami and play with Dwayne Wade and Chris Bosh. That sounds like a no-brainer to me.
Miami had a great first season, almost as good as you could ask for. They made the NBA Finals in their first season as a team. However they got beat by a more complete basketball team.
You need to have a team to win a championship, and that seems to be the word that everyone has forgotten over the years: team. Look at the finals last season. The Dallas Mavericks won a ring because they are more of a complete team. The Lakers were a complete team in 2010 and 2009. The Celtics were a complete team in 2008. You have to have a full team of talented players to win in this league.
The Heat don't have a full team full of talent; in fact, they look a lot like the way LeBron's old team looked all those years. Don't get me wrong, (even though a lot of people will take this the wrong way) the Heat have a ton of talent with their Big Three in James, Wade and Bosh, but they aren't putting the right guys around these three. Name me one other player on this team besides Shane Battier that is considered to be a good NBA player and solid defender that a team can rely on. I don't see one.
I don't consider Chalmers to be that good; Joel Anthony isn't even a decent center. Juwan Howard isn't what he used to be and I haven't seen Mike Miller play in two years. Also as a Knicks fan, the idea of seeing Eddy Curry come off the bench of any NBA team makes me laugh.
If you disagree with me, just look at the boxscore from last night and tell me who stepped up besides the two superstars. To me this team almost looks like the same team that James had in Cleveland, just add Dwayne Wade and Chris Bosh. Those three are enough to win a ring, but lose one of them and this team becomes an instant question mark.
This team is one of the best teams in the league with Bosh, but without him I would say they might be the fifth best team in the playoffs right now without him. Nothing shows a lack of depth quite like the way the Heat played last night and that falls on Pat Riley.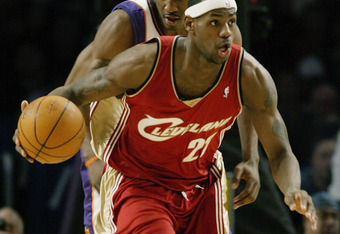 Jeff Gross/Getty Images
This team has needed a center since this whole thing began. Contrary to popular belief, they don't need a great point guard, because having LeBron and Wade on the same team eliminates that need. They do, however, need a better point guard than Mario Chalmers or Norris Cole. That won't cut it. They need a defensive minded point guard that doesn't need the ball a lot and a center that can rebound a basketball. However, that's very hard to do when you can't offer a player more than a minimum contract.
It's amazing how different and desperate the Heat offense looks when Bosh isn't on the floor. They look almost constipated, with all their players waiting out on the wing as if they have never played a basketball game.  It would really scare me if I knew Joel Anthony, Udonis Haslem or Eddy Curry had to step up for my team to have any kind of inside presence.
I wouldn't be shocked if the Pacers pulled off the upset because of the Bosh injury, but I don't think they will. The only reason I pick the Heat is because of LeBron James and his sheer determination to win games and a championship.
The thing about LeBron is just that he has a lot of bad luck. He is constantly being compared to the greatest player to ever play the game, which isn't fair because he will never be that.
Talk all you want about it, but LeBron James will never be greater than Michael Jordan.
He is constantly being talked about because all the sudden he isn't a good closer because we compare everyone's closing ability to the likes of Jordan and Kobe Bryant. Nobody will ever be the closer that Jordan was.
Everyone blames LeBron James for not hitting either of those free throws last night, although he played 43 minutes as well as he could and shut down Danny Granger in the process. Everyone blames LeBron for not taking that last shot last night, but, to be honest, Chalmers is a better three-point shooter.
Everyone blames LeBron for that loss last night, but nobody points out that besides Wade, nobody had more than five points last night.
James is going to retire as the best player of this generation. He will have more chances to close games and he will close them. He will win championships and he will go down as one of the greatest players ever.
This latest injury to Bosh is just another blow to LeBron's chances. The guy just can't catch a break. He's the first player I have ever seen that does everything right and gets nothing but criticism. I just hope that when LeBron does finally win it all people realize how great he really is, because for the first part of his career he has been nothing but unlucky.