Jeremy Lin: Knicks' Promise to Re-Sign Point Guard Creates Another Cap Crunch
May 16, 2012

Marc Serota/Getty Images
UPDATE (5:01 PM, 6/22/12): Arbitrator Kenneth Dam has upheld the NBA Players Association's challenge, granting early-Bird rights to players claimed off waivers, including New York Knicks free agents Jeremy Lin and Steve Novak (via Howard Beck of the New York Times). They can now sign both players without their contracts counting against the salary cap, and retain their mid-level exception of approximately $5 million to sign another free agent. The NBA intends to appeal the ruling, which is considered a financial blow to owners.
Jeremy Lin is not under contract for 2012-13, but New York Knicks interim head coach Mike Woodson told ESPNNewYork.com that Lin will "absolutely" be back next season.
With the current roster the way it is, the Knicks would be forced to sign Lin with their mid-level exception. Under the so-called Gilbert Arenas rule, no other team can offer Lin more than the average league salary, which will be roughly $5 million, and the Knicks have the right to match any offer.
But that is the same exception they had hoped to lure Steve Nash with, or any number of other talented players for that matter. If the Knicks decide to re-sign Lin at that price (though he certainly deserves it), it means he must be their starting point guard next year.
It also leaves them in dire salary cap straits yet again.
The Knicks struggled with salary cap issues for the better part of a decade under the presidency of Isiah Thomas. They essentially cleared cap space and signed Amar'e Stoudemire in order to lure LeBron James to New York. When he took his talents to South Beach, they put together a hefty trade package to acquire Carmelo Anthony.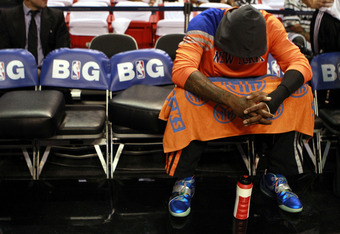 Marc Serota/Getty Images
Now, the Knicks have a "Big Three" of their own in Amar'e, Carmelo and this season's Defensive Player of the Year, Tyson Chandler. But the Knicks are committed to paying those three players over $53 million next season.
There are questions about the health of Stoudemire's back and knees. He's also owed $65 million over the next three years, which means no other team would assume his contract. Plus the Knicks already exercised the "amnesty clause" in the CBA on Chauncey Billups, so they will have to live with Amar'e and hope for the best.
But they will need to add role players to the team if they want to advance past the first round of the playoffs, and they have precious little money to work with. Aside from their Big Three, the Knicks have sensational rookie Iman Shumpert under contract for $1.6 million.
They also locked themselves in with the little-used point guard Toney Douglas for next season. Prior to the start of Linsanity, the Knicks exercised the team option for $2.1 million on Douglas back on January 25th.
The team is now left hoping that J.R. Smith declines his player option to take the mini mid-level exception next season, which is $2.5 million. He is likely to look for more in the free-agent market, and the Knicks would be more than happy to have a little extra money to spend on role players.
Smith was more than serviceable for the Knicks down the stretch, but he also earned the derogatory nickname "J.R. Starks" for his streaky play under the mentality that you miss 100 percent of the shots you don't take; which is to say, you should always be shooting.
Presuming Smith looks for more money elsewhere, the Knicks will have $63 million promised to six players, and just over $10 million to field the remainder of their roster. Oh, and they still have $1.6 million promised to Renaldo Balkman, who is no longer with the team.
The salary crunch is so bad that even if the Knicks let Landry Fields walk (which they will almost certainly have to if they sign his buddy Lin), they will have to persuade fan-favorite Steve Novak and defensive-specialist Jared Jeffries to accept the lower end of their market value in order to retain them both.
GM Glen Grunwald will have to go dumpster diving in the 2012 free-agent market to complete the roster. Along with Stoudemire, Anthony, Chandler, Shumpert and Douglas, the Knicks also have Jerome Jordan and Josh Harrellson returning.
Assuming they re-sign Lin, Novak and Jeffries, they still need to acquire five more players and will probably only have the mini mid-level exception and some chump change to do it. That means getting one halfway decent player and a bunch of scrubs.
And if you're planning on finding someone in the draft, remember that the Rockets hold the Knicks' first-round choice as a result of the Tracy McGrady trade (he's now on the Hawks, by the way).
Luckily, the Knicks still have the 18th pick in the second round, because even though they sent it to the Suns in the Amar'e sign-and-trade, it was top-55 protected (per Alex Raskin of NJ.com). But by that point in the draft, their choice is not likely to yield an immediate impact player.
While the Knicks did acquire another second-round pick from the Warriors after they traded away David Lee, they gave that pick to the Nuggets when they signed 'Melo.
So it's starting to feel like the same old Knicks. They're stuck with big contracts and some undesirable players clogging up the roster.
But it's still important to bring back Lin, who was an international phenomenon for three weeks this past season. They just have to hope that the players they have can stay healthy and live up to their potential, because they can't hope for much in the offseason.