Arizona Cardinals Defense Will Break out Just Like the San Francisco 49ers Did
May 16, 2012
Dilip Vishwanat/Getty Images
Despite the San Francisco 49ers dominant season last year and Kurt Warner's Arizona Cardinals reaching the Super Bowl as recently as 2009, the NFC West has generally been the but of any divisional jokes in the NFL in recent years.
The reason being that the division as a whole has been found wanting more often than not with the St. Louis Rams, Seattle Seahawks, 49ers and Cardinals for the most part struggling to form a relevant team between them.
Entering this season things should be different.
Not only do the 49ers enter the year after a 13-3 record in last season's regular season, leading to a trip to the NFC Championship in the playoffs, but each team in the division has taken notable strides to improve their teams this off-season.
What is most significant about each team in this division is the prowess of each team's emerging defense.
While to an extent the Seattle Seahawks defense is already an established unit, with the San Francisco 49ers definitely being one of the best in the league already, the St. Louis Rams and Arizona Cardinals are both expecting to take major leaps forward this year.
The Rams will be hampered somewhat this year because of the forced absenteeism of Greg Williams as well as the simple fact that some of their pieces are in need of further developing. However, the Arizona Cardinals should not have that problem as former Pittsburgh Steelers' secondary coach Ray Horton looks to guide a young star studded group through a breakout season.
Even though the Cardinals should shock the NFL world with a quick turnaround like the 49ers did, they will do it in a completely different style.
Last year, the 49ers concentrated on shutting down teams with their dominant run stuffing 77.2 rushing yards per game and resilience in the redzone giving up a league best 14.3 points per game. The Cardinals won't be shutting the opposition down in that similar vane but their ability to force turnovers and take advantage of big plays will frustrate offenses from week to week.
After re-signing Calais Campbell this off-season, the Cardinals brought back the most productive 3-4 defensive lineman in the whole league. Campbell had 72 tackles last year with eight sacks, 10 pass deflections, two forced fumbles and even an interception. His versatility and ability to make plays is astounding considering the position he plays.
Campbell has had 21 sacks over the past three seasons but most significant is the fact that he is still only 25 years of age. At that age he could still potentially be developing his game. The prospect of him getting better is phenomenal as his play could quite easily reach, if its not already on, the level of Haloti Ngata in Baltimore.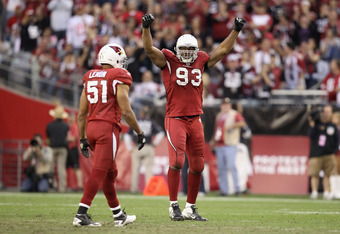 Christian Petersen/Getty Images
If there is anyone who will get even more out of Campbell it is Ray Horton. Before being appointed the Cardinals defensive co-ordinator, Horton was the defensive backs coach in Pittsburgh while the best 3-4 defensive line in football played with the Steelers. Horton got to see Aaron Smith and Brett Keisel up close and personal to model Campbell after.
In Horton's first year, Campbell added a new dimension to his game by being more intelligent in the passing game. When he couldn't get to the quarterback, he got his hands up to deflect 10 passes at the line of scrimmage and pick off one. That says a lot about Campbell's work habits and willingness to improve as he had only eight career deflections in the three preceding years.
Even though he is the second best defensive lineman that the Cardinals have, and not the first like his reputation would lead you to believe, Darnell Dockett is still a very talented footballer. Dockett is now 30 years of age and didn't have a great year last year but that should only give him motivation to excel again this year.
His character is often questioned but his effort on the field rarely is the issue. He undoubtedly has a strong personality but that should only help him if the defense begins to perform at a higher level next year.
Dan Williams was only beginning to live up to his status as a first round draft pick last year when he broke his arm after 10 games. Williams had started the first 10 games after being part of the rotation as a rookie. He will never be the most heralded of players but will play a vital role manning the nose tackle position and consuming blockers upfront.
Williams is still only maturing as a football player at 24 but has two excellent teammates alongside him to help him through the final stages of his development as well as veteran Nick Eason in a backup role..
All that quality in the defensive line may give Campbell and Dockett opportunities to get their names on the stat sheets, but more importantly it allows the team's budding outside linebackers to do their best work.
While rookie Sam Acho proved himself to have immense abilities last season that instantly translated to the NFL, Acho had seven sacks and four forced fumbles, second year player O'Brien Schofield saw his snap count increase as he continued to develop into Clark Haggans replacement.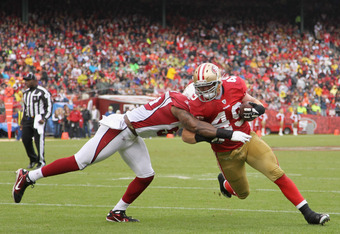 Ezra Shaw/Getty Images
Schofield should expect to be the full-time starter this coming season playing across from Acho as the two try to emulate LaMarr Woodley and James Harrison or maybe a more realistic target for next year Ryan Kerrigan and Brian Orakpo.
Acho will undoubtedly be the primary rusher which should allow Schofield to see some more favorable looks in one-on-one situations. Schofield may not be as talented as Acho as a pure blitzer, but he provides a threat and relentless motor which the departed Clark Haggans and Joey Porter lacked.
Working off of the defensive line, in tandem with each other, both of the Cardinals' outside linebackers should have realistic expectations of cracking double digit sack numbers next year.
With all that pressure, the team still needs some stability on the inside to shut down the running game. The little known pairing of Daryl Washington and Paris Lenon may not receive much acclaim but they are too busy making plays to care.
Washington in particular is a budding star who is only overlooked by the mass media because of where he plays and the position he plays. With guys like Patrick Willis and Brian Cushing, there are high standards set for young linebackers, but Washington meets them.
Along with Donald Butler in San Diego, Washington is one of the best young inside linebackers in the NFL who nobody really takes notice of. Despite the fact that he had five sacks, seven pass deflections, two interceptions and over 100 tackles, you still rarely ever hear his name.
Considering guys like Curtis Lofton, Paul Posluzny and Stephen Tulloch get praised for being decent, but limited, linebackers a guy like Washington, who excels both in the run and pass defense, has every reason to feel aggrieved. Washington is entering his third year and the beginning of his prime at 25 years of age. He should be a name to watch out for this year to potentially crack his first Pro Bowl.
The Cardinals' secondary hasn't been overwhelmingly good in recent years but has a much more solid appearance to it this year.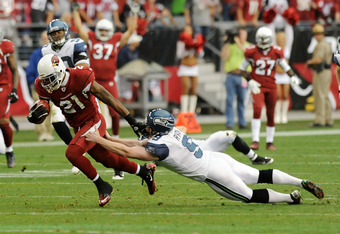 Norm Hall/Getty Images
Patrick Peterson received a lot of acclaim as a returner in his rookie season but wasn't exactly overwhelmingly impressive as a cornerback. His game should elevate significantly as his level of comfort and awareness does going into his second year.
Playing across from Peterson the team has brought over a veteran from the Pittsburgh Steelers in William Gay. Gay was a very inconsistent cornerback prior to last season when he was a vital piece in the number one ranked pass defense in the NFL. He won't be shutting down anyone, but he is a reliable veteran performer with the quickness to play inside or out.
The Cardinals brought in veteran James Sanders as a backup safety to Adrian Wilson and Kerry Rhodes. Rhodes and Wilson are not the greatest cover players, but both love to make plays when afforded the opportunity. Opportunities shouldn't be an issue this year as the pressure is cranked up upfront and Ray Horton has extra time to work with his defense as a whole.
Last year was a struggle for Rhodes who didn't have a pick in his first seven games before being lost for the season with a broken foot. He will be hoping to bounce back this year and still has plenty left in the tank at only 29 years of age.
Adrian Wilson didn't miss a game last year but struggled as he played through injury at the start of the season. Wilson hurt himself early in training camp attempting to tackle Chris Wells and as a result wasn't able to fully focus on integrating into Horton's scheme. When you add in the fact he lost his safety partner halfway through the season there was a lot working against the veteran last year.
He may be 32 years of age, but the passion in Wilson will see him extend his career as long as possible much like Brian Dawkins did in Denver with the Broncos.
The Cardinals brought in some pieces on offense in the form of Adam Snyder and Michael Floyd, but their defense will be what carries them during next season. Development and coaching is more important for this group this off-season over big name additions. They should reap the rewards of that work during the regular season.
While it may seem crazy to most of you out there, but that's because most of you don't pay attention to the Cardinals. Maybe some of you are still in denial about the 49ers' defense from last year too?
Either way, the Cardinals won't care. They'll just keep on making plays.
Tweeting @Cianaf