2012 NFL Draft Review: The Jags Gamble on Blackmon's Production
May 25, 2012

Rick Dole/Getty Images
One of the things that surprised me more then anything else during draft season this year was the hype train that carried Justin Blackmon all the way to the fifth overall pick.
Blackmon was a highly productive receiver in two years starting. He had over 230 catches, 3,300 yards receiving and 38 touchdowns in 25 starts with Oklahoma State.
Lets hold all of our opinions for just one moment and reflect on that production—on a per-game basis Blackmon would average 9.3 catches per game for over 130 yards receiving and 1.52 TDs. Even at the collegiate level where the spread offense has been infused into almost every offense in the FBS, these numbers are impressive.
Blackmon also ended his college career on the big stage of the Fiesta Bowl, torching the Stanford defense for 186 yards on eight grabs and three touchdowns.
Blackmon also became the first receiver since Peter Warrick in 2000 to be drafted in the top five under the height of 6'2''. It's notable because most NFL front offices are unwilling to draft receivers that high unless they possess the type of height-weight-athleticism ratio of players like A.J. Green and Larry Fitzgerald.
Blackmon is built more like Joe Horn then A.J. Green. Horn had a pretty successful NFL career, but he was taken in the fifth round of the 1996 NFL draft—not in the top five.
But size doesn't really matter. Blackmon has enough size to have a successful NFL career, even if he isn't a big enough receiver to bail out a quarterback the way A.J. Green can. But there are a couple of concerns with Blackmon.
Blackmon comes from one of the many spread offenses that doesn't translate very well to the NFL game. Even so, natural talent usually trumps the system a receiver plays in because of the pass-happy nature of the NFL, and the rules that prohibit defensive backs from limiting receivers the way they used to don't exist.
Expectations are different now with the changes in the passing game.
But when you're taken in the top five of the draft, the expectations remain the same—you need to be a dominant No. 1 receiver. Some have questioned whether or not Blackmon can be a true No. 1 in the NFL. Is it his size? Maybe, after all he doesn't have the catch radius that other top prospects have had.
But my biggest concern is going to be his ability to run routes at the next level.
Blackmon really had four routes at OSU—the nine (a deep streak), the post route, the slant and the crossing route. Blackmon's route running is going to have to become a lot crisper and far more diverse at the next level (the crossing route isn't very popular at the NFL level, and I don't think he's got enough deep speed to continue being a primary deep threat).
He also runs a comeback, but doesn't turn on a dime very well to make that route work and sometimes fails to sell it all the way with his eyes. Blackmon is the type of player who seems to be a much better football player with the ball in his hands then out of his hands.
The thing that shocked me is Blackmon going fifth overall. Michael Crabtree is a similar player, though slightly more physical, and comes from a similar offense at Texas Tech and he went 10th overall—with another receiver even being drafted over him—Darius Heyward-Bey. Blackmon, for much of the year, has been the consensus favorite to go in the top five.
Certainly an instinctual player who never gives up on a play, Blackmon does a great job adjusting to underthrown balls. But is he athletic enough to become the player the Jaguars traded up for?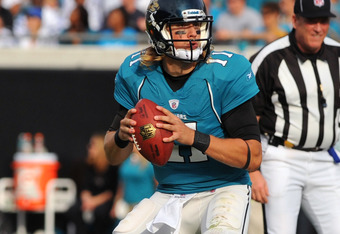 Al Messerschmidt/Getty Images
Obviously they think so. They think his game can translate even though there are some holes in it—some of which he can't control.
In summation, I don't think Blackmon is a player who will "bust."
Perhaps a slight disappointment, but he should have a decent career. It won't be anything Hall of Fame worthy, which is why I was a little surprised the Jags traded into the top five for him, but they have no choice but to try to surround Blaine Gabbert with talent if they want Gabbert to find success.
Finding that success with Gabbert won't be easy because of Gabbert's problems in the pocket. Blackmon's best shot at success will be refining his route running and taking the Roddy White role in Mike Mularkey's offense.
He needs to create separation by becoming an exceptional route runner and using his thick body as a weapon. It's very possible for Blackmon to succeed, but I am surprised about where he was selected considering some of his flaws. Jacksonville was willing to overlook it, and if the rumors are true about Jeff Fisher slamming the table when the Jags took Blackmon (via Gary Myers of The New York Daily News), then so were the Rams.
For the sake of a long-suffering Jaguars fanbase, I hope that the Jaguars and Gene Smith made the right choice.