Hot Stuff! Nats' Stephen Strasburg Gets Some Heat Balm Where It Shouldn't Go
May 15, 2012

Greg Fiume/Getty Images
To channel Tim Kurkjian, one of the reasons we love watching baseball is because the game doesn't always turn out the way you expect.
Case in point: Stephen Strasburg started for the Washington Nationals against the San Diego Padres on Tuesday afternoon. The Padres came into the game with the second-lowest team hit total in the NL at 269, as well as the second-lowest run total at 120.
That had some people, such as MLB.com Nats beat writer Bill Ladson, thinking that this could be the day for Strasburg to throw a no-hitter. (Check out the responses to his Tweet, which are pretty funny.) 
Well, it didn't quite turn out that way for Strasburg and the Nats. For one thing, it was Padres starter Anthony Bass who had the no-hitter through three innings. But Strasburg wasn't sharp at all in the first inning, throwing 39 pitches while allowing three runs, three hits and two walks. 
At the risk of being Captain Obvious, Tuesday's effort was Strasburg's worst start of the season.
He lasted four innings, giving up four runs, seven hits (one of them James Darnell's first homer of the year) and two walks. Strasburg had lasted at least six innings in each of his previous seven starts, never allowing an earned run in five of those games. 
So what was the story with the Nats' ace? It couldn't have been pitching during the day. Consider a small sample size of nine starts, Strasburg is 3-1 with a 1.28 ERA in day games.
Was it because of the rainy conditions in D.C., which soaked Nationals Park with a quick burst of rain that resulted in an eight-minute rain delay?
Maybe, maybe not. Perhaps it was just a bad game. It happens for every pitcher, even the best ones. 
But in post-game interviews with manager Davey Johnson, Nats beat writers found out that something else may have thrown Strasburg off his game. The Washington Post's Adam Kilgore shared the information with this Tweet.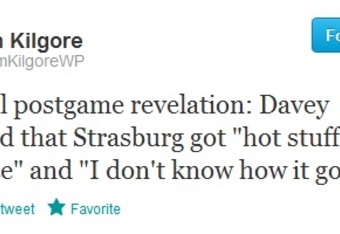 Hey now. Some pitchers, such as Roger Clemens, go for that sort of thing. Others, I'm guessing, prefer not to suffer through the discomfort of intense heat from analgesic balm on their unmentionables. 
Upon further investigation, it was determined that this wasn't a prank. And really, who would be dumb enough to play a prank on the team's ace when he's pitching? That would seem like a fast ticket to Class-A Hagerstown. Or maybe China.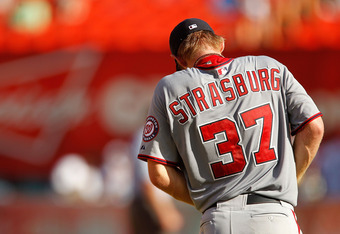 Mike Ehrmann/Getty Images
So maybe this was just an accident by Strasburg? Have you ever been cutting jalapenos or some other hot pepper in the kitchen and then absentmindedly rubbed your eye afterwards? (I haven't, but I hear it stings badly.)
Maybe this is the kind of thing we're talking about. Something went where it shouldn't have gone in, er, the heat of the moment. Chalk it up to a bad rub.
Whatever the case was, Strasburg wasn't revealing anything, with reporters surmising that he wasn't too pleased with his manager mentioning the apparent blunder to the press. 
He's probably not thrilled that people are blogging about it, either. 
Follow @iancass on Twitter