2012 Fantasy Football: Updated Wide Receiver Rankings (Standard Scoring)
May 15, 2012

Chris Graythen/Getty Images
Detroit's Calvin Johnson had some (very) good seasons going into the 2011 season.
With elite size (6'5", 235 pounds) and athleticism, however, Megatron seemed capable of even more, especially with improved quarterback play. Not only did Matthew Stafford, the top overall pick in the 2009 NFL draft, stay healthy for 16 games, he became one of only four quarterbacks in NFL history to throw for 5,000-plus yards.
Meanwhile, Johnson blew away his previous career highs. In 2011 (previous highs in parenthesis), Johnson had 96 receptions (78) for a league-high 1,681 yards (1,331) and 16 touchdowns (12).
Only six players in NFL history had more receiving yards in a single season.
Aside from Megatron, the only other player in NFL history to finish with 1,600-plus yards and 16-plus touchdowns in the same season was Randy Moss in 2003.
Johnson had a little bit of dry spell from Weeks 10 to 14—no 100-yard games and only one touchdown in those five games.
In his next (and final) four games counting the Lions' playoff loss, however, Megatron had three 200-yard games. During that four-game span he had 36 receptions for 771 yards and six touchdowns! (As a comparison, Tampa Bay's Mike Williams had 771 yards and three touchdowns in the entire season).
Hands down, Megatron goes into 2012 season as the clear No. 1 fantasy wide receiver and it's not close.
Based on standard scoring (i.e., not point-per-reception (PPR) scoring), here are our 2012 fantasy football wide receiver rankings:
1. Calvin Johnson, Lions
See above.
2. Andre Johnson, Texans
When healthy, Johnson is still elite. That said, Johnson has played a total of only 20 regular-season games in the past two years and missed a total of nine regular-season games during two stints for a hamstring injury last year. Johnson was playing well before the injury (21 receptions for 316 yards and two touchdowns in his first three games) and in the postseason (13 receptions for 201 yards and a touchdown in two games).
3. Hakeem Nicks, Giants
Even though he set a career high in receiving yards (1,192), his season was a very mild disappointment for some. In addition to seeing his receptions (76) and touchdowns (seven) drop some, Nicks finished second on the team in all categories behind Victor Cruz (82/1,536/9). That said, Nicks is a more talented receiver than Cruz and was tremendous in the postseason with 28 receptions for 444 yards and four touchdowns over four games.
4. Wes Welker, Patriots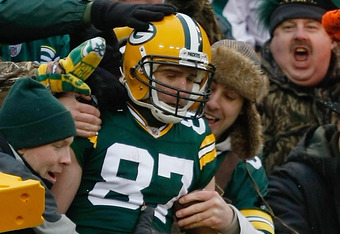 Scott Boehm/Getty Images
Based on data from Pro Football Reference, a player has reached 110-plus receptions 25 times in NFL history. Over the past five years, Patriots slot receiver Wes Welker has done it four of those 25 times. Welker, who was designated with the team's franchise tag, finished with career highs in yards (1,569) and touchdowns (nine) and his 122 receptions was one shy of his previous career high.
5. Larry Fitzgerald, Cardinals
Imagine if Fitzgerald had better quarterback play and a legitimate weapon on the other side of the offense. Well, he'll have to settle for one out of two as the Cards drafted Michael Floyd in the first round. Even with the Cardinals' lack of strong quarterback play, Fitzgerald posted the fourth 1,400-yard campaign of his career. In other words, he's quarterback-proof.
6. Roddy White, Falcons
White has been a model of consistency and good health. For five consecutive seasons, White has had 80-plus receptions and 1,100-plus yards. In the past two seasons, White has 100-plus receptions. As impressively, White has yet to miss a game in his seven-year NFL career. With all that said, it would seem logical that the gap in targets between White (181) and Julio Jones (96) diminishes in 2012.
7. A.J. Green, Bengals
Receivers A.J. Green and Julio Jones made big splashes in their rookie seasons despite a lack of an offseason to get acclimated to their respective offenses. Green became the first rookie to finish with at least 1,000 yards since Marques Colston did so in 2006.
8. Greg Jennings, Packers
With Jennings missing three games last year, he set four-year lows in receptions (67) and receiving yards (949). Not only was Jennings second on the team in receptions, receiving yards and receiving touchdowns (nine), but he ranked second on the team in receiving yards per game behind Jordy Nelson.
9. Julio Jones, Falcons
Jones had 54 receptions for 959 yards and eight touchdowns, but he missed three games and would have (almost certainly) finished with more than 1,000 yards as a rookie (like Green) had he stayed healthy for all 16 games.
10. Victor Cruz, Giants
After not catching a single pass in 2010, Giants receiver Victor Cruz burst onto the scene in Week 3 and finished the season with 1,536 receiving yards, which ranked him third in the NFL behind Megatron and Welker. In addition, that set a franchise record. As noted above, Cruz had more receptions (82), yards (1,536) and touchdowns (nine) than Nicks (76/1,192/7).
11. Jordy Nelson, Packers
Nelson had a huge performance in Super Bowl XLV and seemed poised to break out in 2011 with the only possible barrier being too many talented pass-catchers in the Packers offense. Nelson took the next step forward with career and team highs across the board last year: 68 receptions for 1,263 yards and 15 touchdowns.
12. Mike Wallace, Steelers
A couple of spots lower in this update, Wallace and the Steelers can find themselves in a bitter contract situation. If the Steelers and Wallace don't agree to a long-term deal, Wallace would play under a restricted free agent (RFA) tender of less than $3 million, and he has expressed his unwillingness to sign that tender any time soon.
13. Brandon Marshall, Bears
Marshall had a five-year low of 81 receptions in 2011, but he has been reunited with quarterback Jay Cutler. When both were in Denver, Marshall had his only three seasons with 100-plus receptions and his only season with double-digit touchdowns.
14. Vincent Jackson, Bucs
In any given week, Jackson can give fantasy owners 30 fantasy points—or three points. Jackson, who signed with Tampa Bay in the offseason, had four great games last year and 12 less-than-great games. During his four best games, Jackson had 27 receptions for 586 yards and seven touchdowns. In his other 12 games, he had 33 receptions for 520 yards and two touchdowns.
15. Dez Bryant, Cowboys
From a physical standpoint, Bryant has the tools to be a top-five receiver in the league. On the other hand, he has yet to demonstrate the maturity or mental makeup to make us believe that his path to that lofty status, if he gets there, will be smooth. Fortunately, there is not a lockout this offseason and let's hope he spends more time at Valley Ranch than the NorthPark Center Mall.
For the rest of our top 70 fantasy wide receivers, click here. Or for our point-per-reception (PPR) rankings (top 60), click here.
In addition, we have also recently updated our top 25 fantasy quarterbacks and our top 50 fantasy running backs for 2012.
To keep track of our updates, "like" us on Facebook.