NFL Rumors and Speculation: Reviewing the Latest Buzz
May 16, 2012

Dilip Vishwanat/Getty Images
With 112 days left until the Dallas Cowboys and New York Giants kick off the 2012 NFL season, fans still have plenty to dissect and discuss.
Here is a review of three stories splashing NFL headlines.
If You Build It, They Will Come (NFL to L.A.)
The last time the NFL had a team in Los Angeles was 1995, the same year O.J. Simpson received his "not guilty" verdict.
But this year, billionaire Philip Anschutz sought to change L.A.'s luck, stating that he would financially back a Los Angeles NFL team and its stadium—if he could obtain a "reasonable" deal, of course.
But with the rumor mill churning over which teams would fit, the Minnesota Vikings, L.A.'s most eligible bachelor, effectively quashed the buzz of a potential stint in Beverly Hills when Minnesota Gov. Mark Dayton inked into law a bill that pledged public funding for more than half of Minnesota's stadium-building project—an effort that will cost almost one billion dollars when all is said and done.
So what teams could wind up in football-deprived L.A.? According to NFL.com, the most likely candidates are the St. Louis Rams, Oakland Raiders, San Diego Chargers, Jacksonville Jaguars and Buffalo Bills.
Of these teams, I see the Rams and the Raiders with the best chances (ironically, these are both the teams that left L.A. years ago).
Though the Rams have submitted a plan to renovate their stadium, negotiations will move to arbitration if a deal isn't settled by June 15.
Should it come to that, the frustrating process could wear down Rams owner Stan Kroenke, whose intentions in the absence of a renovation deal are ambiguous.
Combine that with Kroenke's ties to Los Angeles, and it could provide the perfect storm for the return of the Los Angeles Rams.
The Raiders are also a viable candidate.
The Bay Area market might be too cramped to pay profits that keep pace with local taxes. Further, the Raiders' lease is up in 2013, making the timeline palatable for Los Angeles to swoop in.
Most likely, however, the NFL in L.A. will be the stuff of Hollywood movies for the next few decades.
Has Cedric Benson's "Ship Sailed?"
According to the Cincinnati Enquirer, the "ship has sailed" on Cedric Benson's return to the Buckeye State. No surprises there.
But will the seven-year veteran return to the NFL or has his time as a pro truly run its course?
Benson's career showed a pulse when rumors swirled that the Oakland Raiders were looking to him as a possible Michael Bush replacement.
That hope came to an abrupt halt earlier this week when those rumors were pronounced dead.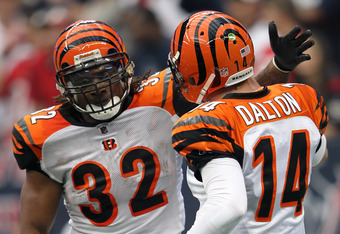 Jamie Squire/Getty Images
So where to now?
The Green Bay Packers could be a good landing spot for Benson if they don't end up re-signing Ryan Grant.
The Packers need a running back in 2012.
Their backfield was one of the worst in the league last year, and having another veteran on the team would complement sophomore backs Alex Green and Brandon Saine.
Benson brings the wisdom of experience to the backfield. He can also still contribute. Despite talk of his decline, Benson quietly ran for over 1,000 yards last year.
While it's unlikely that the 29-year-old will be blowing by guys or breaking records, he's accustomed to the cold and could rack up some nice carries for the Cheeseheads.
God's Quarterback v. The Sanchize
The New York Jets continue to kick up dust on who will claim the starting role under center come September.
The most recent installment of the saga came when Jets' quarterbacks coach Matt Cavanaugh ripped Mark Sanchez's decision-making ability and then followed up his caustic comments by praising backup Tim Tebow, disclosing that the quarterback could be "very good."
Cue the New York media circus.
Naturally, former Jets quarterback and brash critic, Joe Namath, couldn't resist getting involved. Namath gave Sanchez his vote of confidence.
Here's my predictive narrative for the Jets' quarterback tale in 2012: Mark Sanchez has the starting role locked down for a grand total of one game. After that, it's a free-for-all.
If you must know who the actual starting quarterback is in New York, I'll give you a hint. He wears No. 10, and he's on the Giants.