Chad Ochocinco and NFL's Most Outspoken Players
May 14, 2012

Michael Heiman/Getty Images
When Chad Ochocinco wrote a public letter to NFL commissioner Roger Goodell this weekend it was just the latest in a long line of examples of the six-time Pro Bowler airing his thoughts in public. 
From his Twitter account that boasts 3.4 million followers, to his willingness always open up to reporters, Ochocinco is never shy about expressing his opinions. He is easily the most outspoken player in the NFL. 
Here is a look at the rest of the league's most outspoken players, though none of them are as loud or open as Ochocinco.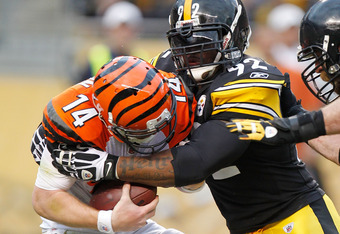 Gregory Shamus/Getty Images
James Harrison
There is no way this list could exist without James Harrison. The intimidating Pittsburgh Steelers linebacker has ripped commissioner Roger Goodell numerous times and even gone so far as to snub both Barack Obama and George W. Bush when the Steelers were invited to the White House.
In an interview with Men's Journal, Harrison called Goodell a "crook and a puppet" and went on to say "I hate him and will never respect him." He also called Goodell a gay slur while also ripping Ben Roethlisberger (his own quarterback), Rashard Mendenhall and other NFL players like Brian Cushing.
Harrison also taunted the New England Patriots after they lost Super Bowl XLVI by taking to Twitter and gleefully saying that cheaters never win.
Along with that he has obviously been the center of controversy because of multiple fines for illegal hits, even going so far as to threaten to retire as a result. Few, if any, athletes in the sports world are as outspoken as Harrison.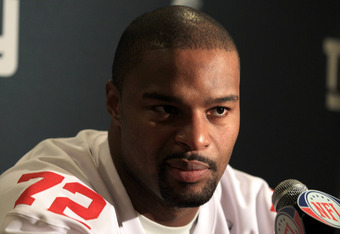 Scott Halleran/Getty Images
Osi Umenyiora
Umenyiora is a recent addition to this list thanks to what's happened over the past few years. During his current contract impasse, the 30-year-old defensive end has been outspoken in his criticism of the Giants, and claims that general manager Jerry Reese is misrepresenting his position publicly. 
He hasn't been shy about voicing his displeasure with the team, especially after teammate Mathias Kiwanuka inked a three-year, $21.75 million extension. Umenyiora claimed the Giants had offered him half of what they gave Kiwanuka in guaranteed money.
In addition to that Umenyiora has been engaged in a protracted Twitter feud with Philadelphia Eagles running back LeSean McCoy. He reignited the feud on Sunday by wishing McCoy a happy Mother's Day. 
That swipe was the latest in a series of barbs between the two that began when McCoy called Umenyiora overrated during a contract dispute last offseason. After that, Umenyiora referred to McCoy as a "Twitter gangster" and "Lady Gaga" in another interview.
Umenyiora says whatever he wants, whenever he wants and it doesn't appear that will change any time soon.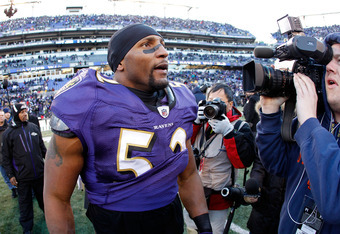 Rob Carr/Getty Images
Ray Lewis says a lot of things but they rarely register nationally because he is polished enough to avoid saying anything too crazy. That changed last summer. 
Last offseason during the height of the NFL lockout, Lewis made the statement that if the NFL was taken away from the public that crime would skyrocket. Really Ray? I mean, I love football, but if it goes away I'm not going to go rob an electronics store. In fact, I'm probably less likely to do so because, I mean, without the NFL who needs a big screen television?
Still, Lewis makes this list and it's not necessarily a negative. He's outspoken about his faith and has always been vocal about it.