St. Totteringham's Day 2012: Hollywood Couldn't Have Done It Any Better
May 13, 2012

Ross Kinnaird/Getty Images
May 13, 2012.
Mark that date.
Gooners rejoice and Spuds lament, for today we celebrate St. Totteringham's Day! It took all 38 games and subjected Gooners to a roller coaster of emotions across 10 months, but as the dust settles on a fantastic football finale, Arsenal FC have done what many thought to be impossible... third in the Premier League, automatic Champions League qualification and a finish above hated rivals Tottenham Hotspur!
For those who kept the faith, it is a vindication of our belief in the team; for those who lost their way, perhaps this will renew their optimism. It's hard to look upon this season as anything but amazing, for it contained all of the drama and excitement that one could ask for (along with the heart attacks we could have gone without) and saw a team on the brink of ruin save itself, its manager and its reputation.
When Arsenal started the season with a 2-1-4 record, languishing in 17th place and having suffered the worst defeat in over a hundred years, the "boo birds" had their field day. The departures of Cesc Fabregas and Samir Nasri were compounded with losses to hated Spurs and lowly (now relegated) Rovers and Arsenal was doomed.
And then the Gunners woke up. Warming up with a couple of matches, everything came together with a stunning come-from-behind victory at Stamford Bridge. Robin van Persie continued his own personal crusade, Alex Oxlade-Chamberlain proved he was worth every dime that Arsene Wenger had spent on him, Tomas Rosicky once again became the "Little Mozart" and Alex Song discovered the joy of the assist. Arsenal surged.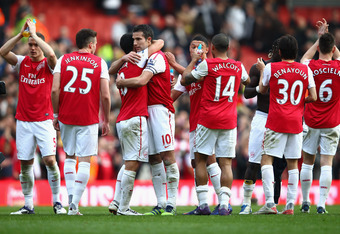 Clive Mason/Getty Images
Still, even with a surprise loan return of Thierry Henry for two months, it looked as if the hole was too deep. That is, until Rovers made a trip to Ashburton Grove on the 4th of February. With a smashing 7-1 victory, capped by a Thierry Henry goal, Arsenal regained their form and stormed through the EPL. But once again, they would falter and all seemed lost after a draw to Norwich City on the second-to-last weekend of play.
Call it luck, divine intervention or whatever else you choose, but somehow Arsenal survived into the final weekend to set up a do-or-die scenario; win and third place was assured, lose or draw and it would be decided by fate. Arsenal would take us on one last thrill ride, first taking the lead and then falling behind by a goal in the first half before settling the score against West Brom with a 3-2 victory at the Hawthorns. Three vital points were secured that saw Tottenham's efforts against an undermanned Fulham come to naught and the party was on.
Finally, Tottenham could no longer surpass Arsenal in the standings. More importantly, however, the Gunners managed to retain 3rd place and finish against all odds, ensuring their continued participation in the Champions League and perhaps providing Robin van Persie with enough incentive to remain at the Emirates for years to come.
Disaster Recovery? Check.
Champions League? Check.
St. Totteringham's Day? Check.
It's been an exhausting ride but, considering the start (losses, injuries and departures), an ultimately satisfying one. I can honestly say that I look forward to the summer, despite Wenger claiming he will not splurge. Assuming all of the Gunners return to fitness, the 2012-2013 season looks like it could be a bright one. When that time comes, you will find me where I always am, backing the Gunners no matter what. Till next season (and the completion of this deployment to Afghanistan)!
Gooner for Life!