Baltimore Ravens: Terrell Suggs Must Be Saved from Rushing Back
May 12, 2012

Chris Trotman/Getty Images
While many in the Baltimore Ravens organization and fan base were worried that pass-rushing, run-stopping outside linebacker Terrell Suggs would be out for the 2012 season with a torn Achilles tendon, there is good news.
After going through a 30-minute procedure in which the doctors found only a partial tear of the tendon, Suggs' return to the lineup this season could be much sooner than expected.
That doesn't mean that Baltimore should let the star linebacker play if he isn't ready, though.
As hard as it will be to tell Suggs to sit down, the organization and doctors need to know that this is a man that will push himself beyond the breaking point. The Ravens have to save the Pro-Bowl 'backer from himself.
Suggs told The Baltimore Sun about his injury and the new timetable for his return:
Everything went good, he was in and out. There is only a small incision, and he said it was not as bad as some thought it was, which I had already been told. As far as my return, it's still the same as the original prognosis of four to six months. I'm 29 years old. I don't miss games. I'll be returning soon.
There is no doubt that the team will miss the services of one of the best players in the NFL, but they have to think about the future of the team. Allowing Suggs to come back too soon and do serious damage will help no one.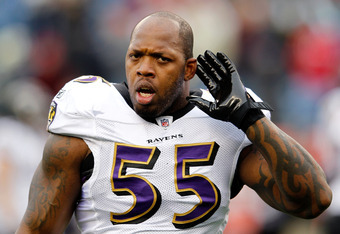 Rob Carr/Getty Images
As much as it hurts losing a player of Suggs' caliber, a man that had 70 combined tackles, 14 sacks, eight pass deflections, two interceptions and seven forced fumbles last season, Baltimore will have to lean on rookie Courtney Upshaw while Baltimore gives their star time to mend.
While it's obvious that Upshaw will not replace the production of Suggs, he will buy the team enough time to allow their star defender to heal fully.
The Ravens want Suggs back ASAP, but they can't afford to risk the star further injuring himself. The organization must save their star from himself.
Check back for more on the National Football League as it comes, and check out Bleacher Report's NFL Page to get your fill of all things football.