NBA Playoffs 2012: Andre Iguodala Plays Hero, Proves His Worth in Game 6
May 11, 2012

Drew Hallowell/Getty Images
The last time the Philadelphia 76ers won a playoff series, players like Tyrone Hill and Eric Snow were running the floor. In 2003, the Sixers beat the New Orleans Hornets in the first round of the NBA playoffs thanks to Allen Iverson, perhaps the greatest player in franchise history.
This time around, it was a different A.I. who propelled the Sixers into the second round of the playoffs.
On Thursday night, Andre Iguodala dropped 20 points and seven assists while playing a team-high 43 minutes on a gimpy Achilles. Although his tenure in Philadelphia has been a constant point of criticism, Iguodala proved why he's a player built for Philadelphia in the 76ers' 79-78 win over the Chicago Bulls.
Iguodala asserted himself in the waning seconds of Thursday's win, in what may end up being the defining moment of his career. With just 2.2 seconds on the clock and down one point, Iguodala calmly sunk two free throws (something he has rarely done this season) to clinch a first-round victory over the Chicago Bulls.
When the Sixers shipped Iverson to the Denver Nuggets in December of 2006, many assumed Iguodala would take the reins as the Sixers' go-to scorer. Despite showing flashes of brilliance, Iguodala never really lived up to the hype bestowed upon him by the 76er faithful.
Instead, Iguodala polished his defensive game and became one of the league's elite wing defenders. As one of the league's distinguished role players, Iguodala steadily improved his game, although questions remained about his raw offensive capabilities.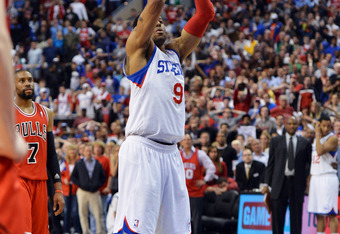 Drew Hallowell/Getty Images
Iguodala polished his game enough that this season he was voted to his first All-Star game. In a condensed 62 games, Iguodala averaged 12.4 points, 6.1 rebounds and 5.5 assists. Although these numbers don't jump off the page, Iguodala's not a player whose effectiveness can be judged by numbers alone.
Often criticized by the Philadelphia fan base for not being a leader, Iguodala shows his leadership abilities on the court, silently. He won't be the first guy to hype up the crowd, but he's as selfless a player as they come, and that's what a young team like the Sixers needs.
Looking back at the Allen Iverson era, it's clear that the Sixers lacked leadership. Iverson and head coach Larry Brown were constantly battling for supremacy, and the team had no chemistry on the floor because of Iverson's propensity to dominate every offensive possession.
In Iguodala, the Sixers possess a silent star. He may not be like Allen Iverson, but make no mistake about it: Andre Iguodala is one of a rare breed. Enjoy him while you can, Philadelphia, you may just miss him when he's gone.