Why Sacramento Kings Guard Isaiah Thomas Should Win NBA Rookie of the Year Award
May 11, 2012
Rob Carr/Getty Images
Of course Ricky Rubio and Kyrie Irving are the favorites to win the NBA Rookie of the Year Award, but from out of their shadows comes Sacramento Kings guard Isaiah Thomas.
Blasphemy, you may say. You would be wrong.
When he started, Thomas played at the same level as the Minnesota Timberwolves and Cleveland Cavaliers guards as well as Denver Nuggets forward Kenneth Faried.
That shows in Thomas' two straight Rookie of the Month awards.
He brought a level of maturity and leadership none of the fellow aforementioned rookies could match.
Thomas probably won't receive the honor, but he should.
Stats Don't Lie
In the 37 games Thomas started, he scored just as easily as Kyrie Irving.
His 14.8 points per game in that time came on 10.7 field goal attempts per contest. That's a better clip than Irving's 18.5 points on 14.6 shots per game.
Not only that, in his starts Thomas hit 47.7 percent of his shots—slightly higher than Irving (46.9) and far better than Rubio (33.3).
Given, Rubio's strength came on assists. But Thomas can counter that with a better assist-to-turnover ratio.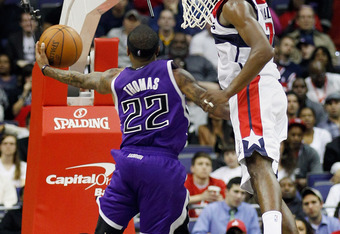 Rob Carr/Getty Images
The guard averaged just two turnovers a game while starting. That led to a 2.7-to-1 ratio with assists—which is better than Rubio's 2.56-to-1 or Irving's 1.74-to-1.
Thomas played the point so well that he took over for former Rookie of the Year Tyreke Evans, who moved to the three-spot.
Once he did, the Kings moved far better on offense.
The change in the Kings' scoring was obvious, as opposed to the Timberwolves, who averaged two more points per 100 possessions without Rubio playing.
Rubio's passing was more flashy and prolific, but Thomas got it done.
Intangibles
When Thomas actually does have a rough time on the court, he takes the blame:
I take the blame 4 my teams loss tonight 6 TO's are way too many! I didn't get my Guys going tonight. On 2 the nxt, Lakers 2morrow!

— Isaiah Thomas (@Isaiah_Thomas2) March 2, 2012
Against the Lakers that next night, he lost the ball just once and dished out six assists. It takes a mature player to take the blame, and put it upon himself to help his teammates.
He's even determined to make his whole team better:
Man there ain't nothing like the playoffs, I gotta get MY team there!

— Isaiah Thomas (@Isaiah_Thomas2) May 8, 2012
Even as a rookie, he showed incredible leadership.
Thomas also has late-game grit, best shown in his heroic game-winning steal-and-assist (which you can see here). He's also known to swish a dagger at the buzzer when needed.
In other words, Thomas has an unrivaled wisdom, attitude and poise.
Mr. Irrelevant
Thomas was nearly an undrafted NBA player, but the Kings took the guard with the 60th and final selection in the 2011 NBA draft.
The only truly successful last pick in the draft was Steve Kerr, and Thomas looks poised to join him.
While Thomas will make a name for himself from the end, Irving was taken at the start of the draft.
"He was the No. 1 pick, I was the last pick," Thomas said after the Kings-Cavaliers contest. (via Associated Press). "Why not use that for extra motivation?
When the two squared off in that game, they scored the same amount of points (23).
But Irving tallied just one assist and three rebounds while Thomas went for 11 and 8 respectively.
Thomas' performance has put him in this conversation, while Irving as well as Rubio are more talked about partly because of perception.
The former Washington Huskies guard, though, should take home the NBA Rookie of the Year award.