New York Islanders Offseason: Bringing Roberto Luongo Back to Where It Started
May 10, 2012

The Islanders need to make a splash this offseason. After underachieving for another season, the team now sits home and has to watch its two tri-state rivals make deep playoff runs. The team is falling further into oblivion and needs to show some serious improvement in 2012-13.
The team clearly needs a top-four defender, if not two, and could also desperately use a couple of experienced, skilled forwards to supplement its young talent. The problem that remains however, is the GM Garth Snow's inability to convince veteran free agents to come to a team with a losing culture that plays in arena with third-world amenities. The easiest way to attract free agents and avoid having to mortgage this team's bright future by trading away their young studs is to make a statement early in free agency.
Bringing Roberto Luongo back to New York is the statement this beleaguered franchise needs to make. Luongo is a gold medal-winning, star goalie that took Vancouver within one game of a Stanley Cup. Despite his achievements, Canucks management appears to be willing to trade the goaltender for a low price in order to clear cap space and allow Cory Schneider to take over in net.
Over 10 years ago, Luongo was involved in one of the worst management decisions in the history. The New York Islanders drafted him in 1998 with the first-overall pick, then traded him less than two years later for three players who failed to make any impact (Mark Parrish had a few good years). The islanders traded Luongo to Florida so they could draft goaltender Rick DiPietro first overall in the 2000 draft, passing on the second pick, Jason Spezza.
In the years that followed, Spezza and Luongo became perennial All-Stars and faces of the NHL, while Rick DiPietro became the Greg Oden of hockey, with a 15-year contract to make matters worse.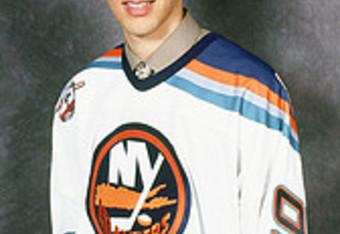 The Islanders in recent years have made strides to move past that decision. This has been achieved mainly by being so terrible that they have stockpiled young talent and been rewarded with a superstar in John Tavares. The 2012 playoffs have shown that all you have to do is get in to have a chance. Luongo is the type of goalie that can get a team into the playoffs in his sleep.
Evgeni Nabokov is signed for next year and, barring an injury, will start in net for the islanders next season. Nabokov proved this year that he is a quality NHL goaltender, but he is not at the same level as Luongo. If the Islanders were able to acquire Luongo, which would not take much more than a mid-level prospect due to his large contract, trading Nabokov would be easy and might net them a competent NHL level player. Teams would line up at the chance to acquire Nabokov and his one-year, three million dollar contract.
The Islanders are egregiously below the salary cap floor. Luongo's cap hit is larger than his actual salary, which is something that Islanders owner Charles Wang loves. Trading for Roberto Luongo gives the Islanders a top goaltender and gives Luongo a fresh start. It also allows the Islanders a chance at redemption from one of the worst management decisions that still haunts them today.
But most importantly, trading for Luongo would give the New York Islanders instant credibility and would send a statement to free agents that the Islanders are ready to start playing meaningful hockey in the spring.