2012 NFL Undrafted Free Agency: 5 Teams Who Will Need to Find a Gem
May 10, 2012

Justin K. Aller/Getty Images
Arian Foster, James Harrison, Jason Peters, Miles Austin...these are just a few of the gems some teams have pulled out of free agency following the draft. All of these players have been significant contributors to their teams and developed into stars in the league. 
So which teams need to find a gem in this year's class?
Let's find out. 
5. Denver Broncos
As we all know, Denver landed maybe the biggest free agent in NFL history in Peyton Manning. But many were shocked to see how poorly the Broncos utilized the draft to put pieces around the future Hall of Famer. 
In fact, the best offensive weapon the team added was running back Ronnie Hillman, who doesn't fit too well in an already-crowded backfield with Willis McGahee and Knowshon Moreno. The team also didn't add a legitimate wide receiver or tight end target for Manning.
If Denver is a supposed "win now" team, the Broncos surely didn't draft like it.  
The Broncos brought in 13 undrafted free agents, none of which being by any means a household name (but that's generally the beauty of UDFA's). However, there might be one guy I think could have very bright NFL careers. 
That guy is wide receiver Eric Page.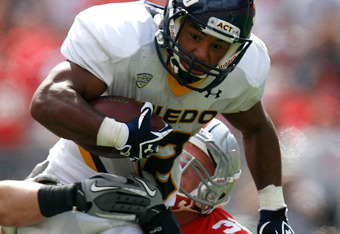 Kirk Irwin/Getty Images
Page left Toledo a year early after being told he could be selected as high as the third round. He got some bad info. 
Page was just 44 receptions shy of becoming the NCAA's all-time leading pass-catcher and was on the "watch list" for the Fred Biletnikoff Award (nation's best receiver). Page adds to the Broncos special teams, as well. He was named a First-Team All-American as a kick returner in 2010, the first Rocket to ever do so. 
The reason Page could be a star at the next level is because he brings a skill set that's coveted among NFL teams. Page is a great route-runner and isn't afraid to go over the middle. He compares really favorably to Patriots slot-man Wes Welker and should be a nice target for Manning if he makes the team.  
4. Miami Dolphins
The Dolphins did a pretty solid job of drafting for need in 2012, but they didn't fill what was probably their biggest need, wide receiver. 
After shipping the troubled Brandon Marshall to the Bears for a pittance, the Fins passed on receivers like Stephen Hill, Alshon Jeffrey and Rueben Randle to take offensive tackle Jonathan Martin. 
It's not that I don't think Martin won't be good. It's just that with receivers like Davone Bess and Brian Hartline leading the pack, there's not much for the Miami quarterbacks to work with.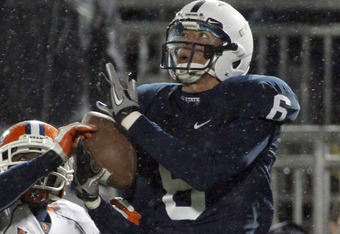 Justin K. Aller/Getty Images
Miami brought 16 undrafted free agents in, and two names stand out to me. 
Derek Moye from Penn State is a big, tall receiver and possesses the size that Miami very much lacks. Moye underachieved somewhat with the Nittany Lions, but averaged over 16 yards per catch in each of his final three seasons in Happy Valley. 
Moye has had some injury woes but should make this team given the lack of receiving talent on the depth chart. He can allow the Dolphins to stretch the field and give them a red zone target that they simply don't have. 
The other player Miami brought in may not develop into a star, but could be a solid starter in this league for the next decade. Derek Dennis was a road-grading blocker at Temple who has nimble feet and is pretty athletic for his size.
John Jerry should be penned in at right guard, but Richie Incognito has struggled with blocking (and his temper) throughout his career. Dennis might find a home this season as some depth behind these guys and could work his way into the rotation. 
3. Oakland Raiders
GM Reggie McKenzie's first draft may not be one to remember. 
That's mostly because the previous regime sold the farm for quarterback Carson Palmer and left McKenzie with just six draft picks, the earliest being pick 95 in the third round.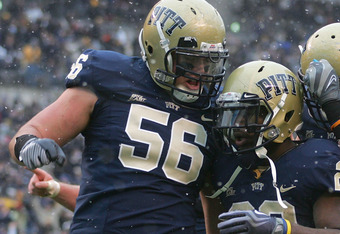 Jared Wickerham/Getty Images
Oakland didn't do a terrible job drafting, but they have a lot of team needs and aren't any closer to winning the West than they were a year ago.
The eight UDFA's the Raiders brought in don't do much for the team either.
The best of the group, most likely, would have to be Pitt guard Lucas Nix.
Nix was a three-year starter for the Panthers, and most of his biggest problems are in technique and can be fixed with coaching. He'll have to get stronger in his lower half and learn to use leverage to his advantage, but he could have a solid future in this league.
Oakland needs to find a gem in this class because as the Chiefs and Broncos go on the rise, they need to keep pace and remain competitive. This draft class surely won't push them over the top, but a free agent gem could definitely help.
2. Cleveland Browns
Cleveland went into the 2012 draft with gaping holes at the playmaking positions on offense and a lack of any talent around Colt McCoy. 
By Sunday night, they had acquired a feature back and McCoy's replacement. 
A lot of experts commended the Browns for their draft, but to me they completely left out their biggest need, wide receiver. The team will enter next season with (presumably) a 28-year-old rookie at quarterback and Greg Little and Mohammad Massaquoi vying for the No. 1 option.
Christian Petersen/Getty Images
The Browns waited until the fourth round to take Travis Benjamin out of Miami at receiver.
Cleveland added three UDFA receivers (along with 12 other players) to see if they can get anything out of the position. Josh Cooper is probably the only one who has a shot at making an impact for the Browns.
Cooper played with Weeden at Oklahoma State and, behind Justin Blackmon, was the quarterback's second favorite target. He's not exceptionally tall or fast, but Cooper did manage to haul in 139 passes and average over 10 yards per catch in his final two seasons with the Cowboys. 
Cooper's instant chemistry with Weeden could vault him onto this team and get him on the field. Cleveland desperately needs a starter from this class of UDFA's. Unfortunately, they're in a division where the Steelers and Ravens are just about as good as it gets when it comes to this.
Cleveland should mimic its division foes or continue being stuck in the bottom of the AFC North.
1. Indianapolis Colts
The Colts went into the draft with clear intent to rebuild their offense, selecting offensive players with eight of their 10 picks.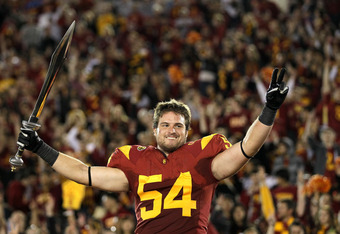 Stephen Dunn/Getty Images
Although the Colts need offense (badly), new head coach Chuck Pagano will switch the defense to a 3-4, which he's more comfortable with. Frankly, they don't have the personnel to make the move or even put a relevant defense out on the field. 
Of the 14 undrafted free agents Indianapolis brought in, three have a real shot to make this team and help build the defense. 
Chris Galippo for USC will most likely get a shot at inside linebacker with the Colts next season. He was an on-again, off-again starter for the Trojans due to injury and only managed and 2.5 sacks in his career at USC, but the former 4-star prospect has talent and Pagano can exploit that. 
DE-DT James Aiono from Utah probably has the best shot of making the team out of any UDFA. The Colts don't really have anybody to play the five-technique end position except Cory Redding and Fili Maola.
At 6'3", 305, Aiono has great size and in 2008 was considered the top JUCO recruit in the nation. He can give the Colts a great rotation player this year and may work himself past Redding by next season. 
The final guy the Colts may bring aboard is nose tackle Chigbo Anunoby from Morehouse College. At 324 pounds, Anunoby is the prototypical NFL nose tackle. He's got great strength and is a fantastic run defender, but struggles in the pass and with agile offensive linemen.
He'll have to beat out fifth-round pick Josh Chapman, but he could develop into a great nose tackle for the Colts.