Swansea City vs. Liverpool: Preview, Live Stream, Start Time and More
May 9, 2012

Clive Mason/Getty Images
This game is complicated.
It's complicated because of the effect the result will have on the final standings. The table will change a lot after this last round of the Premier League.
Liverpool are in a pool of three teams aiming at the seventh spot. Swansea City, currently 12th, battle with five teams to get to 10th place. It wins nothing but prestige and respect for them. They were promoted to the Premier League this season. 
Where: Liberty Stadium, Landore, Swansea, Wales
When: Sunday, May 13, 10 a.m. ET
Live Stream: Fox Soccer 2Go
Swansea Player to Watch: Gylfi Sigurdsson
Gylfi Sigurdsson was crucial player for Swansea when he was loaned in January from German club  Hoffenheim as an attacking midfielder. He played 17 games, scoring seven goals. He is becoming recognized as a goal threat on the team.
He is the third top scorer for Swansea after forward Danny Graham with 13 goals in 38 games and midfielder Scott Sinclair with 8 goals in 39 games.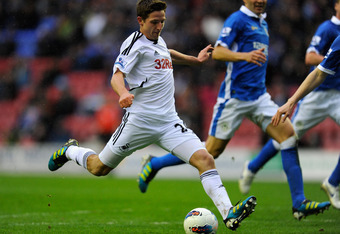 Stu Forster/Getty Images
Liverpool Player to Watch: Jonjo Shelvey
He hasn't been playing much for Liverpool this season after he returned from a loan in Blackpool. The Reds manager, Kenny Dalglish, has kept him on the bench for the most part of the second season. Shelvey started in five games.
In his 15 appearances, he scored two goals; the last time in Liverpool's 4-1 victory against Chelsea on Monday. Dalglish will probably start Shelvey in this last game. His confidence and never-ending desire to get the ball make him a key player on the Reds squad. 
What They're Saying:
Dalglish was quoted by Daily News & Analysis:
"Let's end the season on a high."
Liverpool captain Steven Gerrard is focusing on the next season already. He was quoted by Goal.com after the FA Cup Final against Chelsea, lost 2-1.
"We need to come back. Football is about highs and lows, it was certainly a low [on Saturday]. We need to do better. We're Liverpool Football Club; we're not seventh or eighth in the league. We're better than that."
Yahoo! Sports quotes BBC reporting that Swansea manager Brendan Rodgers requests that Swansea fans come dressed as Elvis for Sunday's final home game against Liverpool.
"Next week is going to be brilliant. I will be asking all the fans if they can wear as many Elvis Presley costumes as we can because when we got promoted, the bookies said there was a greater chance of seeing Elvis Presley than us staying at this level. As a show of our achievement and a bit of fun we'll ask for our supporters for that and we'll see what their reaction is."
Prediction: Liverpool 2, Swansea 0
I am trying not to overestimate Liverpool and their win against Chelsea's, so to speak, B-team. But they have been scoring a lot in their winning games. 
Swansea's goalkeeper, Michel Vorm, is a secret weapon. In 36 games, he's had 13 clean sheets and 131 saves.
Last time Swansea played Liverpool was on Nov. 5, 2011. No one won that day, 0-0. There was no dominant team on the pitch, either. According to the numbers, Liverpool had more chances. This time, they will materialize them.