Southern 500 2012: Start Time, Lineup, TV Schedule and More
May 9, 2012

Jerry Markland/Getty Images
With NASCAR returning to Darlington Raceway for the Bojangles Southern 500, fans get to see living, breathing history under the lights of the track "Too Tough to Tame."
This race is as tough as they come, forcing drivers the full 500 miles in the most physically demanding race on the schedule. As hard as this track can be on drivers, however, the feeling of winning at Darlington and getting your name next to guys like Richard Petty is something every driver dreams of.
Where: Darlington Raceway, Darlington, SC
When: Saturday, May 12, 6:30 p.m. ET
Watch: FOX
Live Stream: TrackPass
Listen: Motor Racing Network
Starting Order: Qualifying will be Friday, May 11, at 5:00 p.m. ET on SPEED Channel
Full TV Schedule
Friday, May 11, 11:30 a.m.ET: Bojangles' Southern 500 practice, SPEED
Friday, May 11, 2 p.m.ET: Bojangles' Southern 500 final practice, SPEED
Friday, May 11, 3:30 p.m. ET: VFW Sport Clips Help a Hero 200 qualifying, ESPN 2
Friday, May 11, 5 p.m. ET: Bojangles' Southern 500 qualifying, SPEED
Friday, May 11, 6:30 p.m. ET: VFW Sport Clips Help a Hero 200, ESPN2
Saturday, May 12, 6:30 p.m. ET: Bojangles' Southern 500, FOX
Drivers to Watch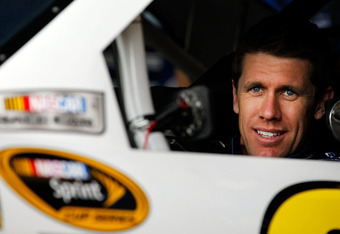 Tom Pennington/Getty Images
There is only one driver in NASCAR who is as well known for his physical fitness as he is for his driving abilities, and that is fan-favorite Carl Edwards. With no previous wins at this track, Edwards has squeezed out five top-10 finishes at the track, but he wants that big win. With exhaustion hurting many drivers, Edwards' stamina and fitness should make his run to a win easier.
Paul Menard
The surprise of this race could be the No. 27 Menards Chevrolet driven by Paul Menard. While the younger star has never finished that well at this track, a new mindset and the best car Richard Childress can give him could have Menard shocking the world.
Kyle Busch and Kevin Harvick
After a wild incident the last time this duo met under the lights at Darlington, this race is being billed by track promoters as "Round 2 between Kevin 'The Hitman' Harvick and Kyle 'Rowdy' Busch."
Just like a boxing promoter sells a fight, Darlington track president Chris Browning is getting fans excited about what could be another wild meeting between the two drivers. With no resolution to their conflict and tons of animosity, the tough Darlington race could have patience low and fuses short.
Predicted Winner: Carl Edwards
After coming close several times over the course of his career, Saturday night will be Carl Edwards' time to shine. Darlington is a classic NASCAR track that requires more physicality behind the wheel than any other track on the circuit. It's fitting that the fitness freak Edwards will win the most grueling race of 2012.
Check back for more on NASCAR as it comes, and check out Bleacher Report's NASCAR Page to get your fill of all things motorsports.