Mike Woodson: Knicks' Playoff Run More Than Enough to Extend Deal
May 9, 2012

Jeff Zelevansky/Getty Images
The New York Knicks' season might end tonight, but Mike Woodson has already done enough to warrant a return to the bench next season.
He took a drowning team and pushed them into the postseason. In fact, he led to them to their first postseason win since before LeBron James was even in the NBA.
Ironically enough, it is James who likely end the Knicks' season sooner than later.
But all that aside, much has been made of who is going to be coach next season. After all, New York has undeniable ties to both Phil Jackson and John Calipari. But while their resumes speak for themselves elsewhere, Woodson has been right here getting the most out of the most important players wearing Knicks uniforms.
He's earned the right to come back and have a full go of things. 
According to a report from Frank Isola of the New York Daily News, a report that Woodson is denying, the Knicks have initiated talks to remove the interim tag from his title and extend his deal:
The Knicks have initiated talks that would keep Woodson as the team's head coach for the foreseeable future, the Daily News has learned. The talks are only in the preliminary stages but it is clear that Madison Square Garden management is convinced Woodson is the right man for the job and will not pursue either Phil Jackson or Kentucky head coach John Calipari.
If the Knicks are not doing so now, they should in the very near future.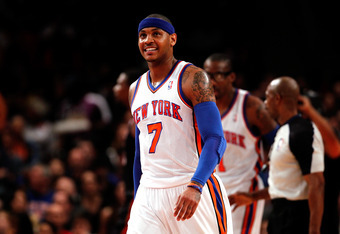 Jeff Zelevansky/Getty Images
Even if it was just former coach Mike D'Antoni's departure and not Woodson's promotion, Carmelo Anthony is finally playing like the Carmelo Anthony they traded for at last year's trade deadline—and he's backing Woodson as the next permanent coach.
GM Glen Grunwald is behind the move too. 
Tyson Chandler, this year's Defensive Player of the Year, has performed well under Woodson, as has free-agent acquisition J.R. Smith, rookie Iman Shumpert and veteran point guard Mike Bibby.
Woodson's been able to keep this ship floating long enough to at least contend in the postseason. He did so in less than 30 regular season games, and there is no telling what he can do with a full season and offseason.
The Knicks have lacked continuity for far too long, and now would be the best time to work toward finding some.
Rather than go out and get another big name to come in, extending Woodson is hands down their best option.