Denver Broncos: Why Peyton Manning Makes for a Perfect Brock Osweiler Mentor
May 8, 2012

Christian Petersen/Getty Images
The Denver Broncos did not sign Peyton Manning this spring to be a quarterbacking babysitter for whoever the team eventually drafted to be the developmental player behind him.
But that doesn't mean Manning won't be the perfect mentor for former Arizona State quarterback Brock Osweiler, who the Broncos drafted at No. 57 overall in the second round of the 2012 NFL draft. 
The idea is very simple: While Manning may initially be tied up in installing the Broncos' new offense and getting comfortable with his own new surroundings, Osweiler doesn't need Manning waiting on him every second of every day to develop as a young player.
Just having Manning around to watch and observe on a daily basis will be all the mentoring Osweiler needs to get ready for his eventual shot at taking over the Broncos starting quarterback position once Manning retires or regresses. 
During the NFL draft, ESPN analyst and former NFL linebacker Teddy Bruschi brought up the idea that Manning would be too invested in learning the offense and attempting to win games to be the kind of teacher Osweiler needs. 
And there's no doubting that the raw, 21-year-old Osweiler has much development ahead of him before he's ready to take over an NFL franchise. 
But to think that Osweiler would be better off in any other situation isn't crediting what kind of impact just being around a quarterbacking legend will have on the young player's NFL career. 
Manning is arguably one of the NFL's greatest ever to play the position. His preparation and understanding of the professional game is unmatched both in the present and historical sense. He commands an offense like few quarterbacks ever have.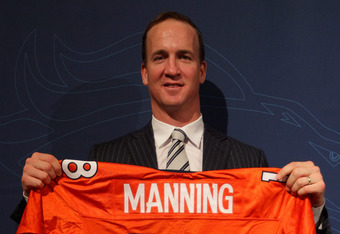 Doug Pensinger/Getty Images
That kind of quarterback acuity doesn't just happen on Sundays. It comes from hours and hours of work, all of which will be on full display at the Broncos facility for the young quarterback to digest daily. 
If Osweiler can't get better by simply copying how Manning goes about his business at the professional level, he probably wasn't going to make it as a quarterback in the NFL anyway. 
Nothing about the situation early on says that either side will have a problem adjusting to the mentor relationship. 
Broncos head coach John Fox said after the draft that Manning pushed the team to add a quarterback behind him. 
"On one of the first days after we signed him, he told me after watching what his friends just went through, we have to make sure we get depth at quarterback," Fox told Mike Klis of the Denver Post.
Manning then sent Osweiler a congratulatory tweet after the Broncos took him in the second round. A late-30s quarterback with a history of neck problems, Manning seems to have no problems with the Broncos taking a developmental player behind him.
Osweiler has embraced the idea of playing behind one of the game's legends, too. 
A lot of quarterbacks might be upset about having to sit behind somebody, whereas I look at it as a tremendous opportunity to learn from one of the best, if not the best, quarterback to ever play the game.
His plan is to learn as much from Manning as he possibly can over the course of their playing time together. 
"I hope that Peyton and myself can spark a great relationship," Osweiler told the Associated Press.  "I hope he doesn't mind me looking over his shoulder and trying to take as many notes as I possibly can."
Osweiler knows exactly how to approach the veteran-rookie dynamic he's facing over the next several months. 
When I see him, 'I'm going to ask him, 'Hey, what time are you getting to the building? What are we doing today? What drills do you have?'. I'm going to try to match everything that he does so I can continue to grow as a quarterback.
Without knowing any better, I'd say the two already have a pretty good feel for how the dynamic will work out for both sides. 
Manning can go about his business, learning and installing the offense while helping the Broncos win football games over the next 2-3 years. Osweiler can watch from the best seat in the house, learning everything about what makes Manning great while avoiding the pressure of playing too early. 
In the end, it's a perfect situation for a young, raw quarterback like Osweiler to fall into. 
"As a young quarterback, you cannot ask for a better situation," Osweiler told the Associated Press. "I'm going to soak up every minute of it."
As long as Osweiler is the sponge he says he's going to be, there will be plenty of football acumen to soak up developing behind a mentor like Peyton Manning.