49ers Rookie Wide Reciever A.J. Jenkins to Take on Jerry Rice and the Hill
May 8, 2012
San Francisco 49ers rookie first-round pick A.J. Jenkins already seems to have a go-getter mentality. On Twitter, 49ers Hall of Fame receiver Jerry Rice playfully offered Jenkins to join him on the infamous "hill." The hill is a two-and-a-half mile incline run located in San Carlos, California's Edgewood Park.
It is within a five-mile forest trail, and the last 800 meters are straight uphill. The hill was first introduced to Rice when he was a rookie by teammate Roger Craig and trainer Raymond Farris.
Although Jenkins is aware of the infamous conditioning site, he accepted the offer from the "greatest of all time," and will run the hill with Rice. Not only did he not refute the challenge, but he seems enthused and competitive.
I know you will be ready... But so will I #49ers RT @JerryRice: @17AJJenkins I'm getting in top shape to get you up that Hill!

— AJ Jenkins (@17AJJenkins) May 7, 2012
Besides this tweet, Jenkins had asked Rice what the best time is, inferring he would beat it. The answer to Jenkins' question had been answered by Rice, quoting his best time on the two-mile incline under 16 minutes.
The attitude and persistence displayed already by the youngster is encouraging—49ers fans want to believe he's the one. San Francisco has long been searching for a dominant receiver since Jerry Rice departed, but from Rashaun Woods to Michael Crabtree, it still hasn't happened.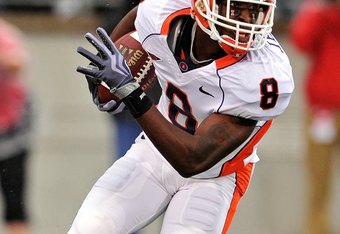 Jamie Sabau/Getty Images
Jenkins is the latest addition to the Niners. He brings the tools to be that explosive No. 1 threat for years to come, but to match it with unrelenting hard work and character that is built up by the hill, it could be part of what puts Jenkins over the top.
If he is indeed serious, and brings back the hill by incorporating it into his conditioning and training regimen, it'd be hard for him to not succeed. Rice still often credits the hill for his elite stamina and ability to grind it out in the fourth quarter when the defense was spent.
The follow-up to this story will be interesting to say the least, and I look forward to hearing the results of the Jenkins-Rice day on the hill.
Follow me on Twitter: @DeSimone80