Fantasy Baseball: 8 Closer Handcuffs You Need to Pick Up ASAP
May 8, 2012

Jonathan Daniel/Getty Images
Speculating for saves in fantasy baseball can be a time-consuming pursuit. Sometimes it seems like a new closer is popping up just about every day and lately, that's actually been true.
However, patience is also a viable strategy when speculating for saves. If you can pick them out, focusing steady, effective setup men with a good chance at future saves is the best way to go.
All of the pitchers on this list can help your team, regardless of their role; these rankings are based on a combination of present value and future closing potential.
If you have the closer ahead of them, these players are a must. If you don't, they're still worth a look, if only as potential trade bait.
This list will focus on only the best options available. If you're in a deep mixed or AL/NL-only league where the waiver wire is a bit more barren, ESPN's constantly updated closer depth chart is an invaluable resource for scraping the bottom of the bullpen barrel.
Tier 1: On the Brink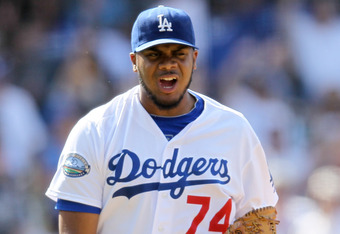 Stephen Dunn/Getty Images
1. Kenley Jansen, Los Angeles Dodgers
Kenley Jansen gets his own tier. He ranks No. 1, and no other pitcher is particularly close.
While Javy Guerra remains the nominal closer for the Los Angeles Dodgers, it's only a matter of time before Jansen claims the title.
In truth, Guerra has been excellent. He's racking up almost 50 percent more strikeouts this season than last, and while his ERA is approaching 6.00, his 2.02 xFIP is actually about half a run better than Jansen's.
Unfortunately for Guerra, that doesn't really matter. What does matter is that he's given up at least one run in four of his last five appearances, piling up two losses and two blown saves along the way.
Small sample size be damned, that's not what Don Mattingly wants to see from his closer.
Jansen, on the other hand, has been scored upon just once in his last 11 outings, fanning 16 batters and allowing only four hits during that span.
Recent performance is everything for closers, and Jansen clearly has the upper hand.
Even if he isn't awarded the job this week, Jansen deserves a spot on your team. He's had a little bit of a longball problem, but that's something I can live with from a pitcher who's allowed a .149 batting average while striking out over 40 percent of the batters he's faced in his career.
Note: As this article was posted, the news broke that Jansen has been named the closer for the Dodgers.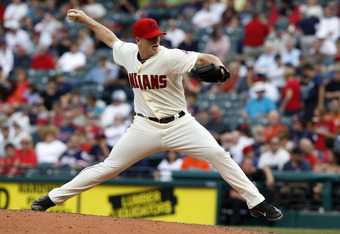 David Maxwell/Getty Images
Tier 2: It's Gonna Happen
2. Mike Adams, Texas Rangers
3. Vinnie Pestano, Cleveland Indians
Mike Adams and Vinnie Pestano are excellent pitchers.
Joe Nathan and Chris Perez are good, but flawed pitchers.
Nathan has been sparkling thus far, but I can't trust a 37-year-old coming off of major surgery, especially one that was knocked around with such impudence last season.
Adams has only four saves in his major league career, but with Neftali Feliz succeeding in the rotation and Alexi Ogando flourishing in a multi-inning fireman role, he's quite clearly next in line if Nathan goes down.
Adams' strikeouts are down, but that's perfectly acceptable alongside the fact that he's getting more ground balls than ever and has yet to walk a batter in 11.2 innings this season.
Vinnie Pestano has no such issues with whiff rate, he's blown away a career-high 37.3 percent of the batters he faced this year. On top of that, he cut his walk rate down to a career low, issuing just two free passes in his 13 innings of work so far.
Perez, the Cleveland Indians' incumbent closer, sports a tidy 2.84 ERA, but his 1.80 K/BB ratio portends some crooked numbers in his future. Perez has proven capable of inducing weak contact (his career BABIP against is just .241), but he doesn't miss enough bats or throw enough strikes to consistently get the job done.
Sooner or later, a few of those balls in play are going to drop for poorly-timed hits. When that happens, Pestano will finally get his chance.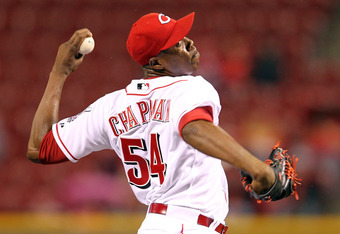 Andy Lyons/Getty Images
Tier 3: Elitists
4. Aroldis Chapman, Cincinnati Reds
5. Jonny Venters, Atlanta Braves
As eighth-inning guys, Aroldis Chapman and Jonny Venters have spent the season's first month playing a very public game of "Can You Top This?"
Venters leads all National League relievers in FIP, with a staggering mark of 0.53. Chapman is a close second at 0.57.
Chapman leads all NL relievers in strikeout rate, fanning 46.3 percent of the batters he's faced. Venters ranks third, whiffing a paltry 42.6 percent.
Unfortunately for your fantasy team, these understudies happen to be memorizing the same lines as two of baseball's best closers, the Braves' Craig Kimbrel and the Reds' Sean Marshall. No matter how dominant they are, I can't confidently say that either Venters or Chapman will have a chance to record more than two or three saves this season.
Still, both should be owned in every fantasy league for their value in strikeouts, WHIP and ERA. If either pitcher finds his way into the closer's role, he'd immediately be a top five player at the position.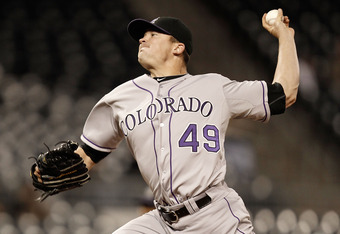 Jared Wickerham/Getty Images
Tier 4: Safety First
6. Joaquin Benoit, Detroit Tigers
7. David Hernandez, Arizona Diamondbacks
8. Rex Brothers, Colorado Rockies
Joaquin Benoit, David Hernandez and Rex Brothers all fit a similar profile. Each sports a K/9 better than 11 and a FIP lower than 2.60.
All three clearly possess a shutdown skill set, but most importantly, all three have a slightly wobbly closer ahead of them. If you own any of these closers, picking up his handcuff is an absolute must.
In Detroit, Jose Valverde is currently sporting the worst K/9 of his career, the worst BB/9 of his career and, not surprisingly, the worst xFIP of his career.
In Arizona, J.J. Putz's K/BB has never been better, but opposing hitters are making solid contact on the pitches that they are able to reach. In just 9.1 innings, Putz has allowed 10 hits, three of them home runs. Consequently, he's blown two of his eight save chances so far.
In Colorado, Rafael Betancourt has converted six of his seven save chances. All seems well, until you consider that Betancourt's K/BB is his worst since 2008 and he's getting ground balls only 36.4 percent of the time. A .250 BABIP has saved him so far, but he won't survive long at Coors Field if he continues to give up so many balls in the air.
If the bullpen tumult that's rocked the early part of this season is any indication, at least one of these closers is going to lose his grip of the role. Make sure you're prepared.