Indy 500 2012: Why the Open-Wheel Split Caused NASCAR's Boom
May 26, 2012

The damage that open-wheel did to itself was sort of like giving oneself an amputation.
CART and the Indy Racing League battled each other for a little over a decade for American open-wheel superiority. The open-wheel world saved itself when Champ Car was absorbed into IndyCar in 2008. It is slowly evolving back to the way it was in the 1980s and early '90s. 
CART was the series that had the edge in the early going. It had more money behind it with FedEx providing sponsorship and the bigger names in open-wheel racing including the Andrettis, Jimmy Vasser, Alex Zanardi and Greg Moore.
It even formed a protest race that happened at the exact same time as the Indy 500. The US 500 at Michigan International Speedway (held on the same weekend as the Indy 500) did not last long as the Indy 500 still remained in the hearts of drivers and fans.
The tradition of Indy saved Tony George from looking like a complete fool for creating the IRL. 
By 2003, the switch of eams like Chip Ganassi and Roger Penske from CART to the IndyCar Series began the slow decline of interest in CART as a series. CART eventually became Champ Car and its ultimate demise came when the series completely disconnected itself from oval racing.
The one aspect of American open-wheel racing that was different from Formula One was racing on ovals. Ovals are an American thing, which IndyCar was becoming more successful with.
The major difference from IndyCar and Champ Car was that IndyCar adapted to what Champ Car fans craved—racing on road and street courses.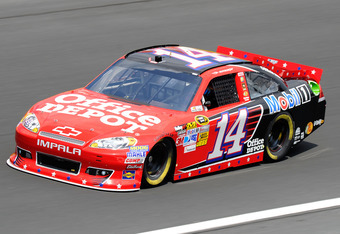 John Harrelson/Getty Images
The NASCAR Boom
Had open-wheel stayed together and put their differences aside, Tony Stewart probably would have stayed in IndyCar to pursue the Borg Warner Trophy. He rose through the ranks of USAC.
Stewart was an IRL champion before making the switch from IndyCars to stock cars. The move and his success paved the way for drivers like J.J. Yeley, Kasey Kahne, Juan Pablo Montoya, Sam Hornish Jr. and Danica Patrick to move to stock cars. 
Other USAC drivers like  Kahne or Ryan Newman could have pursued an open-wheel career. Drivers with open-wheel roots like Hornish or Patrick may have stuck with it.
However, the money was in NASCAR.
Corporate sponsors were attracted to NASCAR's higher ratings and drivers wanted to be in the spotlight. Money certainly wasn't everything, but the bickering and bitterness between the two competing open-wheel series caused its style of racing to fall into a small niche.
Unification was the only way back. 
Bryan Clauson is an old-school American driver. He rose through the ranks in the USAC ranks like Tony Stewart. He did make 28 starts in the NASCAR Nationwide Series from 2007-2008. Clauson stuck with the USAC ranks when Stewart signed him to drive his Silver Crown car.
Clauson drove in every Indy Lights oval race. His stock car and USAC experience will help him in IndyCar. When cars slide around and handle poorly, drivers who are used to that will do much better in IndyCar races. 
Don't believe that? Just ask Dario Franchitti. His time in NASCAR was extremely short and was a total failure. Since his move back to IndyCar, Franchitti has won three championships in a row and a second Indy 500.
Back to the Glory Days
The new chassis has brought back some elements from Champ Car and the days of the early 1990s. The turbochargers and multiple engine manufacturers this year are major steps in the right direction.
The cars sound very similar to the way they used to—the way it ought to be. What is even better is that improvements will be introduced next year such as different aero kits and push-to-pass (a 100-horsepower boost). It will be a slow steady process, but the racing will be better. 
Final Thoughts
IndyCar will recover—it just needs some time. The 500 will have plenty of storylines for it this year without Danica Patrick. IndyCar doesn't need Patrick. If anything, NASCAR needs her more than IndyCar does.