San Francisco 49ers: 3 Players They Will Regret Passing on in the 2012 NFL Draft
May 7, 2012
Eric Francis/Getty Images
San Francisco 49ers fans: recapture your mindset when Roger Goodell announced your team's first-round pick.
Take a minute.
Got it?
And with the 30th pick of the 2012 NFL draft…
A.J. Jenkins?
Even to the most astute draft die-hards of Niner Nation, this was not a name expected to be heard.
The ubiquitous clamoring for other positional needs and more noteworthy prospects was well documented.
What about right guard? Why didn't we get that other receiver? How about that guy from Stanford?
Questions like these pervaded the entire draft process.
Well, for the purposes of this article, let's explore three players emerging from the NCAA ranks that the 49ers will regret passing on in this year's draft.
Cordy Glenn, OT, Georgia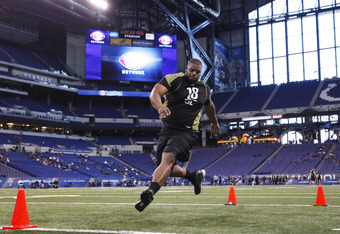 Joe Robbins/Getty Images
Glenn, a top-20 pick before the draft began, unexpectedly fell out of the first round. The Buffalo Bills happily snagged him with the No. 41 overall pick at the beginning of the second.
Regardless of the reasoning for his stock decline, the 49ers missed out on a chance to have a versatile, NFL-ready prospect to solidify the right side of the offensive line.
The ex-Bulldog played left tackle during his senior season at Georgia, but projects as a potential—and perennial— Pro-Bowl guard at the next level. He manned the inside of the line for 32 of his 50 total starts.
What makes him so attractive and compatible with the Niners' system is his ability to operate on the move as a pulling lineman that uses his long arms and a balanced approach to drive off the opposition. His 345-pound frame is a bit worrisome in terms of game-time longevity, but he's sufficiently quick, agile and fluid in both pass protection and as a run-blocker.
As of now, Jim Harbaugh's squad has Alex Boone, Daniel Kilgore and recent fourth-round draft pick Joe Looney competing for the right guard position. Both Boone and Kilgore have only seen limited action outside of the preseason (the former as an extra blocker).
Fans can and should have faith in the incumbents vying for the position. They've been indoctrinated into the 49ers' system for over a year now.
However, neither has the talent of Glenn.
Now, it's a matter of time whether the players already familiar with the playbook make people forget the "what could have been" of a highly skilled college prospect ready to make an impact in the pros.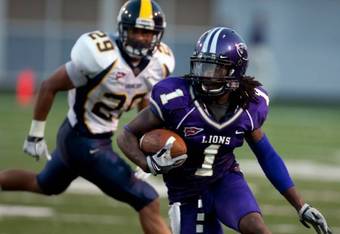 Week 5 against the Bills will undoubtedly be a deciding factor.
Janoris Jenkins, CB, North Alabama
One of the more significant talents of this year's draft landed with a divisional adversary early in the second round.
The St. Louis Rams selected Jenkins with the No. 39 overall pick. Combined with Cortland Finnegan and Trumaine Johnson, Jeff Fisher's Rams have a young, but fully imposing secondary.
In a league that continually facilitates a quarterback's ability to connect with his receivers, it is paramount that a defense is fully equipped with multiple cornerbacks capable of eliminating those targets.
The 49ers' 2012 schedule features a rather dangerous collection of wideouts. From Green Bay's Greg Jennings and Jordy Nelson in Week 1 to the Patriots' Wes Welker and Brandon Lloyd in Week 15, the opposition's receiving corps will thoroughly test the 49ers' defensive backs throughout the season.
With Janoris Jenkins, arguably the only certifiable press-cover corner outside of Morris Claiborne (No. 6 overall), shutting down those receivers would be much less of a concern. Jenkins is exceptionally fluid at turning his hips and keeping pace with wideouts, consistently tracking the ball and knocking it down.
He's a physical, disruptive corner with innate instinctual abilities that foster his shut-down M.O. And once he gets his hands on the ball, he's a pick-six waiting to happen.
A Niners' secondary with Jenkins, Carlos Rogers, Chris Culliver and Tarell Brown would match up with the best their schedule has to offer—both the passing and run game.
So, as some of you may be asking, what's the catch?
Multiple arrests, positive drug tests, getting kicked off Florida's football team and fathering four children with three women created a set of rather distasteful intangibles for teams throughout the league. 49ers GM Trent Baalke evidently was one of those detractors unwilling to take a chance on Jenkins.
"Everybody that skipped over me, they just gonna pay for it," said Jenkins to Sirius XM radio.
The 49er faithful sure hope that was mere posturing on Jenkins' part.
Jared Crick, DT, Nebraska
Defensive coordinator Vic Fangio has the pleasure of a D-line loaded with elite, if not preeminent personnel.
Justin Smith and Ray McDonald are phenomenal 3-4 defensive ends that form much of the heart and soul of the 49ers. With that said, there's a relative void in the depth chart behind these gentlemen.
Jared Crick would have helped fill that void.
The man seemingly conducts himself in the mold of a relentlessly hard-working, blue-collar individual that Justin Smith so fully embodies. Also like Smith, Crick is a highly intelligent player that stifles ball-carriers and generates pressure on the quarterback with menacing effort and underrated athleticism.
Crick would offer great value as a rotational player along the defensive front. He would also provide depth for a heavily taxed position in 2011 while learning from some of the best in preparation as a future starter.
The former Nebraska Cornhusker saw a precipitous drop in his draft stock due to a pectoral injury that wiped out most of his senior campaign. Scouts widely regarded him as worthy of a second-round selection prior to the injury.
The 49ers could very well regret passing on him in the fourth round. It's up to Demarcus Dobbs and the other existing backups to quash any such misgivings.