Montreal Canadiens Need to Think Outside the Box for New GM Marc Bergevin
May 8, 2012

Richard Wolowicz/Getty Images
The Montreal Canadiens hired 20-year NHL veteran and former Chicago Blackhawks' assistant general manager Marc Bergevin as the team's new general manager and executive vice president last Wednesday.
Few players and personnel in any sport face more scrutiny than those representing le bleu, blanc et rouge in the snowy hills of southern Quebec.  Do not expect the ruthless fans in Montreal to allow the relatively inexperienced 46-year-old much room for error.
The Canadiens finished the 2011-2012 NHL season dead last in the Eastern Conference and ahead of only the Columbus Blue Jackets and the Edmonton Oilers among the league's 30 teams.  The team hopes the vast knowledge Bergevin acquired over his 1,191 NHL game career and experiences as an assistant coach, head scout and assistant general manager can turn around the Canadiens fortunes.
The Montreal native must make creative decisions in piecing together a playoff-caliber team with limited resources and a relatively short time frame.  With the odds seemingly stacked against him, Bergevin is more than capable of putting together a respectable roster using connections established during his career as a player and a member of management staff.
The most pressing issue facing the new GM is hiring a new head coach.
Interim head coach Randy Cunneyworth's lack of fluency in the French language, an unwritten requirement in Montreal, eliminated his chances of retaining the job.  Bergevin played for countless coaches in his career and with many now-retired players looking for a head coaching job.  If he doesn't already have someone in mind, he surely has connections with several candidates, French-speaking candidates.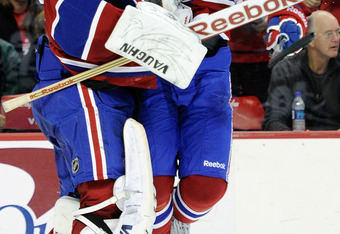 Greg Fiume/Getty Images
After hiring a new bench boss, Bergevin needs to convince All-Star defenseman P.K. Subban and All-Star goaltender Carey Price, both restricted free agents, to re-sign with Montreal.  Subban's goal total dropped from 14 to seven last season, but he finished only two points behind his rookie season's total.  He also improved to a plus-nine rating this year despite the team's subpar performance.  Despite finishing last in the East, Price went 26-28-11 with a 2.43 goals-against average and a .916 save percentage and played in the NHL All-Star game for a second consecutive season.  Canadiens fans and management want to lock up these young assets long term.
Next is the addition of depth scoring.  Max Pacioretty finished with 33 goals, and Erik Cole netted 35 to account for the team's only players to score more than 20 goals.  Only three Montreal players, Tomas Plekanec, David Desharnais and Lars Eller managed double-digits in the goal column.  The lack of depth scoring led to the Canadiens finishing near the bottom of league in the goals scored category.
Ideally, the easygoing personality of Bergevin will fix some of the team's problems naturally.  It's no secret player morale was low before last season even started under head coach Jacques Martin and cutthroat GM Pierre Gauthier.  Bergevin's light-hearted attitude, as reported by Yahoo! Sports, should help create better a better environment, better team chemistry and, ideally, better hockey.
However, with 15 players signed with at the NHL level for just over $45 million, Bergevin doesn't have a whole lot of cash to spend, especially if Subban and Price prove to be... *ahem*...pricey.  Some players will be dealt, and some prospects will get a chance to show their stuff at the NHL level. 
Scott Gomez's essentially un-tradeable $7.3 million contract might make him the highest paid third line center in the NHL.  In his time as a scout and coach, and to an extent a player, Bergevin watched and evaluated countless skaters.  He probably has some players in mind he already knows he wants to send an offer sheet. 
Expect some veterans with a few years of good hockey left, a few mid-level hockey players looking for a career year to sign cheap, short-term deals, and some younger players who will sign at the right price to suit up at Bell Centre next season before Bergevin can start a near complete overhaul.
With young players like Subban, Price, Max Pacioretty, David Deharnais, the promising Louis Leblanc and an impending third overall draft pick in the 2012 NHL Draft that could bring either power forward Mikhail Grigorenko of the QMJHL or two-way defenseman Ryan Murray of the WHL to Montreal, Bergevin's team has some of promise. 
He probably won't right the ship overnight, especially in the talent-laden Eastern Conference, but the unproven GM has a chance to make or break his career as a deal maker at the NHL level starting this offseason.