Baltimore Ravens Wide Receivers: Can Anyone Become a Reliable 3rd Option?
May 6, 2012

Otto Greule Jr/Getty Images
In the 2012 NFL draft, the Baltimore Ravens did a good job drafting players at positions of need. They filled needs at outside linebacker, back-up running back and offensive tackle. Unsurprisingly, the Ravens now look to have one of the most talented rosters in the NFL.
Except for one glaring weakness. And if you're a Ravens fan, it's one that is both familiar and maddeningly frustrating. 
That position, of course, is wide receiver. For whatever reason, the Ravens have been very challenged at that position for essentially the entirety of their existence. 
Last year was a little better, as for once, the Ravens had two receivers that deserve to be starting in the NFL. Anquan Boldin has proven his worth with three Pro Bowl selections and he is still a reliable slot receiver. Torrey Smith was a breakout star last season, and he is definitely among the most explosive players in the NFL.
Who do they have behind them? The answer is full of both uncertainty and inexperience. That's because the "veteran" among this group is David Reed, who will be playing in his third NFL season.
Not counting sixth-round 2012 selection Tommy Streeter, the career numbers for the Ravens back-up receivers combined are four catches for 46 yards. All four of those catches came from last year's undrafted rookie, LaQuan Williams. 
So yeah, these players are nearly as inexperienced as they get. One injury to Boldin or Smith, and the Ravens wide receivers corps would be among the weakest in the entire league. Is that a need that this team should think about addressing?
Apparently not, as the Ravens have decided not to sign any veteran free-agent receivers. With apologies to Streeter, it's rare that a sixth-round receiver makes any impact in the game. He could very well not even see the field in 2012.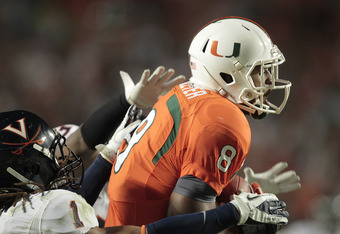 Joel Auerbach/Getty Images
The question that Ravens fans have to ask is whether or not it's a bad thing that the Ravens have such unproven back-up receivers. After all, every player starts out as inexperienced, and nearly every year, there's players that come out of nowhere to become superstars.
At the risk of reopening painful wounds, I've got to point out that veteran free-agent receivers have cost the Ravens in past years. It was T.J. Houshmandzadeh who dropped an easy fourth-down pass at the end of the playoff loss to the Pittsburgh Steelers. Even more painfully, it was Lee Evans that dropped the game-winning touchdown against the New England Patriots in this year's AFC Championship.
Therefore, maybe the Ravens front office is on to something by getting younger at the wide receiver position. With many old superstars, the Ravens have been trying to get younger at a lot of key positions. Joe Flacco and the Ravens offense could really use one or two more stud receivers to go along with Smith.
Who is most likely to step up as that third option in 2012? There's been encouraging signs and there's been discouraging signs from all three of the Ravens' back-up veterans. Training camp and preseason will certainly bring more clarity to which of them is most ready to step up and contribute in 2012.
Before the 2011 NFL draft, Tandon Doss was handpicked by Flacco, and the Ravens responded by taking him in the fourth round. Many fans were hopeful that this would lead to him contributing immediately, but that was not the case. He was only active in six games, and he did not even have a pass thrown at him.
Obviously, Doss can only go up from 2011. With his nice combination of size and speed, the talent is there for Doss to be a productive member of the offense.
Then there's David Reed, whose attempts to run back punts haven't really endeared him to Ravens fans. Although he has zero career catches, he used to be the Ravens' starting kick returner and punt returner. In spite of his disastrous game against the Seattle Seahawks, he has had some good returns, including a crucial kick-return touchdown in a 2010 game against the Houston Texans.
His promising skills at kick returner should keep him as one of the Ravens' top special teams players. Hopefully, he'll add to that by contributing at the wide receiver position as well.
In my opinion, though, the most promising of the three receivers is Williams. Evans' injury last season forced Williams to step up and play as the Ravens' third receiver. He was also a special teams standout last year, and he contributed a little bit at kick returner as well.
An undrafted rookie from last season, Williams has overcome long odds by simply making the roster. He could now overcome even more by becoming the third-string receiver on the Ravens, and eventually, the kind of player that could start at the NFL level.
Although it's not a starting position, the third wide receiver is an important player in the pass-happy NFL. It may not be an exaggeration to say that the Ravens' Super Bowl chances will come down to whether or not someone can fill that role.