Liverpool vs. Chelsea: Blues' FA Cup Win Proves Changing Managers Was Smart Move
May 5, 2012

Shaun Botterill/Getty Images
Chelsea's 2-1 win over Liverpool in the 2012 FA Cup Final proved many things, but there was one lesson that was extremely prevalent: Change can be a very powerful mechanism.
Many of us hate change. We hate even the word itself, not to mention the uncomfortable moments, stressful situations and oftentimes pain that it brings us.
Change is hard; there aren't many who would dispute that fact.
Change is also necessary, though. It's how we survive; it's how we adapt to the world around us. If you aren't moving forward, you're moving backward. There is no standing still.
That's what change is.
The Blues needed a change in the worst way, and they made the right decision by moving away from former manager Andre Villas-Boas and going with Roberto Di Matteo as the caretaker.
Before Di Matteo, Chelsea was in the midst of a rather disappointing season. The Blues were 5-4-7 under Villas-Boas and didn't look to have much hope moving forward.
Flash forward to today, and you can see all the difference the change has made, via Richard Jolly of ESPN Soccernet:
As the blue confetti flew around Wembley, as an exuberant John Obi Mikel rugby-tackled Salomon Kalou, as a jubilant John Terry drank champagne from the FA Cup and, ever the showman, Didier Drogba posed for the cameras with a knowing insouciance, Roberto Di Matteo attempted to retain his characteristic calm.
Chelsea could not win the FA Cup without Di Matteo as the manager, and they'd be smart to give him the full-time position when all is said and done. That thought is a completely different article though.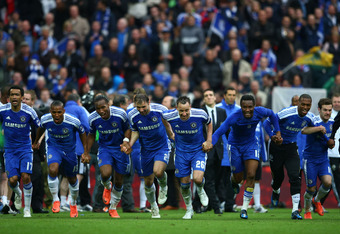 Clive Mason/Getty Images
For the moment, let's keep our focus on change.
No matter what the future holds for Di Matteo, we know what the present looks like. He's led his team back from the point of disaster and over Liverpool to win the FA Cup title.
This is the power of change.
Chelsea needed to make one, and they choose wisely. There was risk involved, as with all changes, but they did exactly what their squad needed, and now they are reaping the benefits.
It was a smart move by Chelsea, and the FA Cup is their validation.