Chicago Bulls' Offense Is Broken, Tom Thibodeau Must Bench John Lucas III
May 5, 2012

Jonathan Daniel/Getty Images
The Chicago Bulls offense is just flat out broken. It is as simple as that.
Since MVP Derrick Rose has gone down, the Bulls have averaged 40 percent from the field, scored 83 PPG and are 0-2. Not many people could have imagined an implosion this devastating even after Rose was sidelined for the season.
How have the Bulls gone from a championship contender to a possible first-round exit with just the loss of one player?
It is because they are beyond lost on offense without their leader, and Coach Thibodeau is grasping at straws trying to get a lineup on the court that can score. C.J. Watson is the best point guard on the Bulls' roster; unfortunately, he is banged up. C.J. started off the season very hot and was top 10 in three-point shooting, but due to a myriad of injuries, he is not playing anywhere near that level and just looks tired and deflated.
So who have the Bulls asked to attempt to step into Derrick's shoes? John Lucas III. On paper John Lucas III has been pretty impressive. He averaged over 10 PPG in Rose's absence in the regular season, but what the stats do not show is how Lucas destroys the offensive flow the second he walks onto the court.
Lucas is listed as 5'11", but is not an inch over 5'9". He plays point guard not because he can run an offense or get his teammates involved, but solely because he is undersized. He is a shooting guard trapped in a pint-sized point guard's body.
Watch him play; it is the same every possession. He will dribble around outside of the three-point arc for at least 19 seconds, only to dish the ball to Rip Hamilton, Luol Deng or Carlos Boozer with no time to do anything besides force a contested off-balanced shot.
The Bulls' big men will try to run pick and rolls for him to move the ball, but he is too small to see over the double-teams or is unwilling to pass the ball. When Lucas is in the game the Bulls go through several minutes of scoreless droughts, as they did Friday night when the Philadelphia 76ers erased a double-digit fourth quarter deficit with a game-ending 23-5 run (all with Lucas at the helm).
But little John Lucas will look like a hero because every five to seven possessions, he will hit a difficult three or contested fade away 16-footer, and look like a star. I don't understand how people don't see that even if he got one great shot to go down, the opportunity cost he carries far outweighs these small glimmers of brilliance.  
C.J. Watson needs to be in the game more, or Coach Thibodeau needs to at least give Mike James a run at point guard. Even if both these players struggle, they will give the Bulls a chance on offense because they understand what the word "pass" means. 
Is it fair to place such a large amount of blame on John Lucas for the Bulls' struggles? No, Luol Deng has been a shadow of himself in the postseason, and Carlos Boozer cannot score in crunch time. But Coach Thibodeau needs to use John Lucas as a quick spark energy guy, not as a feature point guard. 
Coach Thibodeau seems as lost without Derrick Rose as the rest of the Bulls. He is without question one of the best coaches in the NBA with a league best 112 regular season wins in just two seasons in Chicago, but playing John Lucas III for long stretches and benching the Bulls' best shooter in Kyle Korver is beyond ridiculous.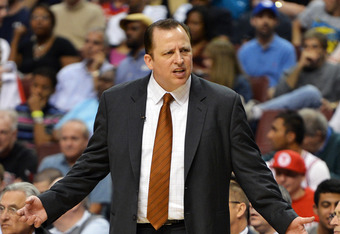 Drew Hallowell/Getty Images
Korver played just 13 minutes in Friday's loss to the 76ers and never got a chance to get into the flow of the game. I understand he is trying to mix up lineups and get a combination of offense and defense, but really just 13 sporadic minutes for Korver?
I don't want anyone to even think Korver is not in the game because he is a defensive liability on the court; that is just silly and beyond false. You have not watched Korver play this year if you think he can't play defense. 
I honestly have tremendous faith in the Bulls and Coach Thibodeau, and hopefully the Bulls can right their sinking ship before it is too late. But this temporary post-Rose era is looking rather frighting for Bulls and NBA fans alike. The worst part is even after the Bulls get bounced from the playoffs there will be at least two months of this at the beginning of next season since Derrick Rose is likely out until January 2013 due to his ACL tear. 
Tell me what you think and follow me on Twitter @ToTheMax15