New York Jets' Underdog Status Plays into Rex Ryan's Hands
May 4, 2012

Jeff Zelevansky/Getty Images
This offseason certainly has a different tone than in the days of Hard Knocks and writing "soon to be champs" on ESPN tour buses. 
The Jets have received a strong uppercut of humility to the face, and the supposed former AFC contenders are now subjected to being nothing more than incessant background noise after signing Tim Tebow. The Jets have had their time in the sun, but most analysts and talk radio hosts have regulated the Jets back to their status as the second team in New York. 
Sound familiar?
Just four years ago, the Jets were coming off one of the most disappointing campaigns in franchise history, squandering an 8-3 record and ultimately missing the playoffs. At one point in the season, the Jets were considered to be very viable candidates to represent the AFC in the Super Bowl.
Just like 2011. 
Coming into the 2009 season, with a brand new quarterback and head coach, expectations were relatively low. Ups and downs were expected, but vast improvements were expected, particularly on defense. 
No one expected the Jets to challenge for conference supremacy. Rex's squad answered with not only a playoff berth, but two road playoff victories. 
After their epic win against the offensive powerhouse that was the 2009 Chargers, Rex declared in the locker room that "three home teams advance...and the f--kin' Jets!"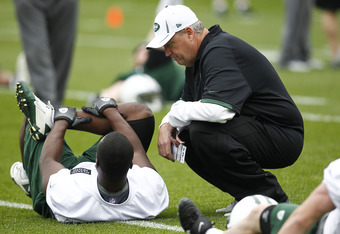 Jeff Zelevansky/Getty Images
That's precisely the attitude the 2012 Jets must undertake. As Rex goes back to his coaching roots, the Jets must embrace this new attitude and public perception to use to their advantage. Right now, the only expectations for the Jets' season is for their starting quarterback to be replaced before the trading deadline. 
How wrong does that sound? How many teams go into the season with the expectation that their 25-year-old quarterback will be benched?
Sanchez, Rex and the rest of the Jets captaincy must take this poor public perception to hearth and use it to their advantage. They will have to grind out wind and get it done the ugly way, but it has worked in the past. 
Rex thrives off being the underdog; he loves the idea of winning football games with defense and running the ball, as the rest of the NFL evolves into a high-scoring Madden competition. 
What other choice to they have?