2012 NFL Draft Recap: Bears' Alshon Jeffery Is Not Ex-Lions' Big Mike Williams
May 4, 2012

On Wednesday I wrote an article on what the quick signing of second round wide receiver Alshon Jeffery meant for the Bears and mentioned how one could construe from the swiftness of it that they could be concerned about his weight and it's easier to watch him in Chicago, working out with the team.
That it was a minor thought didn't really seem to ease the fears of some Bears fans though. In fact, they—and an awful lot of the media—have begun comparing Jeffery to former Lions draft bust Mike Williams, who has re-booted his career in Seattle.
In case you've forgotten (or if you're a Lions fan and have purged it from your memory), "Big" Mike Williams came out of the University of Southern California in the 2005, taken 10th overall by the Detroit Lions at the tail end of their Matt Millen-fueled WIDE RECEIVER COLLECTION BONANZA.
Williams just finishing off a badly considered year without playing football—in 2004 suspended Ohio State running back Maurice Clarrett was challenging the leg legitimacy of the NFL's. He won his first court case and Williams, having finished just two years at USC, was able to enter the draft as a sophomore.
Unfortunately for Williams, after declaring as well as hiring an agent, the ruling was overturned and Williams (and Clarrett) were unable to be reinstated by the NCAA.
The year off was not a good thing for Williams, who gained weight and definitely looked rusty in pre-draft workouts. Despite the layoff, the Lions took him.
It was a disaster.
He struggled for a while with Detroit, was nearly converted to a tight end and eventually was released.
He was charged as being consistently out of shape and generally lazy in terms of work ethic. Seahawks coach Pete Carroll (his former collegiate coach) turned him around, but it was not a permanent change.
Right now you're probably not feeling any better. Don't worry, because I'm about to explain to you how all of that will not apply to Alshon Jeffery, and how not only is he not Mike Williams, but not even in the same universe as Williams.
Williams' weight issues initially stemmed from his long layoff. Honestly, Williams was always a bit heavy—it just got way out of control with his year off.
Jeffery gained weight—and mind you the timing of it was bad—but he didn't play heavy.
To help clarify, I talked to Matt Miller from B/R's Huge Upside blog. Miller points out that you can see a difference between Jeffery and Williams when you look at college film of both.
Guys like Mike Williams always played heavy and just got heavier—Jeffery took an opposite approach. Watching his 2010 film, you see no belly hanging over his pants (in a tight jersey) and he had no issues separating deep. Watch him early in 2011 and you see some pudge, but by the Holiday Bowl he was, by all appearances, in great shape.
To Miller, the speed with which Jeffery corrected his weight issues is a factor as well. As he points out above, while early on Jeffery was carrying a few extra pounds, he corrected it by year's end.
Williams always played very heavy and it took him years to get it under control. Some days I look at him in a Seattle jersey and am not sure has it under control now.
As far as I'm concerned, the long layoff was the beginning of the end for Williams. I was worried about the decision to leave school so early (that in and of itself was a poor choice) and when he wasn't allowed to play or practice with the USC team after it all went south, you just knew it would be a struggle.
Jeffery has not had a layoff of any kind, much less an entire calender year. He is, by all accounts a hard worker—a phrase I never remember being used to describe Williams. So even if there is some weight gain, it's something he can correct.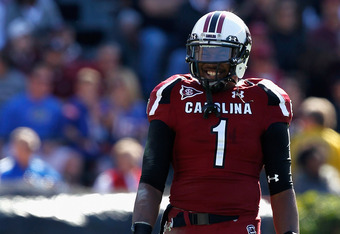 Streeter Lecka/Getty Images
He's a big guy, for sure. It isn't a hindrance to his game however, and while he does struggle gaining separation out of his routes, he doesn't going deep. He had some issues last year, but he also suffered from some sub-par quarterbacking.
Again, I go to Miller:
I watched 24 games from his SC career, and I never once saw an issue with separation when he was asked to run deep. Were there bad routes? Of course, but more often than not his quarterback struggled to push the ball over the top to allow him to separate and make a play.
Does Jeffery have some rough spots in his game? Yes, I feel he does. However, he is more than worth the second round pick the Bears used on him—I'd argue worth a much earlier second round pick at that.
I can see why the weight ran a red flag for some. He's a huge wide receiver who at one point got bigger. He already reminded some of Williams, and that's just going to reinforce that take.
The similarities end at size though.
Jeffery is far more dynamic and has a much better work ethic than Williams ever did for his college career or the beginning of his pro career. He's not coming off a long layoff from the game. He's already signed and is in Chicago presently.
In the end, size is all they really have in common.
Jeffery has a chance to step right in, and with Brandon Marshall by on the other side, form one of the better receiving tandems in the league.