New Orleans Saints Set at LB Without Jonathan Vilma, but There'll Be Competition
May 4, 2012

Chris Graythen/Getty Images
You would think that when NFL Commissioner Roger Goodell suspended New Orleans Saints linebacker Jonathan Vilma for the season, it would have stirred up a position battle to replace him in New Orleans. On the contrary, it actually eliminated a potential battle between Vilma and newly signed Curtis Lofton.
But the suspension didn't take care of all the unanswered questions at linebacker.
The Saints have eight linebackers currently on their roster. Losing Vilma is going to force a number of these players to begin cross-training, not just to help with the loss of Vilma, but also to protect against potential injury devastation. If someone were to get hurt, the Saints need a large pool of replacements available. Cross-training helps in that arena.
Cross-training isn't going to solve everything, however. Two of the three linebacker positions will still be fought over.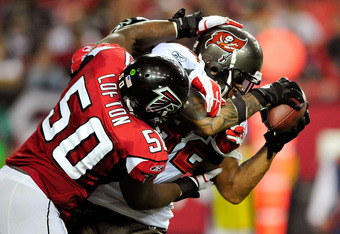 Grant Halverson/Getty Images
Middle Linebacker
This was Vilma's spot, and now it will be Lofton's. The former Falcon led Atlanta in tackles in each of the last three seasons, and posted a career high of 147 last year. Lofton is a master at playing the run and is a coach on the field. He gets to where the ball is and has no trouble involving himself in every play.
Lofton's not great in coverage, however, and might be best suited for two-down play. That said, Lofton may actually be an upgrade to Vilma, and he definitely has a better history of health.
Weakside Linebacker
David Hawthorne was signed from Seattle early in the offseason, possibly as a contingency against Vilma's suspension (Lofton might have been added for this reason, as well). Hawthorne is the front-runner to play at weakside linebacker in the Saints base package.
Otto Greule Jr/Getty Images
Hawthorne had 115 tackles last year and three interceptions. He's actually picked off seven passes over the last three years. Hawthorne is a heavy hitter with great positional versatility. He can play all three linebacker positions.
Jonathan Casillas and Chris Chamberlain will push Hawthorne at Will linebacker.
Casillas started four games last year, but is a tad undersized for the position. Chamberlain started 13 games last year for St. Louis and has history playing for Steve Spagnuolo.
Strongside Linebacker
Scott Shanle should be given the starting nod at Sam linebacker, but he'll get a challenge from Martez Wilson.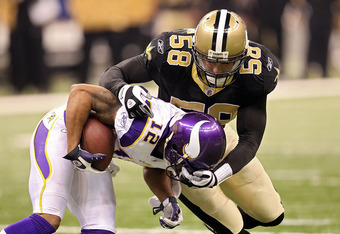 Ronald Martinez/Getty Images
Shanle has started for the Saints for six years. He's an adequate outside backer who is smart with his positioning in the run game. Wilson might be the best pass-rushing linebacker of the group, and that's an important factor in the NFC South because of the quality of quarterbacks. We also know that getting pressure on opposing quarterbacks was a weak point of the Saints last year.
Wilson has awesome athletic ability and can wow coaches at times.
If the season started now, interim head coach Joe Vitt is on record saying Shanle, Lofton and Hawthorne would be the starters. But expect both outside positions to be up for debate once training camp begins.