NFL Draft 2012: Why Trent Richardson Will Be Rookie of the Year
May 4, 2012

Al Bello/Getty Images
When the Cleveland Browns selected Alabama's Trent Richardson with the No. 3 overall pick in the 2012 NFL Draft, they took one of the best running back prospects in recent memory. 
In his final collegiate season, Richardson ran for a school record of 1,679 yards on 283 attempts. That equates to an absurd 5.9 yards per carry.
For such stellar play, T-Rich was given the Doak Walker Award.
And in his first season in the NFL, he will add to his trophy case by winning the NFL AP Offensive Rookie of the Year.
Much of that will be due to the fact that he comes to the Browns as one of the last of a dying breed, a feature back.
Richardson doesn't need to be a part of one of those committees that are so prevalent in today's NFL. The guy produces like a committee all by himself. He possesses everything you could ask for in a singular ball-carrier.
At 5'11", 224 pounds, Richardson is exceptionally powerful, yet also has breakaway speed.
He's incredibly shifty, making him very tough to get a hold of. And when defenders do have an opportunity to wrap Richardson up, if he doesn't outright break the tackle, he will at least push for the extra yard.
Also, Richardson is excellent in terms of ball control. Richardson fumbled only one time in his final season at 'Bama. It's not unusual to see a young RB lose playing time due to fumbles, but that won't be an issue for T-Rich.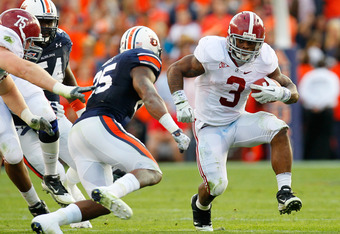 Kevin C. Cox/Getty Images
Another plus for Richardson is his durability. He didn't miss a single game last season, and again, he ran the ball 283 times!
Richardson is simply the complete package, so it really isn't hyperbole to say he will completely transform a Browns' rushing attack that was 28th in yards in 2011. 
And his value isn't just in running the ball, he's a tremendous asset in the passing game as well.
He catches almost everything thrown his way, and is a terror after the catch. Just look at his 2011 numbers: he averaged an impressive 11.7 yards per catch on 29 receptions (338 yards).
These skills will be extremely valuable in an offense that lacks true difference-makers at the skill positions. 
Still, this team will primarily rely on the run game.
Yes, likely starting QB Brandon Weeden is 28-years old, but he's still a rookie. And quarterbacks generally struggle in the initial stages of their career as they adjust to the change in style from college to the NFL.
Just because Weeden has a stronger arm than Colt McCoy doesn't mean this offense is going to be anything but conservative in 2012.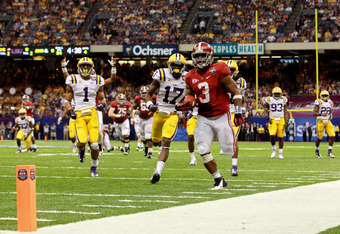 Ronald Martinez/Getty Images
Richardson is going to be the bell-cow of that run-first offense, likely receiving 17-20 carries a game and a few passes thrown his way. Considering what a dynamic talent he is, roughly 1400 total yards seems likely with that much work. 
Simply put, T-Rich has the perfect blend of opportunity and talent that will propel him to win the Rookie of the Year.
History is on his side as well.
A running back has taken home the honor 30 times total and six out of the past 13 years.
The last running back to win?
Who is regarded by many as the best running back prospect since Peterson?
Trent Richardson. 
He will be the 31st running back to win the award.