2013 NFL Mock Draft: Predicting Teams That Will Fill Defensive Needs
May 4, 2012

Chris Graythen/Getty Images
With the 2012 NFL draft in the books, we take a look forward to the 2013 draft to highlight teams that could fill defensive holes with first-round picks:
1. Oakland Raiders: Matt Barkley, QB, USC
With the Raiders in rebuild mode and new GM Reggie McKenzie without ties to Carson Palmer, Barkley could fall into Oakland's lap. 
2. Cleveland Browns: Marquess Wilson, WR, Washington State 
The Browns did well to upgrade at quarterback and running back last week, but receiver still remains a gaping hole on the offensive side of the ball.
3. Miami Dolphins: Sam Montgomery, DE/OLB, LSU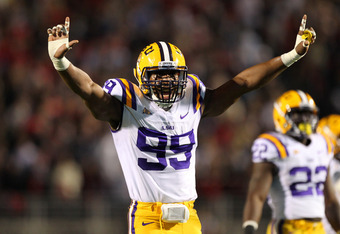 Joe Murphy/Getty Images
The Dolphins are far from a complete product offensively, but there's a sizable hole opposite Cameron Wake on Miami's defense. Wake's contract status for the next couple of years looks like a tricky situation for the Dolphins to dance around, too.
Taking Montgomery in the top five helps ease any worries if Wake somehow gets out of Miami, while also providing a dynamic one-two pass-rushing punch if Wake stays long-term. 
4. Indianapolis Colts: D.J. Fluker, OT, Alabama 
The Colts surrounded Andrew Luck with a number of pass-catching targets in this year's draft. They may look into upgrading his long-term pass protection with a player like Fluker next April. 
5. Jacksonville Jaguars: Jelani Jenkins, OLB, Florida
Don't rule out a quarterback here if Blaine Gabbert doesn't show improvement in 2012. 
6. Minnesota Vikings: Robert Woods, WR, USC
Percy Harvin is a fine slot weapon, but the Vikings still lack a true No. 1 receiver.
7. Arizona Cardinals: Tyler Bray, QB, Tennessee
Arizona would be foolish to ignore the quarterback position if Kevin Kolb struggles in 2012 like he did in year one with the Cardinals. 
8. St. Louis Rams: Jake Matthews, OT, Texas A&M
The Rams haven't had much success drafting offensive linemen high lately, but they can take the risk here with two first-rounders. 
9. St. Louis Rams (from Washington Redskins): David Amerson, CB, N.C. State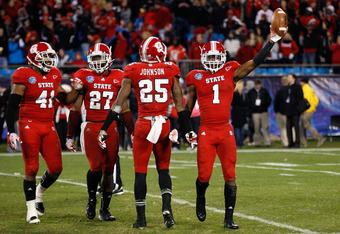 Streeter Lecka/Getty Images
Jeff Fisher spent two second-round picks on cornerbacks (Janoris Jenkins, Trumaine Johnson) and also signed Cortland Finnegan to a big deal, but Amerson rates as the best available player on the board here.
A tall, well-built cornerback, Amerson heads into the 2012 season as the clear No. 1 player at his position for the 2013 draft.
With the assumption that one of the second-rounders doesn't pan out in year one, St. Louis still gets an impact player it can use early on with Amerson here at No. 9 overall. 
10. Seattle Seahawks: Keenan Allen, WR, Cal
Matt Flynn succeeded in limited action with the Packers because of his supporting cast, so adding to the Seahawks' talent out wide makes sense here.
11. Tampa Bay Buccaneers: Tyrann Mathieu, CB, LSU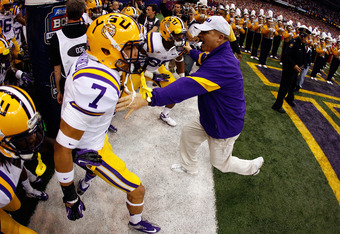 Chris Graythen/Getty Images
I'm not certain that Mathieu's game translates well to the NFL, and he's clearly undersized at the cornerback position.
However, there just isn't a price tag for the kind of playmaking ability Mathieu brings to the table.
The Bucs are also likely to look at cornerback as a positional need for next offseason, especially if Aqib Talib's legal issues linger and Ronde Barber hangs up the cleats like many expect. 
12. Tennessee Titans: Kawann Short, DT, Purdue
The Titans have restocked offensively, but there's still a need for an interior defensive line presence. 
13. Carolina Panthers: Johnathan Hankins, DT, Ohio State
Hankins will give the Panthers exactly what they still need: a player inside that can cause matchup problems along the defensive line.
Carolina was blown off the ball inside far too often in 2011. Hankins can change that in a hurry.
14. Denver Broncos: Marcus Lattimore, RB, South Carolina
Injury concerns might keep Lattimore from having a Trent Richardson-like rise up boards.
15. Kansas City Chiefs: Landry Jones, QB, Oklahoma State
If the Chiefs fail to make the playoffs in 2012, how much longer will the organization continue to lie to itself that Matt Cassel is the long-term answer?
16. Chicago Bears: DeMarcus Milliner, CB, Alabama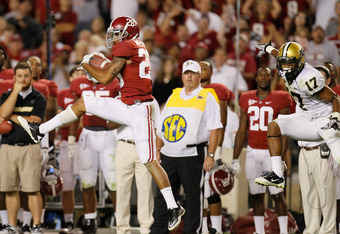 Kevin C. Cox/Getty Images
The defense has been the Bears' backbone since Lovie Smith took over as head coach, despite the fact that the team has rarely had elite cornerback play.
I wouldn't bank on the Bears getting great play from their cornerbacks in 2012, either.
Chicago can do something about that need in next April's draft. The 2013 class appears to be strong at cornerback heading into next season, with Milliner ranking in or near the top three at the position.
He's also the kind of physical, press corner that Smith loves. 
17. Cincinnati Bengals: Barkevious Mingo, DE/OLB, LSU
The draft's best name goes to a team that doesn't mind taking chances on hybrid front-seven players.
18. San Francisco 49ers: Barrett Jones, G/C, Alabama
The 49ers will find out again in 2012 that the interior offensive line is a need area. 
19. Dallas Cowboys: Tyler Wilson, QB, Arkansas
I wouldn't bet against Jerry Jones plucking the quarterback from his alma mater if Tony Romo fails to deliver a playoff appearance. 
 20. New York Jets: Michael Dyer, RB, Arkansas State
Dyer has all of the physical tools necessary to be a three-down back in the NFL.
21. Buffalo Bills: Xavier Rhodes, CB, Florida State
The Bills understand that stopping the pass is becoming a paramount objective of NFL defenses, giving value to having two first-round cornerbacks in the defensive backfield. 
22. Philadelphia Eagles: Ricky Wagner, OT, Wisconsin
With Jason Peters' NFL future in jeopardy, the Eagles give themselves a long-term safeguard in Wagner. 
23. New Orleans Saints: Jarvis Jones, DE/OLB, Georgia
I can't imagine the Saints are happy with their current depth at defensive end.  
24: San Diego Chargers: T.J. McDonald, S, USC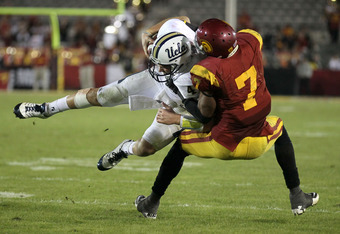 Stephen Dunn/Getty Images
Before McDonald pulled his name from the 2012 NFL draft, some considered him a lock to be the second safety off the board after Mark Barron.
Next April, McDonald should be a good bet to be the first safety taken in the first round.
The Chargers will gladly team All-Pro safety Eric Weddle with the versatile McDonald, giving San Diego one of the best young combinations at the position. 
25. Atlanta Falcons: Sharrif Floyd, DT, Florida
The Falcons were at their best as a football team when they controlled both lines of scrimmage. 
26. Baltimore Ravens: Alex Hurst, OT, LSU
Hurst gives the Ravens a sure-fire backup plan for when left tackle Bryant McKinnie eventually breaks down. 
27. New York Giants: Manti Te'o, ILB, Notre Dame
Te'o would have been a fringe first-rounder had he come out for the 2012 draft. Putting him behind the Giants' talented defensive line gives him the freedom to be an impact player at the next level. 
28. Pittsburgh Steelers: Montee Ball, RB, Wisconsin
The Steelers may be facing a scenario in which running back becomes a major need next season.
29. Detroit Lions: Alex Okafor, DE, Texas
Kyle Vanden Bosch is getting up there in age, and Cliff Avril is only under contract for another season. 
30. Houston Texans: C.J. Mosley, ILB, Alabama
Mosley could be a natural fit if Houston struggles to replace DeMeco Ryans inside.
31. New England Patriots: Khaled Holmes, G/C, USC
Brian Waters and Logan Mankins played at an All-Pro level in 2011, but the aging guards can't keep playing at a high level forever. 
32. Green Bay Packers: Tony Jefferson, S, Oklahoma
If the Packers struggle again at safety without Nick Collins (neck, released), safety becomes a huge need for GM Ted Thompson next April.