Chicago Blackhawks Season Review, Part 3: How the Organization Looks in Goal
May 4, 2012

Christian Petersen/Getty Images
Chicago Blackhawks fans will be looking for the following question to be answered concerning the career of starting net minder Corey Crawford: is he more Jimmy Howard or Steve Mason?
More simply, will Crawford rebound from a uneven regular season that saw coach Joel Quenneville waffle back and forth on his man in the crease? Can we expect the solid play that marked his strong rookie campaign, or will the Blackhawks be in search for a long-term answer at goalie in twelve months?
If so, that search looks to be outside the organization, as the depth in net throughout the system has not changed drastically in the past year. That's not to say there wasn't some movement.
At this moment, Chicago has six goalies under contract. To start this rundown of the crease, let's begin by checking in with this bunch.
Corey Crawford
After impressing last season in the latter stages of the regular season as well as the playoffs, Crawford was locked up to a three-year deal and looked good for about a month. With the exception of two ill-timed overtime softies in the playoffs, Crawford was strong in March and April. In between, he had his troubles.
Ray Emery
Parlayed an invitation to training camp to a return as Crawford's backup after a nice run in December when Crawford was off his game. Doesn't seem like he's capable of starting regularly, but was 15-9-4 in 34 appearances, so he got the job done in relief.
Alexander Salak
Did not handle losing his spot on the 'Hawks roster to Emery in training camp. Chicago went with experience and chose to pay Salak's $600,000 contract while seasoning him in the AHL. Salak showed everyone how NHL-ready he was by pouting, playing poorly in net and losing what was essentially a one-horse race for net supremacy in Rockford.
Carter Hutton
Whatever Salak did to poison the IceHogs this season, Hutton was the antidote. Signed by Rockford to an AHL contract last summer, Hutton started in Toledo of the ECHL when Emery made the team. Hutton used the time in Toledo to get in a groove, replaced Salak when he was injured in December and never looked back. The 'Hawks signed him this spring for the remainder of the season.
Alec Richards
Couldn't take advantage of Salak's poor attitude and was sent to Toledo. The Yale standout was terrible in Rockford (3.55 goals against, .893 save percentage in 22 games) and had even worse numbers with the Walleye.
Cristobal Huet
Yes, his contract will soon expire and he'll have to find another source of income instead of playing in Europe on the 'Hawks dime. For the record, Fribourg-Gotteron, Huet's team in the Swiss National A League, reached the second round of the playoffs. Huet posted a 1.99 goals-against average and a .932 save percentage in 39 regular season games.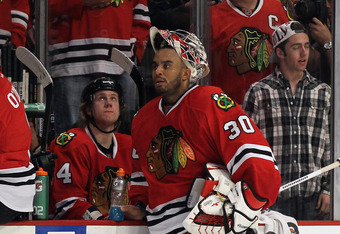 Jonathan Daniel/Getty Images
Huet is gone this summer and Salak is not really in Chicago's plans anymore. If the 'Hawks were willing to eat Huet's huge contract, they'll pay Salak's remaining season at $600,000 for him to play in Europe if he doesn't beg out of the deal himself.
Hutton will be a player to watch. The organization needs a solid veteran for Rockford. Hutton was the MVP of the team and a fan favorite. If GM Stan Bowman could envision Hutton backing up Crawford down the line, we might see him re-signed to a two-way contract.
Hutton may choose to pursue a NHL opportunity elsewhere. If that happens, look for an experienced journeyman to hold down the net with Richards getting 30-40 starts with the IceHogs.
The Future
Chicago does have three goalie prospects that could figure into their plans. All are recent draftees who have yet to sign contracts with the organization. A strong camp could result in one of these young goalies making the jump from juniors and taking starts away from Richards.
Kent Simpson
Rockford fans got a glimpse of one of Chicago's four second-round picks of 2010 after Simpson was signed to a tryout agreement. He allowed three goals but made 38 saves in the IceHogs' season finale, a 4-3 shootout loss to Charlotte.
Simpson, 20, was in net for 60 games for the Everett Silvertips of the WHL, going 20-31-2-5 with a 3.33 goals against average and a .909 save percentage.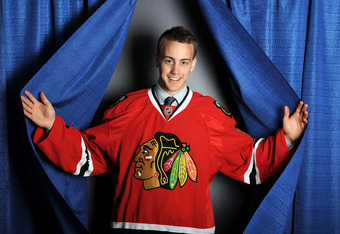 Harry How/Getty Images
Mac Carruth
Carruth may have gotten that call from Rockford if he wasn't busy advancing to the WHL finals with Portland. Chicago's seventh-round pick in 2010 has been the starter for the last two seasons with the Winterhawks. He played 63 regular season contests, winning 42 of them to tie for the league lead.
Carruth has followed up the regular season (2.96 goals against, .904 save percentage) with a 2.86 goals against average and .'920 save percentage in 15 games heading into Game 1 of the WHL Finals in Edmonton. The 20-year old may be ready to begin his professional career as part of a tandem in Rockford.
Johan Mattsson
Another 20-year old, the 6'4" Swede was Chicago's seventh-round pick last summer. He came over from Europe to play for Sudbury in the OHL this season. In 37 games, he went 23-11-2-1 with a a 3.16 goals against average and a .910 save percentage.
My look back at the Blackhawks season began with a look at the 'Hawks forwards, followed by a review of the defense. Part three of the season review looks at the organization's top prospects and will be followed by spotlights on the coaching staff and the front office.