Chicago Blackhawks 2012 Season Review: A Disturbing Two-Year Drop on Defense
May 3, 2012

Bruce Bennett/Getty Images
When the Chicago Blackhawks look back on the problems that plagued them this season, it ultimately will point to the blue line. The defense was a big reason the offseason began before the calendar hit the month of May.
My look back at the Blackhawks season continues with a look at the defense. In the first installment, I cast my gaze on the players up front. Look for other positions to be put under the microscope later this week.
Chicago has seen a huge drop on the defensive end since winning the Stanley Cup in 2010. That season, the team had a goal differential of plus-53. The 209 goals allowed by the 'Hawks was the third-best total in the league.
Since the parade, things have gone south in the last two seasons. The goal differential fell to plus-27 a season ago and to plus-three this season. Chicago saw their position fall from third to 13th to 22nd in goals allowed.
Half of the cup-winning defense is still on patrol. How much difference could Brian Campbell, Brent Sopel and Cam Barker/Kim Johnsson/Nick Boynton, who shared time in the sixth spot, make? (I know Dustin Byfuglien played defense in the playoffs, but he was used primarily as a forward in 2009-10.)
Apparently quite a bit, as the numbers speak for themselves.
Here are some thoughts on this year's crop of defensemen. Again, I'm not grading anyone and will be spotlighting these players later this offseason.
Brent Seabrook
Took over the mantle of No. 1 defenseman on this team with another solid season.
As I pointed out last year at this time, Seabs is Chicago's most physical and consistent defender. He led the back end in goals and hits again and added the team lead in blocks this season.
The new contract seems like a good deal with the price of premier defensemen skyrocketing.
Duncan Keith
This season saw Keith rebound from the disinterested performance of a season ago.
He averaged 26:53 per contest in 74 games. That tied Campbell for tops in the NHL as well as his average time on ice from 2010-11. Both are career highs, which is a problem no matter what those promos say about his lung capacity.
Nick Leddy
For a young defenseman learning the NHL ropes on the go, he had a promising season in his first full loop. For a player charged with replacing Campbell, not so much.
Leddy should have been playing third-pairing minutes instead of the 22:04 he got per game. He was one of two 'Hawks who appeared in every game this season (the other was Patrick Kane).
Niklas Hjalmarsson
Okay, he doesn't score. The offensive game is probably not blossoming the way you'd like to see. His point total did improve despite playing in just 69 games.
Hjalmarsson won't likely live up to Stan Bowman's matching of the four-year, $14 million offer sheet two summers ago, but he would cost more to replace now. Chicago needs more shot-blockers and Hjalmarsson is big in this area.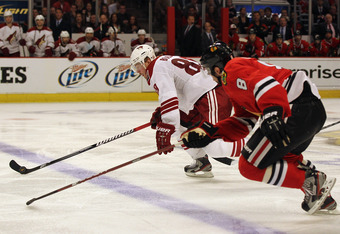 Jonathan Daniel/Getty Images
Steve Montador
Bowman got him to play defense and play the penalty kill and Joel Quenneville used him in nearly the opposite way.
If he is used correctly and recovers from the concussion that kept him out for the last three months, Montador is capable of holding down solid third-pairing responsibilities. Isn't that why he was signed?
Sean O'Donnell
He came aboard to be a reserve defensman, not hold down a port on the third pairing all season. Was as slow as advertised but it's hard to say he didn't meet expectations.
Just remember that the expectations weren't much.
Sami Lepisto
Lepisto always seemed to play pretty well on the third pairing when Quenneville used him, which wasn't much.
I would have preferred to see him in 60 games on that pairing as opposed to the rotation Quenneville used there, but for some reason Bowman's late free-agent signing wasn't Quenneville's cup of tea.
Dylan Olsen
Certainly had his moments upon being called up. Showed signs of the rugged defender he is purported to be.
Olsen is lacking in speed and could probably benefit from a full year in Rockford as opposed to sitting and watching in Chicago.
John Scott
He worked hard to improve his skating. Other than fighting, Scott did little the last three guys couldn't do.
The locker room lost a friendly face, but Chicago managed to get by without his three minutes a night.
Johnny Oduya
Like fellow Plan B Chris Campoli last season, Oduya's addition was helpful but not the impact player needed at the time. He skated a lot of minutes, especially with Montador out of commission. He played well upon hitting town.
At $1.5 million on the third pairing, re-signing Oduya could be a solid defensive move. At his current price, no thanks. 
Conclusion
Assuming Montador is healthy, he and Leddy could provide a third pairing that Quenneville has the confidence to play 15 minutes a night. That really means picking up a physical second-pairing type might reverse the trend of the past few seasons.
Will one be available come summer? Will Quenneville and Bowman be on the same page as to how to use any new defensive acquisitions? Stay tuned.
Part three of the season review looks at the organization's situation in goal and will be followed by spotlights on Blackhawks prospects, the coaching staff and the front office.