NFL Rumors: Colt McCoy Needs Out of Cleveland after Dad Sealed Fate with Browns
May 3, 2012

Jared Wickerham/Getty Images
If a report coming out of Cleveland is to be believed, Browns quarterback Colt McCoy needs to find his way out of the organization in short order.
According to Tony Grossi of ESPN Cleveland, the future of McCoy as the Browns starting quarterback was erased after Brad McCoy, Colt's father, spoke out against the team following a concussion McCoy suffered against the Pittsburgh Steelers in early December. 
I've been told that McCoy's fate as a former starter was sealed when his father sounded off about the club's handling of his concussion in the Pittsburgh game on Dec. 8. I was told at the time that Brad McCoy's comments meant the end of McCoy in Cleveland, but I didn't believe it then. The comments did not drive the pursuit of a new quarterback, but I believe they contributed to McCoy's demise.
While no club wants to get verbally harassed by any player's father, in no way should Brad McCoy's comments had been the "end" of his son's chances as the starting quarterback for Cleveland Browns. If that's the case, McCoy never had a real shot at being the team's long-term answer. 
McCoy may still want to stay with the Browns and compete for the starting spot with Brandon Weeden, who the team drafted with the 22nd overall pick in last week's NFL draft. However, McCoy would be better served to demand a trade out of Cleveland, even if a fresh start costs him the chance to compete for a No. 1 job next fall. 
There's little to no chance he's getting a fair shake at winning that job anyway.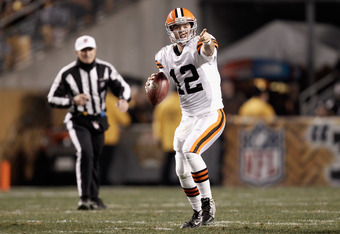 Jared Wickerham/Getty Images
The idea of a trade surfaced after the Browns selected Weeden on Thursday of last week, as GM Tom Heckert was non-committal about keeping McCoy on the roster. But those talks have recently cooled, leading many to believe that Cleveland will hang out to McCoy for at least 2013. 
McCoy, on the other hand, should be pushing at the Browns to send him to a team without a proven backup. The Green Bay Packers—who were rumored to be in on McCoy during the draft—made a ton of sense for both the team and McCoy, but it seems unlikely that the Packers would deal for a quarterback after drafting a developmental player in B.J. Coleman over the weekend. 
That kind of situation is what McCoy should be hoping for, however.
He could benefit from being on the sidelines for a year or two as a backup in a good quarterbacking system. 
Take current Seattle Seahawks quarterback Matt Flynn for example. 
A seventh-round pick in 2008 who had a limited skill set coming out of LSU, Flynn sat behind Aaron Rodgers for three years in Green Bay. He learned and improved in the shadows of the Packers' offense. Then once his shot finally came, he was ready to make the most of it. Now Flynn's likely to be the Seahawks' starting quarterback after signing a substantial three-year deal this offseason. 
McCoy could do something similar with his career in the right situation. Just 25 years old, McCoy is still in the baby years of being an NFL quarterback. With a fresh start and a year or two of developing, McCoy could once again rise as a potential starting quarterback in the NFL.
But one thing about his future is for certain. He's not going to get a fair shot in Cleveland, and his chances of successfully developing in that culture—one that was ready to throw him to the bench after his dad sounded off on an absolutely relevant health issue the game is facing—isn't high either. 
The only way for Colt McCoy to turn around his drowning NFL career may be to find the first way out of the Browns organization. Whether by trade or otherwise, McCoy needs to make a change happen.