What to Expect from Buffalo Bills 2012 3rd-Round Pick WR T.J. Graham
May 3, 2012

Streeter Lecka/Getty Images
The Buffalo Bills needed another dynamic playmaker in their offense, which at least had a little something to do with their selection of wide receiver T.J. Graham in the third round.
But if they were looking for an immediate return at the wide receiver position, they may have waited too long. Rookie receivers often have a tough time making an impact, and the track record for wide receivers in their rookie year in the third round is pretty shabby, to say the least.
To create a realistic baseline for expectations from Graham, we'll look to the wide receivers that have been drafted in the third round since 2007. The sample size of only five seasons may seem trim, but the search result yielded 31 matches, so that seems substantial enough to form a conjecture on Graham's rookie season.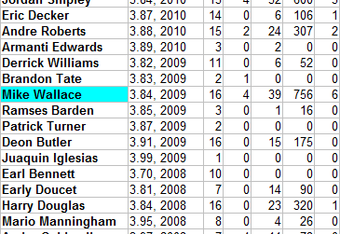 I apologize for omitting Taylor Price, drafted 3.90 by the Patriots in 2010. He had three receptions for 41 yards as a rookie.
Here are some observations of the group.
Average stat line: 10.3 games, 1.6 starts, 14.9 receptions, 190.4 yards, 12.8 yards per reception and 0.7 touchdowns.
Only 12 of the 31 have become the primary starter for at least one or more seasons. 
Only one, James Jones, started more than eight games in his rookie year.
Fourteen of the 31 have recorded less than 10 receptions in their rookie year. Eleven had less than five receptions in their rookie year.
Thirteen of the 31 have developed into productive receivers for their teams. Among them, the only ones to record less than 10 receptions in their rookie season were Mario Manningham, Eric Decker and Earl Bennett.
From '07 through '09, only two third-round receivers caught multiple touchdown passes. In '10 and '11 combined, four receivers caught multiple TDs.
All in all, the success rate of third-round receivers is extremely hit or miss, but while a high percentage haven't produced in their rookie year, that trend has changed recently. It's a testament to the utilization of the spread offense in the NFL (Brandon LaFell and Jordan Shipley are recent examples of that).
Mike Wallace, James Jones and Mike Sims-Walker were all successful almost immediately (MS-W in year two), Emmanuel Sanders has been solid, Eric Decker is poised for a breakout with Peyton Manning, Vincent Brown has a chance to be successful in year two with the Chargers and Earl Bennett and Harry Douglas have both been productive in the slot.
Taking a look at the receivers the Bills have drafted since '03, it's easy to see why they're back in the market.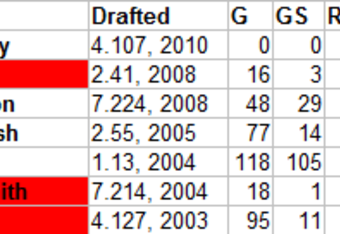 Three of the seven receivers they've drafted since '03 are out of the league, and two more are with another team. Another, Marcus Easley, still hasn't played a down in the NFL. That leaves just one homegrown product: Stevie Johnson.
Can T.J. Graham be No. 2? 
One thing he'll definitely bring to the mix is a burst off the line like no one else on the Bills can offer. I don't think he's going to be the No. 2 receiver in Week 1, but I do think he is capable of besting the average stat line simply due to his quarterback and the system of the head coach.