NBA Playoff Schedule 2012: Highlighting This Weekend's Best Games
May 3, 2012

Mike Ehrmann/Getty Images
The NBA Playoffs are under way, and man, have they been filled with drama.
Superstar Derrick Rose went down with a season-ending injury and the Los Angeles Clippers had a miraculous comeback win on the road, just to name a few notable moments.
Here is a look ahead to some of the must-see games this weekend.
Dallas Mavericks vs. Oklahoma City Thunder
This has been the best series of the first round. Each of their first two games have came down to the wire, with the Thunder winning both contests by a combined four points.
These two teams are loaded with superstar talent that every NBA fan would love to watch. The Thunder are led by Kevin Durant, along with Russell Westbrook and James Harden. These three are guaranteed to put on a high-flying and high-scoring offensive show.
On the other hand, the defending champion Mavericks are down 0-2 and have their backs against the wall. It is times like these where we are going to get to see vintage Dirk Nowitzki.
Will he be able to dominate like last year in the playoffs and lead the Mavericks back from their 0-2 hole?
Memphis Grizzlies vs. Los Angeles Clippers
Are the Clippers ever not an exciting team to watch?
With the Lob City crew in the playoffs, they are must-see-TV. This is one of the toughest matchups in the first round of the playoffs.
In game one, everyone thought that the Grizzlies had the game in the bag with a 26-point lead. Heck, even I turned off the game, only to wake up the next morning and see that the Clippers won.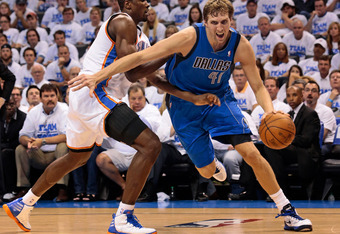 Brett Deering/Getty Images
Luckily, the Grizzlies showed they could come back strong after a huge letdown and won game two. 
There is a great chance this series go to seven games, with each game being filled with intensity and highlight reel dunks.
Miami Heat vs. New York Knicks
The Heat appear to have this series in the bag, but the atmosphere of the game is worth watching.
LeBron James, Dwayne Wade and Chris Bosh are coming to Madison Square Garden and the New York fans will be going wild.
The Knicks cannot be swept in the first round of the playoffs two years in a row or else they are going to have to make major changes.
It will also be very interesting to see if the Knicks are able to win without Amar'e Stoudemire if he does not play. There has been a significant amount of controversy over whether the Knicks are better with just Carmelo Anthony, without Stoudemire. They are 14-5 when Stoudemire does not play, so perhaps the Knicks can pull out the win and make this series interesting.