Terrell Suggs Tears Achilles, but Not All Is Lost for Baltimore Ravens Defense
May 3, 2012

Larry French/Getty Images
Baltimore Ravens star outside linebacker and 2011 Defensive Player of the Year Terrell Suggs has reportedly torn his Achilles tendon while working out in Arizona according to NFL Network's Jason La Canfora. Suggs later confirmed that he sustained the injury while doing cone drills.
According to the Ravens, he's set to see a specialist next week to determine the extent of the tear, but one thing is already painfully clear—he won't be taking the field in 2012 (despite this report from ESPN's Adam Schefter saying that Suggs thinks he could be back in October).
Achilles injuries are among the most serious an athlete can face, with a lengthy and painful recovery time that can take at least 12 months or more depending on the severity.
Suggs' injury will see him sidelined in a crucial season for the Ravens, and many have already speculated that in the ever-toughening AFC North, this could derail Baltimore's chances to reach a Super Bowl this season.
However, hope is not lost for the Ravens or their vaunted defense. Suggs was but one part of it—granted, a major part—and though he's certainly not replaceable, the Ravens do have options at their disposal and players who could effectively fill in for the year.
Kevin C. Cox/Getty Images
The main issue with finding someone to fill Suggs' role is determining who simply has the skill set.
The Ravens have a hybrid defensive strategy, and Suggs is a major part of it. Last season, Suggs played on 95 percent of the Ravens' defensive snaps and was used as a linebacker 52 percent of the time and a defensive end 48 percent of the time.
While Suggs is known for his ability to come off the edge and get at the quarterback (he had 14 sacks last season, the most in his career), he's also extremely valuable when it comes to stopping the run, with 70 tackles (50 solo) and 10 stuffs.
The Ravens' run defense already took a hit this offseason when linebacker Jarret Johnson left in free agency, and the team had hoped it landed his replacement in the draft, when it selected Courtney Upshaw in the second round.
Upshaw could now be moved to Suggs' spot on the outside (which is where he played in college at Alabama), and Paul Kruger, who was the backup plan if the Ravens couldn't draft someone to take Johnson's spot, would move inside to stop the run.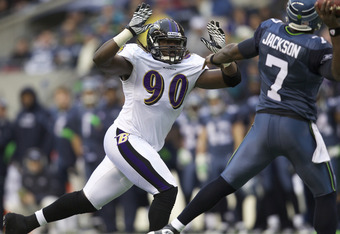 Stephen Brashear/Getty Images
If that doesn't prove to be the best option, the Ravens could also move defensive end Pernell McPhee to the outside. The second-year player showed some serious potential in his rookie season, notching six sacks, one forced fumble and 16 solo tackles when he was worked into the rotation.
Baltimore is also hoping that linebacker Sergio Kindle will be well enough to play this year; if so, he could be an option, or at least used situationally either at outside or inside backer.
Another way the Ravens could approach this is by bringing in a relatively inexpensive free agent for the year.
Joey Porter is available, and though he's certainly not what he used to be, he does have the veteran experience to be a good plug-and-play option for 2012.
Suggs is one of a kind, and finding a player (or players) to take over his responsibilities is going to be difficult. But the Ravens know how to build defensive talent and have a roster full of options available.
This is certainly a bad situation for Baltimore, but in many ways, it could be far worse.