Andrew Luck or Robert Griffin III: Who Has the Better Supporting Cast?
May 3, 2012

Joe Robbins/Getty Images
Who will have the better rookie season, Andrew Luck or Robert Griffin III? This has been an ongoing debate since we knew the Colts and Redskins would draft Luck and RGIII respectively. Most analysts that I see on ESPN and NFL Network make the argument that RGIII will have the better rookie season, citing his much better supporting cast in Washington. Let's take a look at the offensive supporting cast for each, and see if that is, in fact, the case.
OFFENSIVE LINE
According to FootballOutsiders.com, the Redskins ranked 10th in run blocking and 15th in pass protection. The Colts were 25th in run blocking and 18th in pass protection.  The Redskins added some depth to the line in the draft and free agency and didn't lose any of their starters from last year. Barring injuries, I wouldn't expect a drop off in production, but I wouldn't expect a big improvement either.
The Colts on the other hand, are in the process of revamping their offensive line, as they change the entire philosophy of their offense.  They've said goodbye to line fixtures Jeff Saturday and Ryan Diem.  They've brought in guys like Winston Justice, Samson Satele and Mike McGlynn. They will join relatively unproven 2nd year players, Anthony Costanzo and Ben Ijalana.  
Advantage: REDSKINS - Slight edge to the Redskins mainly because the Colts line is such an unknown. On paper it looks better than the 2011 line, but for now, the slight edge has to go to the proven mediocrity of the Redskins line.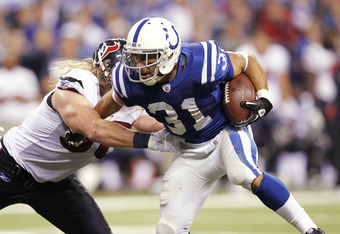 Joe Robbins/Getty Images
RUNNING BACKS
The Redskins running game is more about the zone blocking system Mike Shanahan runs than it is about the running back. That being said, Roy Helu is the projected starter and is expected to split time with Evan Royster.  While both showed promise last year, it wouldn't come as a surprise if Shanahan switches it up and give the majority of the carries to another "unknown" running back. The Redskins' rushing offense ranked 25th in the league last year at 100.9 yards per game.
The Colts' rushing offense averaged 99.6 yards per game last year ranked just below the Redskins at 26th in the league. Donald Brown is back as the starter. He has shown flashes of living up to his first round draft status, but he's also shown why some people label him a bust. Second year man Delone Carter should be his primary back up. New Colts head coach Chuck Pagano has expressed desire to run the ball more than the Colts have in recent years. Does that mean they'll be more effective? Will this new offensive line provide better run blocking? Those questions will remain unanswered until the start of the season.
Advantage: PUSH - The running games of the Colts and Redskins were pretty much identical last season. The Redskins averaged just a yard more per game. The running backs on each team will come in to the season having to prove themselves. I don't see either team having an advantage here.
TIGHT ENDS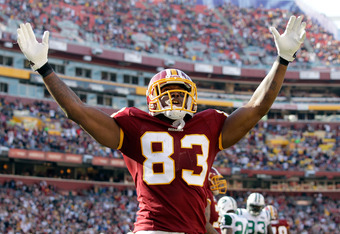 Rob Carr/Getty Images
Chris Cooley, who played in only five games last year due to a knee injury, should be healthy and ready to go at the start of camp. Cooley, when healthy, is a reliable blocker and very good pass catcher. The Redskins other tight end, Fred Davis, is coming off another very good season. FootballOutsiders.com had him ranked 8th among all tight ends last year in overall value. Keep in mind, he missed the final four games of the season due to suspension. If Cooley and Davis can stay healthy, they should combine for one of the better tight end combos in the league.
The Colts cut Dallas Clark and lost Jacob Tamme to free agency. In their place, the Colts drafted Coby Fleener and Dwayne Allen.  Fleener and Allen were considered by most to be the top two tight ends in the draft. Fleener, with his familiarity with Luck, should be able to put up good receiving numbers early and often in 2012. Both tight ends, for that matter, have a ton of potential.
Advantage: REDSKINS - I have no doubt that Fleener and Allen will be good players for the Colts. They could be very good. But they're not there yet, and until we actually see them perform, they can't be put on the same level as Cooley and Davis.
WIDE RECEIVERS
The Redskins cut Jabar Gaffney earlier this week, but still have a good group of receivers. The picked up former Colts receiver Pierre Garcon and also added former 49er Josh Morgan in free agency.  Santana Moss, who had a down year last year, and second year vet, Leonard Hankerson, are back to join them. Garcon and Morgan are two young receivers who have quite a bit of talent, but have been inconsistent so far in their careers. FootballOutsiders.com had Moss and Garcon ranked 80 and 81 in the league in total value for wide receivers last year. Morgan was not ranked due to missing much of last season with a broken leg. Hankerson only played in four games, but has the talent to be a good receiver in this league.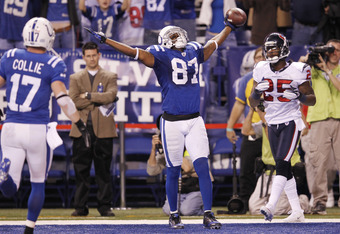 Joe Robbins/Getty Images
Reggie Wayne surprised many people by re-signing with the Colts. Wayne is on the downside of his career, but he still provides leadership and sure hands. Austin Collie is back as well after a tough 2011 season. FootballOutsiders.com had Wayne and Collie ranked 36 and 71 in the league in total value for wide receivers last year. Joining them will be free agent addition Donnie Avery and rookies T.Y. Hilton and LaVon Brazill. It's uncertain whether Avery can return to the promise he showed coming up in St. Louis. Hilton and Brazill are also unknowns at this point, although Hilton provides magnificent speed and game-breaking ability.
Advantage: REDSKINS - Very slight edge to the Redskins largely for the experience their receiving corps has over the Colts. Wayne and Collie ranked higher than the Redskins receivers, but after that the Colts have unproven talent.
OVERALL
RGIII does seem to have the better supporting cast in Washington than Andrew Luck has in Indianapolis, but it's not as wide a margin as you would think. In fact, with the talent the Colts have on offense, that margin could disappear all together during the season. Right now, the Redskins just have more proven, experienced players. The Colts just have too many unknowns. 
Follow Brian on Twitter @coldy4goldy.