They Did It Their Way: Reviewing the Detroit Lions' 2012 NFL Draft
May 3, 2012

Gregory Shamus/Getty Images
We end out Lions Day with a look back at the Lions' draft strategy, both how we expected it to be and how it panned out.
I thought the following lines from my article were especially prescient:
They don't ignore value when it tumbles to them, as with the Fairley pick, but they will address needs they see throughout the whole draft.

Of course, perhaps their needs and our belief in what their needs are will diverge severely. Rest assured, though, that every pick will fill a hole they see.
The key was, needs they see vs. needs we think we see, and the difference between the two.
Of course, the obvious value pick was tackle Riley Reiff. We've talked about him a bunch today and it's no secret I'm a fan of the pick.
This is what I'm talking about when it comes to tumbling value—you don't ask, you just take.
Getting back to their needs vs. our perception of them—that second-round wide receiver pick still befuddles me. It's easily the most divisive pick in the NFC North, as even Lions fans I talk to are split.
On the one hand, if healthy, Ryan Broyles is a solid receiver. On the other, next to defensive end, there was no other position they needed to less address than wide receiver.
Clearly they felt differently, though I am unsure why, and it's going to slowly drive me mad.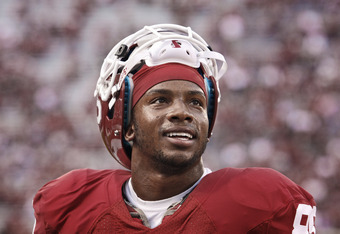 Brett Deering/Getty Images
OK, maybe not (maybe I'm already there!), but it's a puzzler. I like Broyles in and of himself, but I'm not even sold he was a second-round pick—save for the fact that there was a strong chance he wouldn't have been there in the third.
See? Perspective.
After two offensive picks, it was all defense for Mayhew and the Lions. They did move up several times to acquire players they really liked, notably in the secondary.
Again, I point to the fact that, had they addressed the secondary in Round 2 where there was some value, they wouldn't have had to chase it later.
Of course, this just brings us back to what they think vs. what we think. I may go to my grave thinking cornerback was a much better value than receiver in the second, but clearly their board said differently.
Ultimately, I was right—the Lions waited for value early and took what they thought of as their best players available.
It worked out to everyone's satisfaction in Round 1. It worked out to some people's—most importantly of which was Mayhew and company—in the second.
Really, the only people who matter are the Lions and, to some extent, the fans. Not as much us pundits.
Which is how it should be.
After all, the Packers and Pats have been ignoring us for years, and they do pretty well.
Sinatra would be proud.