Darron Thomas: The Fate of the Former Oregon Ducks QB After the 2012 NFL Draft
May 2, 2012

Stephen Dunn/Getty Images
It's May 1st, and former Oregon Ducks QB Darron Thomas still does not know if he will be playing football in the fall.
Let's set the stage to November 3rd of this year. Pretend that Darron Thomas had followed the example of fellow Pac-12 QB Matt Barkley and decided to stay in college for his senior year of football. Pretend that both USC and Oregon are undefeated in the regular season thus far and that the winner of their game will determine who secures home-field advantage for the Pac-12 Championship Game. The winner of that game would likely lead to a berth in the BCS National Championship.
"He wins -- that's all he does," says Bob Jones, former high school football coach of and current mentor to Darron Thomas.
If that is the case after all—and Thomas has given fans some reason to believe that to be true—then there would be few better opportunities to go out onto the field to prove that than this game at USC. For whatever the reason, however, Thomas elected not to take that challenge.
Instead, he elected to be remembered as Darron Thomas, three-time conference champion with a Rose Bowl victory, an appearance in the national championship and a redemption victory in the title game two years later. Moreover, he chose to be remembered as a junior that was passed up by all 32 teams in the NFL draft because of poor accuracy, poor arm strength and questionable off-field character issues.
Meanwhile, current Oregon Ducks QB-hopefuls Marcus Mariota and Bryan Bennett are making headlines across the state of Oregon following their performances in the 2012 Oregon Ducks spring game. Likewise, former Oregon star LaMichael James looks forward to an impressive NFL career, after getting drafted in the second round of the recent NFL draft. The Miami Dolphins drafted Josh Kaddu. The Pittsburgh Steelers drafted David Paulson. The Buffalo Bills drafted Mark Asper. 2012 Rose Bowl Offensive MVP Lavasier Tuinei will remain in the Pacific Northwest and play for the Seattle Seahawks. The Philadelphia Eagles even gave Cliff Harris, despite his removal from the Oregon Ducks early last season, a shot on an NFL roster.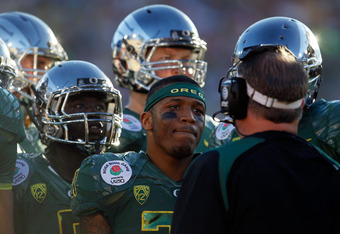 Jeff Gross/Getty Images
So where does that leave Darron Thomas?
Thomas, 21, faced a heap of controversy when he announced that he would forego his senior year of eligibility and declare for the upcoming NFL draft.
He was an absolute legend at the University of Oregon. His 66-career touchdown passes are the most in school history, and in his two years as a starter, he led the team to a berth in the national championship. The following year, he helped Oregon make their way to an appearance in the Rose Bowl, in which he threw for 268 yards, three touchdowns and secured a narrow victory. While he had been undeniably impressive throughout his tenure in Eugene, many felt that Thomas would have been best to marinate one season longer.
Meanwhile, his decision has ultimately left the college sensation undrafted and unsigned—a nod to the times in which an individual with a business degree like the one that Thomas worked towards faces an unemployment rate of 7.4% after college.
Of course, despite his setbacks, not all hope is lost for Darron Thomas.
As a scrambling quarterback, he offers a unique skill set that can provide an extra offensive weapon to any team looking for such an asset. His arm, which is not quite NFL-ready by standard definition, is serviceable and will not be an entirely disappointing waste of time if he's placed on the field.
Thomas felt as if this was the right year to declare for the NFL draft because there were very few other eligible QBs that would be declaring, and that would give him a greater opportunity to prove his stock.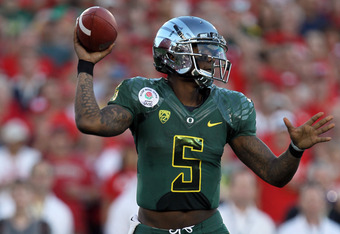 Stephen Dunn/Getty Images
Thomas, however, was a victim of his own optimism. When only eleven names were called of the QBs that were in this year's draft class, Thomas was not among them. He watched from Eugene, Oregon as every team passed over him. With roughly seven picks for every team, each time the dream became further and further from reality.
When an individual makes such a drastic decision, it's always the hope that the best-case scenario works out and everything falls into the right place. Unfortunately for Thomas, he has yet to receive a phone call from an NFL suitor wishing to give him a chance in the upcoming season.
Now the tough road begins. This weekend, Thomas will begin his travels for minicamp tryouts. His first trip is to Pittsburgh, where fellow Oregon-alumnus Dennis Dixon was first given a chance. The following weekend, he will travel to Cleveland. After that, he will be given a look by Arizona in mid-May.
Those close to Thomas tread forward with confidence.
"Mark my words – he'll be one of the top three quarterbacks in the draft when it's all said and done," Jones said of the player that Chip Kelly calls the toughest kid he'd ever coached. "Who else in that NFL Draft could say he was 2-0 against Andrew Luck, 2-0 against Nick Foles, 2-0 against Brock Osweiler, outplayed Cam Newton in the national championship game – and it wasn't even close – and outplayed Russell Wilson in the Rose Bowl?"
The answer to that, of course, is limited strictly to Darron Thomas.
With a history of perseverance, Thomas is hopeful to channel the history of his former teammate, Spencer Paysinger. The linebacker was an undrafted free agent coming out of college. He earned a roster spot for the New York Giants, however, and in his first professional season, he won the Super Bowl. For the rest of his life, that ring will serve as a reminder of the rewards of hard work.
Thomas, too, knows what is at stake. With a looming fear of joining former teammate Jeremiah Masoli in the Canadian Football League, earning a roster spot with an NFL team will be at the top of his mind in the coming weeks.
Now, his ability as both an athlete and as a human being will be tested. If he comes out on top, he will be rewarded with an opportunity that he has dreamed of since he was a child: a roster spot for a team in the National Football League. There is always hope. But for Thomas, the future may be bleak.