Former San Diego Chargers Linebacker Dead from Apparent Suicide at Age 43
May 2, 2012
Rick Stewart/Getty Images
As of 12:30 this afternoon, Oceanside Police Department Chief Frank McCoy has confirmed (via press conference outside Seau's home) that former San Diego Chargers linebacker Junior Seau has died from an apparent self-inflicted gunshot wound to the chest.
McCoy continued that the Oceanside police department received a call around 9:35 this morning from Seau's girlfriend, who found him unconscious suffering from what appeared to be gunshot wound to the chest.
Oceanside police and fire departments responded his residence on The Strand. Seau was found in a bedroom. Efforts to save the Pro Bowl linebacker's life were performed; however, they were unsuccessful to revive him.
McCoy reiterated that the case was being treated as a suicide.
Reports began surfacing around 11:20 a.m. this morning from various news outlets—TMZ.com, FoxSports.com, The San Diego Union-Tribune and North County Times—that police had responded to a call about possible suicide and that Seau's housekeeper was possibly the one who found the former San Diego Chargers great.
Seau was a high school football standout at Oceanside High School (right up the street from his home on The Strand). He lettered in three sports: football, basketball and track and field.
After completing high school, Seau attended the University of Southern California. He recorded 19 sacks during the 1989 season and received a unanimous first-team All-American selection.
Seau left USC early and declared his intention to enter the NFL. He would hear his named called by the San Diego Chargers with the fifth-overall pick in the 1990 NFL draft.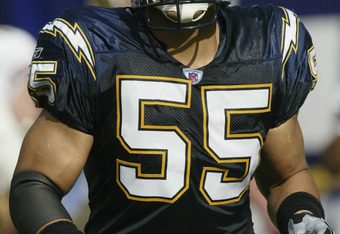 Stephen Dunn/Getty Images
He made an immediate impact to the Chargers defense and immediately became a fan favorite due to his enthusiasm and style of play, something that had never been seen before. 
Seau would help ignite a Chargers defense and help the Chargers secure their first AFC West championship (1992) in almost a decade. He was a leader on the field and an integral part of the Chargers 1994 AFC Championship team. When the Chargers returned from Pittsburgh to an enormous crowd that had gathered at Qualcomm Stadium to welcome the team home, Seau ran full-sprint out of the tunnel to thunderous cheers of the crowd.
During his 19-year career, Seau was selected 12 straight Pro Bowl appearances and 10 All-Pro selections.
He was named to the San Diego Chargers 50th Anniversary team in 2009 and entered the Chargers Hall of Fame in 2011.
With a huge fan following in San Diego, Seau created his own clothing line, which was a play on words of his last name, Say-Ow. He also opened Seau's The Restaurant in Mission Valley, San Diego, a short distance from Qualcomm Stadium, where the Chargers play.
Even since his departure, fans could still be seen wearing his No. 55 jersey at home games.
Seau was also known for his philanthropic work as well.
He created the Junior Seau Foundation with the mission to educate and empower young people through the support of child abuse prevention, drug and alcohol awareness, recreational opportunities, anti-juvenile delinquency efforts and complimentary educational programs. 2012 marked the 20th anniversary of the Junior Seau Golf Classic held at La Costa Resort and Spa.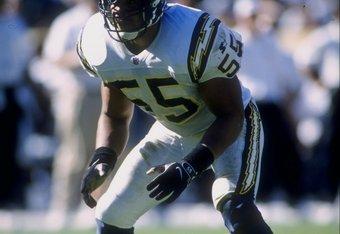 Otto Greule Jr/Getty Images
With his passing at the age 43, Seau became the eighth member of the San Diego Chargers 1994 AFC Championship team to have passed away at an early age.
Being a lifelong Chargers fan, I had the opportunity to meet Junior Seau twice. My first experience was at a McDonald's where he was signing autographs and taking pictures with kids. He signed my football card, and as I said thank you, he gave my a high-five and said,"You're welcome."
My second experience (many years after the first) was at a Costco. I went up to him and asked him for his autograph, and he said with a smile, "As soon as I'm done shopping, you'll be the first one."
Sure enough, as a crowd formed around him, he saw me, motioned me forward and signed the football (I had just bought). Once again, I said thank you and shook his hand. Even though he was out in public, the man had no problem signing autographs and did so with a big smile on his face.
The loss of Junior Seau won't just be felt by the City of Oceanside or City of San Diego, but by the entire National Football League. He was such an inspiration on and off the field and will sorely be missed.
Rest in Peace, No. 55