How the Scott Fujita Suspension Could Actually Benefit the Cleveland Browns
May 2, 2012

Matt Sullivan/Getty Images
NFL commissioner Roger Goodell handed down suspensions to four current and former members of the New Orleans Saints defense for their role in that team's pay-to-injury bounty program on Wednesday, and Cleveland Browns linebacker Scott Fujita was among them.
While Fujita hasn't been given the worst of the punishments—he'll miss just three games—it still means the Browns need to find a backup plan while he serves his suspension. But the loss of Fujita might just be the Browns' gain.
Fujita joined the Browns for the 2010 season, but he ended the year on injured reserve; the same fate befell him in 2011 after he broke his hand. This past season, he was replaced by starting weak-side linebacker Chris Gocong, and Kaluka Maiava took over for Gocong.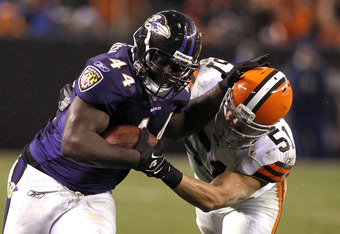 Matt Sullivan/Getty Images
It was a workable arrangement, but certainly not the ideal one. Moving Gocong over and replacing him with Maiava is but one reason why the Browns gave up so much yardage on the ground last year. But it's also not like Fujita was all that dominant when he was on the field either.
The Browns could employ the same strategy during Fujita's suspension this year. Or they could go in an entirely different—and, in my opinion, better—direction and put in newly drafted Nevada linebacker James-Michael Johnson in his spot and perhaps even keep him there throughout the season.
Last year was Fujita's 10th in the league, and his production is declining with age and the compounding of injuries. This is his last season under contract for the Browns, and it's quite possible that he may have to take a pay cut to stick around, if Johnson proves to be a more than qualified replacement at starter.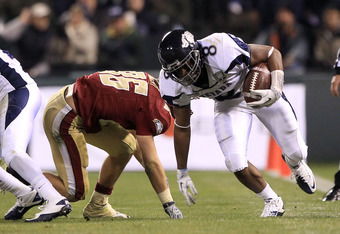 Ezra Shaw/Getty Images
The Browns have worked hard in the draft to shore up the one area in which their defense fell flat last season: stopping the run. In addition to Johnson, they picked up defensive tackle John Hughes in the third round, linebacker Emmanuel Acho in the sixth and defensive end Billy Winn in the sixth.
Clearly, the defensive front is going to see a shakeup this year, and the suspension of Fujita likely makes a difficult decision that much easier.
I'm not saying the Browns will or should cut Fujita outright—he is a well-respected veteran, with one contract year left, who can provide mentorship to Johnson, Acho and others—but now they have a better chance to experiment with what a non-Fujita linebacker corps would look like.